Sexist man refuses to make eye contact with female colleague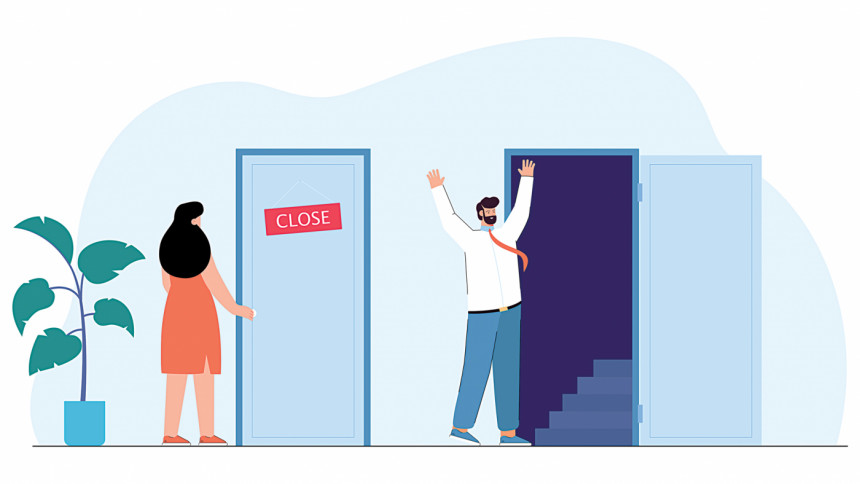 A sexist man, who holds a position of power and claims to listen to the best music and watches the best movies, yesterday refused to make eye contact with his female colleague while addressing a question posed by the female colleague.
The man, named Hameem Aman, today walked into the office and went straight to another male colleague with very important input (his input must be important, being who he is, a man) regarding a presentation made by his female colleague. 
The woman, who also allegedly holds a position of power -- but can never be more powerful than a man, biologically speaking -- tried to interject with her views on the matter and explain her presentation to the man in question. 
However, Hameem Aman, who believes women are also people in principle, simply turned his face to another virile man and started addressing the woman's queries.
Livid at the situation, the woman went straight to the HR. Because, you know, in an ideal world the HR is here to listen to all your problems.
Upon listening to the "overreacting lady's" complaints, the HR boss sat her down to impart his wisdom on her.
"Listen, these are your boro bhais. They don't wish you ill. They simply want to do what is best for you. Their heart is in the right place but you have to understand they are only now learning to make space for women in the workplace. Change comes slowly. You have to teach them. But if you get angry, that will only scare them further and they will isolate you. You know how men are," said the HR.
In other news, another male colleague yesterday repeatedly talked about an argument he was having with his female colleague in a meeting where the said female colleague was present and no conversation alluding to the argument was brought up.
But this correspondent was told by a gender expert that when you hurt a man's ego once, he will talk about it forever but disguise the story as a joke, or an interesting anecdote to prove he is right about a new thing.