Previous generation always has it harder than latest one: Study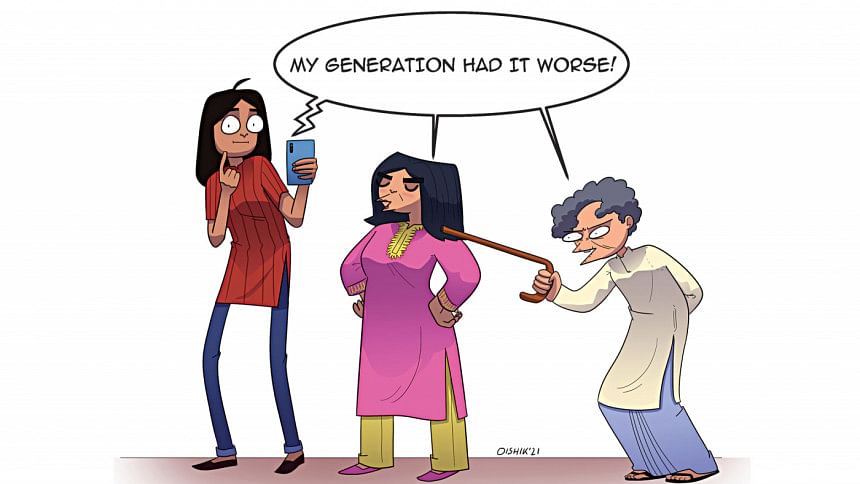 A recent study has found that every problem the current generation faces is nothing compared to what the previous generation went through. 
The research conducted by "senior boro bhais" at Dhoka University aimed to analyse just how superior, smart and awesome they are when pitted against their dumb, loser juniors.
"There were debates on whether seniors actually suffered way more, but now, those discussions can be put to rest. We have conclusively proven that the new generation got nothing on us," said Baker Khan, a senior who berated our correspondent for not greeting him with a salam and keeping his head down.
Recently, senior students pounced on this year's SSC candidates, who had fewer questions and less time in their examinations, saying they had to endure so much more when they had sat for their SSC exams.
"Doesn't this TikTok generation know how easy they have it? When I sat for my exams, I had to answer like... 37 creative questions, that too in like... half an hour or something," said Ziniya Mahmud, who took her SSC exams in 2019 and failed because she spent all her time browsing Facebook.
"Doesn't this Facebook generation know how easy they have it? When I sat for my matric exams, I was already a married woman with kids and a manchild husband," said Ziniya's grandma.
Fortunately, both of them are satisfied with the study, as they can confirm their biases and continue to feel victimised, as long as the burden is put on the latest generation.
When asked whether this whole practice is just a ploy to feel validated and hide one's insecurities, Baker said, "No. Read the study. We're just that cool."
"But aren't your seniors cooler because they suffered more?" asked this correspondent.
"I mean, yeah, but like, we're not the least cool, and that's all that matters," he replied. "No one has to be so glum about it. According to the study, the latest generation is the least coolest only till the start of the next generation. So, everyone will get their time to shine eventually."