Pound's value falls after Charles's image appears on banknotes, coins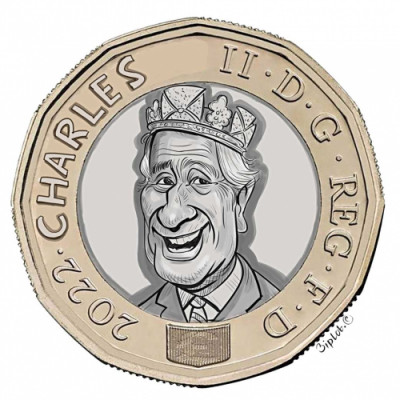 The British pound fell sharply after the first notes and coins bearing newly coronated King Charles's image entered circulation.
Global economic experts think the fall reflects the sharp disparity between public perception of the Queen, who was Great Britain's monarch from the age of 26 till the day she died, aged 96, and her 73-year-old son.
"The pound is now cheaper than the US dollar, and is expected to fall further as the new currency enters circulation," the chief executive officer of His Majesty's Exchequer said.
"We have received reports of people not willing to accept the currency with His Royal Highness's image on it," His Majesty's chancellor said.
Also, foreign countries have refused to accept the currency, calling it fake, which was the major reason behind the sharp decline of the once-strong currency, global economic experts added. 
"But we will go ahead with printing bills with King Charles's image even if the pound devalues completely, because you cannot put a price on the tradition of royalty," the chancellor said.
"How can the Queen be a man?" asked a world leader, echoing a meme while preferring anonymity (we also do not know the legal ramifications of naming the leader).
Another world leader, a bit more progressive, said, "The Queen can of course be a man. But he is not my Queen."
Britain is exploring avenues to arrest this world leader, sources said.
An Unknown Indian said, "The Queen was a great lady who lived her life in service. Now, we will have to live under the oppressive regime of Charles III. We all know how oppressive the royal family is…"
"It took Charles all of five days to show his true colours, when he was signing a guestbook in Northern Ireland, part of a country utterly dominated and divided by the British royal family," a Bangladeshi Queen lover said, referring to Charles getting angry because his fingers, fattened like sausages as a result of never having had to work a day in 73 years, were stained with the ink.
In other news, the Queen's bees have kept producing honey despite being told of her death by the Royal Beekeeper.