MPs must be loud to be proud
Gazette issued on lawmakers' required vocal strengths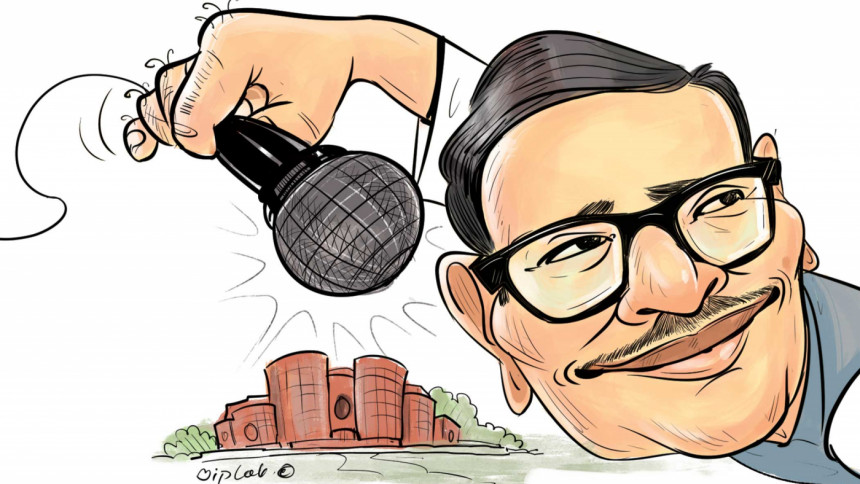 A recent gazette issued by the parliamentary standing committee on vocal affairs said members of parliament should now be elected based on how loud they can speak.  
"All those elected as members of parliament must have strong vocal cords and speak in parliament in a manner loud enough for the public to think they will have heart issues," it read.
However, instructions have been attached in the gazette for lawmakers to avoid heart attacks or brain strokes during speeches.
The directive came in the wake of a female lawmaker recently showing the audacity of speaking in a normal volume in parliament.
"This is…OFFENSIVE…to our COUNTRY'S POLITICAL HISTORY. We do not…APPRECIATE…having to make an EFFORT to hear what OUR LAWMAKERS HAVE TO SAY! The microphones are not ENOUGH for this.
"WE THE PEOPLE…need to hear the DEAFENING PASSION in every word that is uttered!" Jor-E-Kotha, chairman of the standing committee yelled at a press briefing after issuing the gazette.
The issue came to the fore, he screamed, when the lawmaker in question was speaking in, what he termed, was "a hushed voice [regular human volume]", and the entire parliament began screaming "JORE [louder]!"
A lawmaker, seeking anonymity, said. "This CREATED A CONFUSION as our chairman's name MATCHED THE WORD. When they yelled 'JORE!', our CHAIRMAN thought HE WAS UNDER ATTACK!"
About the incident, Jor-e yelled, "It is UNACCEPTABLE that MY NAME has to be YELLED OUT because SOMEONE [points at female lawmaker] decided NOT TO follow PARLIAMENTARY PROTOCOl. This is why, OH PEOPLE, we have issued a gazette. So that, no such SHAMEFUL INCIDENT can ever be repeated. AT LEAST WHILE I AM IN THE CHAIR!"
The gazette's instructions included pointers for lawmakers to follow in order to prepare themselves for a parliament session.
These include: gargling for three hours prior to the session; making loud growling noises in front of the mirror to make yourself feel like a political beast before entering the session; taking in as many breaths as possible so that you don't run out during your speech; and most importantly, getting a full-body check-up and starting heart medication in case of an attack during your speech.
"These INSTRUCTIONS were our way of protecting our lawmakers while they are at THEIR MOST PASSIONAT SELF! We want LOUD … but imagine someone having a HEART ATTACK. OH PEOPLE, that would be DEVASTATING! So, we are helping our lawmakers BE THE BEST AND FITTEST to speak in PARLIAMENT, as they do not have MUCH ELSE TO DO," Jor-e continued, while reporters scrambled to find ways to protect their ears from his sudden bursts in volume (parliament style).
This correspondent tried to communicate with the female lawmaker for whom the gazette was issue.
Asked what she had to say, she, clearly traumatised, repeatedly scream, "I…OH PEOPLE…AM SORRY. AND VOW…TO BE…LOUD…ALWAYS."
(This newspaper has avoided using the female lawmaker's name in order to save her from further embarrassment for having a normal human voice.)