'Do women even breathe after 10:00pm?'
Proctorial body rep advises women to stop breathing at night to prevent harassment or sickness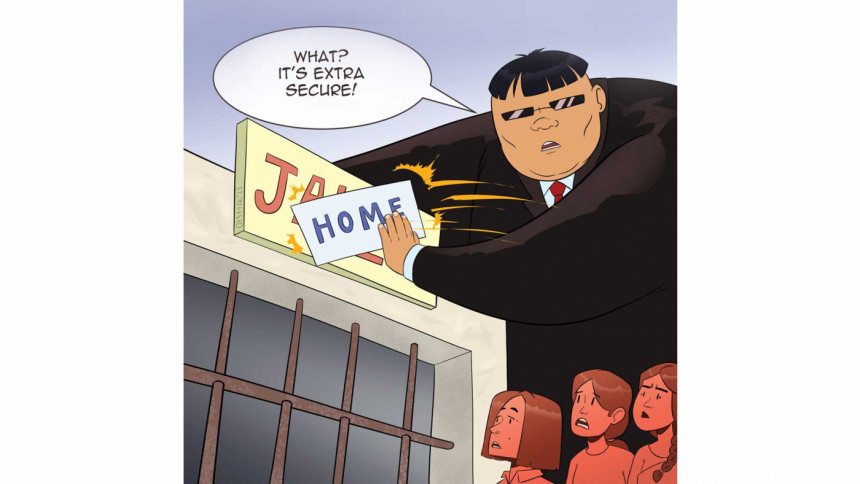 Representatives of the proctorial body, accompanied by hall provosts of Pahartoli University in a press conference yesterday issued a directive that all female students must enter their dorms by 10:00pm.  
"Look, farm chickens can be allowed to roam around during the daytime, under supervision. But they must get back to the farm before it gets dark because the nighttime is ideal for foxes to attack them," said Miso Joynal, public relations officer of the proctorial body.
When a journalist asked if Miso Joynal was comparing female students of the university to farm chickens, he replied, "No, I'm only saying the campus is surrounded by a jungle. So naturally, there are foxes."
His remarks were met with protest from the students present, who for the past two weeks have been protesting the curfew that was enforced with immediate effect after a female student filed a sexual harassment complaint.
When asked if actions were being taken against the accused in the sexual harassment incident, Miso said, "We don't do that here."
When asked about the functions of the sexual harassment prevention cell at Pahartoli University, a female hall provost, also spokesperson of the cell, was about to reply when she was interrupted by Miso Joynal.
"Why do we need one? What good is it anyway? Women can prevent harassment by just wearing a scarf or,you know, using one creatively or destructively. Who am I to say what to do with scarves? Heheh," Miso Joynal chuckled.
"He just had another correctile dysfunction," the female hall provost was heard muttering under her breath. 
In reply to another query where a journalist asked if throttle trains -- used by Pahartoli University students to commute inside the campus -- were safe, Miso Joynal said, "I don't know about that but it looks very pretty. Have you seen the new paintings on it? They are wonderful."
The students present at the press conference asked, "What happens after 10:00pm? What happens when female students need emergency medical attention after 10?
"Do women even breathe after 10:00pm? Wow, I did not know that," said Miso Joynal.
"Maybe they can just stop breathing after 10:00pm you know. That way they will not even get sick after 10," he added.
At this point, Miso Joynal called an end to the press conference and refused to take any more questions, saying they had to attend a "month-a-versary" programme of the Misogynist Faculty Association, sponsored by Patriarchy Group Limited.
"Since when do you do month-a-versaries?" this correspondent asked before asking about the functions of Misogynist Faculty Association, as month-a-versaries seemed more pressing.
"You don't ask that to Gen-Z couples, do you? That's inappropriate," said Miso Joynal before leaving the room.