Content creator rules her own universe of 5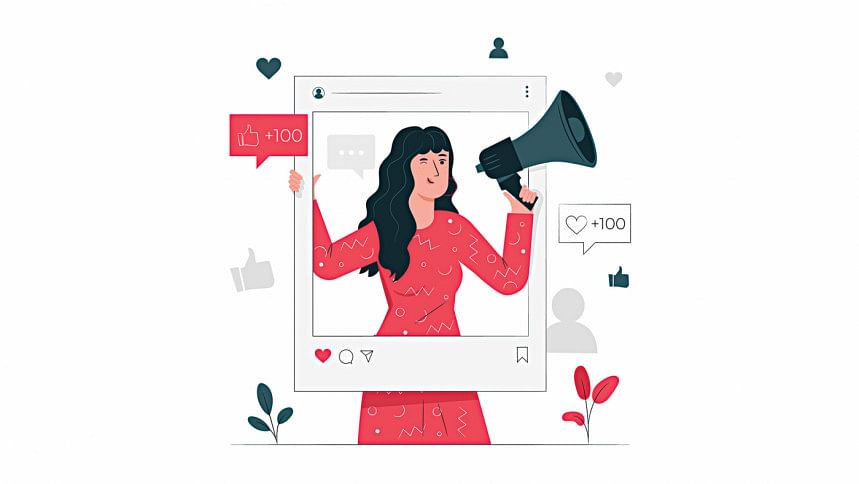 A content creator recently declared that she had made her own social media universe where everything revolves around the number 5.  
The story began with the creation of a Facebook page in just 5 minutes and the appointment of 5 moderators, but little did she know that 5 minutes of hard work would eventually pay off in less than 5 years.
She sat for the HSC exams and the fairytale continued when she secured golden GPA-5, a most desired result-sheet allegedly made of 5 carats of gold.
Her friends insisted that she have a grand party in a 5-star hotel. At that stage of the story, she was still unaware of her own universe.
The medical admission test approached and she released a video just 5 days before the exam day, showing people how she was so calm before the storm.
She sat for admission test and waited for the result as if neither she nor we knew what score was coming! Yes, it was 5 again and she eventually understood the mysterious universe she has been living in.
After her stellar result came to light, those who used to troll her became fans overnight and considered her the "Iron-woman" who created her own universe all by herself. One of the fans, refusing to opine in English, said in Bangla, "Aapu amader onuprerona."
"I would get panicked on nights before exams until I saw her video where she danced with visible peace on her face despite heading to one of the biggest exams of her life in just 5 days," Tausif, arguably the biggest fan of this content creator, said.
Our Satireday correspondent found after hectic research that her content helped people remain serene even if when they were under tremendous pressure. Her content gave people the ability to make videos for social media, regardless of whether they were going to an exam hall or shopping mall.
Finally, our correspondent tried to contact the content creator. After the first four calls were unanswered, she picked up on the fifth try. When asked if she had long been aware of the unusual activities in her universe, she said, "No, I was totally unaware of the matter until I scored 5 despite studying 5 minutes daily. Later, I understood that if my five mintues could earn me 5 marks, I could have easily scored 100, had I studied 100 minutes a day."
When asked if it was possible to study 100 minutes a day in the universe of 5, she said, "Yeah, you just need to sit to study twenty times a day."
"Hey guys, I am just going to hit the 5 lakh milestone soon. Help me reach that milestone. It will not take more than 5 seconds to find my page and hit the like button," she said when asked for a message to her fans.