Chapasthan removed from world map after cartoon ruins its national image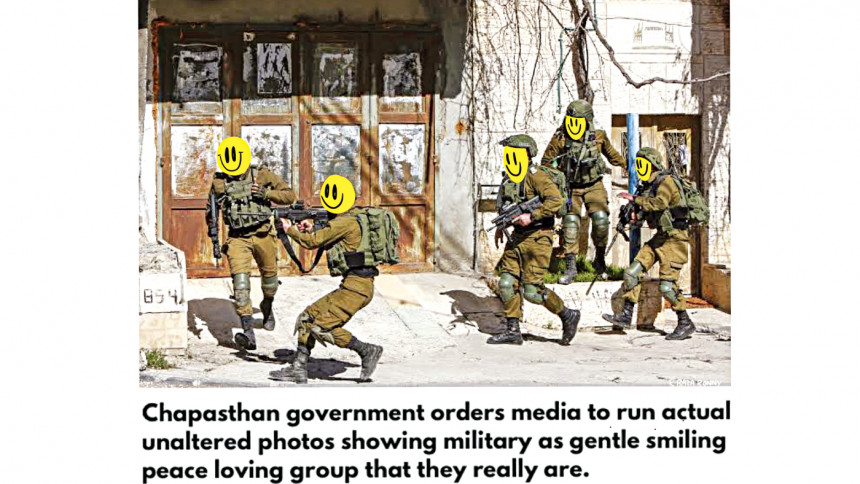 The League of Nations -- the body which pretends to have a mighty, big say in global affairs -- yesterday removed Chapasthan from the world map following a really funny cartoon drawn about it.
The cartoon completely ruined the national image of Chapasthan, leaving many to wonder how fickle that image really was. 
The cartoon, which appeared in the satire page of a Chapasthani daily, showed the ruler of the country, D Æ K-T8 R, robbing beggars of their daily earnings while a Tesla XXX was silently on stand-by behind the ruler.
The cartoon went viral and while most recognised this as mere irreverent satire, perceptions of D Æ K-T8 R took a swift dip when a TV channel caught up with the cartoonist and discovered that the image was not satire, but an actual Impressionist portrait of real-life events. The cartoonist had the video footage of D Æ K-T8 R actually robbing the beggars, and that went Viral.
Being a democratically-elected ruler, allegedly, global opinion against D Æ K-T8 R turned. The ruler had earlier opened up the economy after months of shutdown in a bid to contain the deadly Covid-22 virus, even though the spread was peaking.
"The cure cannot be worse than the disease," D Æ K-T8 R said in an impassioned speech to the country. "More people will die of hunger than they do of the virus."
Cricketer Mashrafe Mortaza auctioned a bracelet for many moneys. Now everyone wants a similar piece of action especially TikTok stars who cry passionately for absolutely no reason. Read more...
After footage of D Æ K-T8 R's beggar-robbing became public, the leader said, "Dying of hunger is tough, I was merely trying to expedite the process. Mercy is a gift that blesses the giver and receiver, or something such. Their suffering ends, and I can use their meagre worldly estates for a worthy cause."
Then D Æ K-T8 R called the XXX dealership.
The following day, the League of Nations said in a statement: "We cannot endorse such barbaric practices, therefore as far as the League of Nations is concerned, Chapasthan has seized to exist. We have also informed all flight operators to terminate services to and from the country when international flights resume in full flow from tomorrow to help restart the global economy. The cure cannot be worse than the disease."