Bangladesh announces 16-crore-person argument squad for Qatar 2022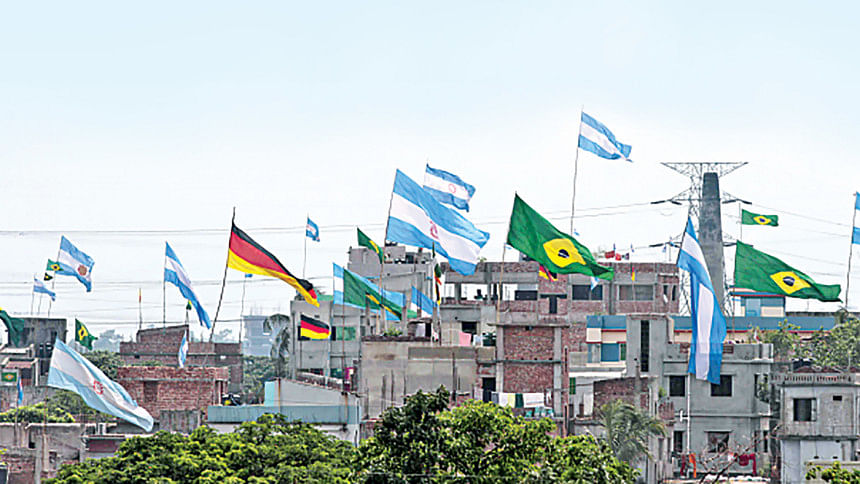 While many countries were busy declaring their 26-man squads for the FIFA World Cup in Qatar, Bangladesh declared a 16-crore-person squad for world cup arguments, as people of the country argue much better than they play football.
You may think the number is too high, but it may actually increase, subject to data of the recently conducted census.
After declaring the biggest squad in football history, Torkouddin, the CEO of Bangladesh Soccer League, said, "Football isn't just a game for 26 people from a nation who get the chance to kick a ball; it's a game for the whole nation enjoying it through arguments and fights. With the announcement of our squad, we just continued to protect our long history and culture."
Since the declaration of the squad, people have been polishing up their word-based weaponry.
Like every four years, tea stalls around the country are abuzz with talk of football. Arguments, debates, provocation and the good old punch and kick centring discussions on the world cup have taken the place arguments, debates, provocation and the good old punch and kick centring discussions on politics and economics.
The country's famous motivational speakers have changed their topics drastically after seeing empty chairs in seminars as their audience were already engaged in arguments and handing over the world cup trophy to their favourite teams through the force of their "logic".
The 11-Minute School launched a new premium course named "How to win arguments" and it quickly became the best-selling course as people, hoping to fight back after losing football arguments, rushed to enrol.
Brahmanbaria has become the capital city and the centre of attention till the end of the competition. A man from the town, continually drinking 7-up, agreed to talk to Satireday.
"You don't need to ask the identity of my favourite team. You already know it. We are going to win this world cup. If my team fails, I will retire from footballing arguments.
"Stop dreaming, bro. It's football, not handball," said a man, holding a placard with the words "USE FEET, NOT HANDS", as he rushed towards this correspondent after seeing his friend speaking near a microphone.
As soon as the comment ended, the punch from the first man successfully landed on the nose of the second person and our correspondent left the place as more 7-up and 'No Hand' placard guys joined the fight.
Apart from tea-stalls and Brahmanbaria, offices of Dhaka and other cities have joined the race as the 16-crore squad includes them.
Desks are now sorted according to the flags hoisted on them. Even the calmest and quietest souls have been observed in heated conversations while defending their teams from verbal attacks of others.
"I bullied him, but he never replied. But whenever I belittled his favourite team, he defended his team just like Zimbabwe defended a low score against Pakistan in the recently concluded T20 world cup," Jony, an employee of a corporate office, said about the behaviour of his "no more calm" colleague Zubair.
Meanwhile, it seems Bangladesh is unlikely to be a world cup playing nation in the next hundred years. The country is eagerly waiting to celebrate its 200th position among football-playing nations, the only country to reach this milestone despite having millions of football enthusiasts.
When asked when Bangladesh would make it to the main event of global football, CEO Torkouddin said, "Our plan is colossal. We don't want to send just 26 ball-kickers to fight for the world cup, we are here to give a chance to every person of Bangladesh."