#AllCovidsMatter gains steam amid latest wave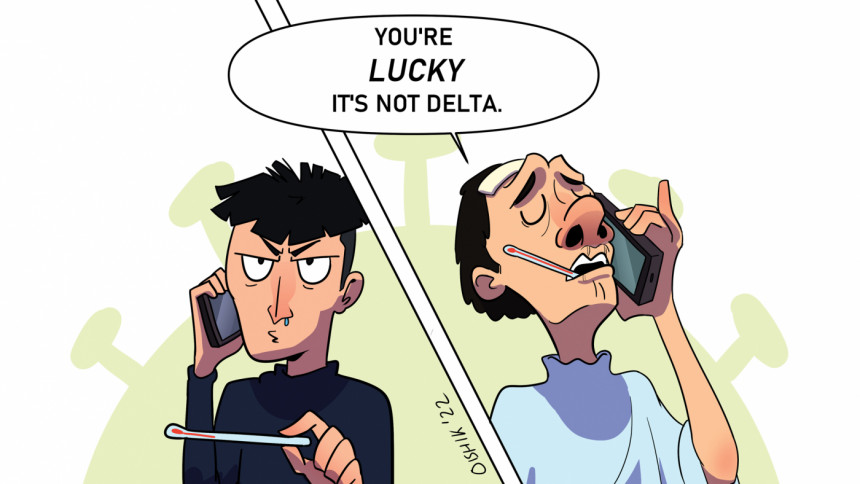 As everyone and their grandchildren are getting infected with the Omicron variant to the extent that news of someone getting infected is no longer surprising, a new movement called "#AllCovidsMatter" has gained traction on social media. 
Satireday understands the hashtag was started by a group of people who were feeling sorry for themselves after contracting Covid as they did not get the same attention or pity enjoyed by others who had been infected with more "dangerous" strains.
"I have been most careful, and most sensitive too, these past two years," a Twitter user who used the hashtag, told Satireday.
"I have avoided the virus like the plague and was successful in doing so during Alpha, Beta, Gamma, Delta, Theta, Meta… shetai. Also, when I heard that someone I knew had become infected, I called that person up and asked about how they were, who they were in contact with.
"Man, the mental energy I had to expend to tactfully try and figure out if the infected person met anyone who I also met over the preceding week… it was an exhausting two years," the Twitter user who goes by the handle @pandemicproof said.
He added that each time, in private, he also used to talk about how careless that person must have been to contract Covid in the first place.
Now, however, @pandemicproof has been infected with the Omicron variant of Covid.
"Am I getting the same attention? No. Are people calling me up to ask how I am or who I came into contact with? No. Are they badmouthing me behind my back for being careless? NO!"
Another user who calls herself @modelemployee was shocked that she actually developed symptoms.
"My boss told me not to worry… he asked me to keep coming to work because everyone will get Omicron now and the symptoms will be milder than the flu. He said something about endemic not pandemic. And I believe my boss; he has given me valuable advice on every aspect of my life," @modelemployee told this page.
"But then, I had 104 fever for two days straight. I had the most ludicrous visions… in the most ludicrous of these deliriums, my boss was not right about what he said about Omicron. In the morning, I argued with my Covid positive test report, telling it repeatedly that I could not be positive since I had more than a mild flu.
"Slowly, however, I accepted that I do have Covid and it is most likely Omicron. But my boss keeps asking me when I will resume work… it's like my experience doesn't matter. But I know now that #AllCovidsMatter."
Another hashtagger who shall not be named due to reasons that will soon become apparent, said, "Like most upstanding citizens, I had diligently avoided getting infected. I used to wear PPE to the supermarket and to movie theatres, ignoring the stares. I was accused of Covid theatre in the movie theatre, but I didn't care.
"I used to pick fights with pharmacists who did not wear masks even at the height of the Delta outbreak. On the other hand, I was always sympathetic towards my friends who were infected. In the early days, I drove the empty streets to deliver vital supplies to friends amid the lockdown.
"But now, no one cares that I am sick. One of my friends told me the other day, 'Dude you are lucky you got infected now; you would have been done and dusted if you got Delta, like I did'.
"So, basically, I have had enough. If my infection doesn't matter, then that's that. Over the past two days, I have been going around the city, entering supermarkets without a mask, because who cares, right? Also, I have been spending a lot of time in pharmacies."