Studying Abroad 101: The ultimate guide to studying abroad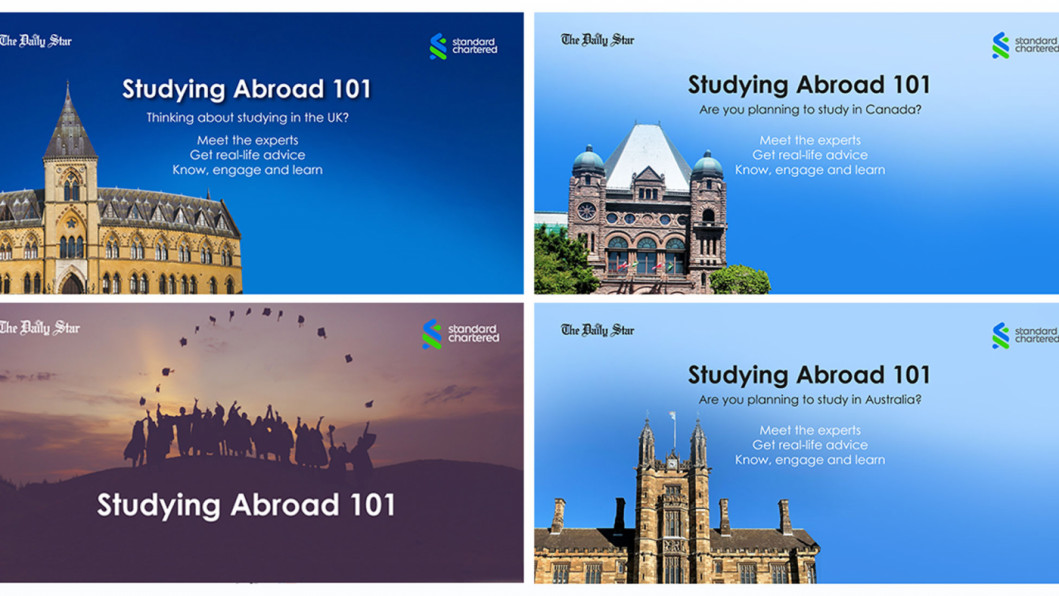 Studying abroad at a world-renowned institute is the dream of many students in Bangladesh. However, handling the finances and tackling the intricacies of applying abroad require some assistance. To aid students planning to study overseas, Standard Chartered and The Daily Star jointly organised a series titled "Studying Abroad 101". The series, which spanned four episodes, brought in experts and students from different countries to answer the queries of those interested in pursuing higher education overseas. Each episode focused on one of the four countries: the USA, United Kingdom, Canada and Australia.
USA
There are over 4,000 accredited US colleges and universities committed to providing educational opportunities to students across the globe. There are four centres to facilitate such activities here in Bangladesh: the American centre, which can be found at the US embassy, the EMK centre, which is in Dhanmondi, Dhaka, and two other centres located in Chattogram and Khulna.
Swapnil Saha, a student of the University of California, Los Angeles (UCLA), advised, "Interested candidates for graduate programmes should start looking into research topics and cultivate their research profile early on, particularly from their freshman year; that is when students usually have more time to explore their options."
Panellists suggested that although the formalities of applying for graduate programmes abroad should start in the third year or early in the fourth year, students must have an open mind about what they want to study and start their research from their freshman year. Students should prepare by attending conferences, participating in competitions, and cultivating problem-solving skills.
Interested candidates should first shortlist the universities they want to apply to. They should avoid focusing on ranking and instead look at the lab facilities offered and the different professors under whom they can study. Location, culture, weather, etc., also play an essential role in the selection process. Students applying to the US for graduate programmes have to take certain tests, such as the GRE, TOEFL and IELTS; these should be completed at the start of the fourth year. Students should target the fall session, as spring sessions usually do not have much funding, and some universities don't offer spring sessions for international students.
US degrees offer a lot of flexibility, so students do not have to declare their major during the application process. After completing their application, students can wait until receiving their acceptance letter to begin applying for their Form I-20, "Certificate for Eligibility for Non-Immigrant Student Status", after which they can apply for their visa.  
The statement of purpose (SOP) should illustrate the student's previous research and other strengths and achievements. Peers and seniors should review the SOP, so students should ideally start writing their SOP five to six months before the deadline to ensure adequate time to review it multiple times.
A common misconception is that, to apply for a higher degree in the US, one must have a very high CGPA. However, US universities look at a student's overall profile and not just the results. While standardised test scores are very important, it is also essential to have suitable extracurricular activities (ECAs). 
Education USA is the United States Department of State's (DOS) global network of 435 educational advising centres in around 180 countries. They provide accurate, current, and comprehensive information to international students about studying in the US free of cost. Due to the pandemic, all their programmes have shifted online. Now they conduct virtual sessions, one-on-one and group advising sessions, webinars, virtual college fairs, etc. All of these services are entirely free. Students can reach out to Education USA through emails or attend their online group sessions from their Facebook page.
Education USA's website has information about financial aid and how students can go about procuring it. Usually, it is easier to get a scholarship at graduate-level programmes through teaching assistantships, research fellowships, etc. However, getting scholarships at the undergraduate level is quite tricky. In such situations, a possible solution is the "2+2 method", where a student can save on hefty tuition fees by studying at a community college for the first two years before moving on to a university and completing their undergraduate degree in their desired major.
Speaker :
Swapnil Sayan (Graduate Student, Dept. of ECE, University of California - Los Angeles)
Sinthia Farhad Barsha - Markets Products Specialist, Standard Chartered Bangladesh
Ms. Khadija Mohamud, Asst. Cultural Affairs Officer, U.S. Embassy, Dhaka
Muhammed Sohel Iqbal, EducationUSA Director, Public Affairs Section, U.S. Embassy Dhaka
Adam Copeland, Product Director & Associate VP, Operations, Study Group
United Kingdom
The United Kingdom offers not only a high standard of education but also a sophisticated lifestyle. Their universities are some of the most highly ranked globally, providing excellent education with innovative teaching methods. Moreover, as of July 1, 2021, students can stay back for jobs two years after graduation. For PhD students, the period is three years. There are also plenty of scholarship opportunities, such as the Commonwealth Scholarship, Charles Wallace Professional Visits Programme, Chevening Scholarships, etc.
Aishwarya Rahman, a student from SOAS University of London, shared, "The committee responsible for providing scholarships will not just be looking at your academic records when going through your application; they also look at the non-academics and what you have done in your life."
The University of Sussex has a designated scholarship for the students of Bangladesh, which reduces the tuition fee by 3,000 pounds. A new initiative is the offering of scholarships for women in science, technology, engineering, and mathematics (STEM) fields.
The SOP should include details about the academic, professional and personal achievements of the student. Students should use examples to highlight their strengths and skills and relate all relevant information to the degree they are applying for. Including future plans and what they want to do using the degree can also be extremely useful.
According to the panellists, there are misconceptions surrounding multiple factors vital to studying abroad. One such factor is the tuition fees, which are said to be higher in the United Kingdom than anywhere else. However, the degrees are much shorter in comparison to the education systems in other countries. For example, an undergraduate degree takes three years in the UK, and a graduate degree takes two years.
Participants also suggested that getting a visa for education in the United Kingdom can be difficult. However, there should be no problems if a student meets all the information requirements and has the necessary certificates. There are also plenty of job opportunities after graduation, contrary to popular belief.
There are usually two sessions: spring in January and fall in September. The fall semester is more popular; thus, it is crucial to start preparing from the previous year, preferably between November and December. Watching recorded university lectures available online will give students a comprehensive idea of how a particular programme in the university works and help them make an informed selection.
For years now, the British Council has made it possible for Bangladeshi students to apply to universities in the United Kingdom more efficiently. They disperse all the relevant information by arranging seminars where they invite university representatives and distinguished academicians. They provide one-on-one sessions to students and help them obtain scholarships. They are also assisting students in connecting with universities.
Speaker:
Aishwarya Rahman (Chevening Scholar)
Sinthia Farhad Barsha - Markets Products Specialist, Standard Chartered Bangladesh
Nusrat Jahan Milki, Head of Education, British Council
Leo Cutting, Senior International Officer – Bangladesh, Uni of Sussex
Canada
The country's immigrant-friendly policies make Canada one of the world's preferred destinations for higher education. According to World University Rankings, Canada also has four of the top 100 best student cities in the world. The universities have comparatively lower tuition fees, and the government, public, and private establishments offer different scholarships and grants.
Saad Ullah Al Amin, a student of the University of Alberta, said, "Students often focus a little too much on a university's overall ranking. Instead, they should check the subject-specific rankings to see which university is best suited for the degree they want to pursue."
Taking a closer look at the programme module will give students a comprehensive idea of the programme's objectives. Besides academia, ECAs, voluntary work in NGOs, and part-time jobs give students a competitive edge in the pool of applicants.
According to the speakers, writing an SOP is one of the vital elements of the application process. To strengthen their SOP, students should illustrate their academic and non-academic achievements, the reason behind wanting to study at their preferred programme, and how the programme will help them achieve future ambitions. In Canada, students are charged around CAD 100-150 for sending applications to universities. However, some universities waive these fees upon contacting their admissions office.
A student visa in Canada works a little differently as a Study Permit, and a Temporary Resident Visa (TRV) are required. A student permit is a document issued by Citizen and Immigration (CIC) that allows someone to study in Canada.
Tuition fees for the STEM stream are more expensive than humanities and arts degrees, depending on the institution. On average, the annual tuition fees for undergraduate programmes range from $13,000 to $20,000 and for a master's degree, they range from $17,000 to $25,000. Canada also enables students to undertake part-time jobs, which help them cover some of their tuition fees. International students can work up to 20 hours per week during regular academic sessions under certain conditions.
Global Affairs Canada funds, manages and promotes scholarship opportunities for international students. The High Commission of Canada to Bangladesh provides information to Bangladeshi students about the available federal scholarships offered by Global Affairs Canada. Students should visit their websites for more detailed information about opportunities for higher studies in Canada.
Speaker:
Saad Ullah Al Amin, Masters in Public Health, University of Alberta
Sinthia Farhad Barsha - Markets Products Specialist, Standard Chartered Bangladesh
Quazi Gulam Farhad, Trade Commissioner, High Commission of Canada
Rahul Massey, International Procurement Manager, India- Asia, Crandall University
Australia
Australia provides affordable learning opportunities with excellent career prospects in some of the most liveable cities in the world. Australian universities rank third in the world for the highest number of international students. The country offers a diverse range of study options to their international students, with above 1200 institutions and over 22,000 courses to choose from.
Gazi Simran, a student of Griffith University, said, "My experience in Australia has been amazing. It's a beautiful country with remarkable educational facilities. They have different sectors of international student advisors, which makes it easy for us to connect to them."
There isn't an abundance of scholarships at undergraduate levels in Australia, said the speakers. However, with excellent grades, students can get a 25 to 50 percent scholarship. Australia has adopted Overall Position (OP) rankings, so scores have to be converted to OP rankings before applying for a scholarship. Whilst the scholarship schemes vary from university to university, they are quite competitive.
Australian cities are among the best cities for international students, with sophisticated infrastructure, world-class healthcare services, a dynamic range of public transports, and comparatively affordable cost of living. However, most students tend to focus only on big cities and universities when many regional cities have institutes that provide high-quality education.
The visa procedure for Australia takes a bit longer than in some other countries. Thus, it is necessary to do research in the 10th grade when looking to apply for an undergraduate degree in Australia. Toward the end of the 11th year of schooling, taking the IELTS and preparing to apply to universities are suggested. Universities in Australia don't require an essay unless students are looking for a scholarship. An SOP is required for the visa only. For the recommendation letter, it is necessary to build good relationships with teachers at school. Universities look for leadership and communication skills; thus, participating in extracurricular activities is recommended. While working part-time in Australia is a great way to earn one's living expenses, it also helps students gain experience in their field of study.
If one is applying through an agent, they only have to pay for the visa. Through an agent, one can put out applications to as many universities as they want without having to pay for any charges since agents get a cut of the tuition fee once a student starts studying in Australia. The application fee that one has to pay when doing it all on their own is around 50 Australian dollars for mid-range universities and 100 to 150 dollars for the Group of Eight universities; these are the University of Adelaide, the Australian National University, the University of Melbourne, Monash University, UNSW Sydney, the University of Queensland, the University of Sydney and the University of Western Australia. 
Speaker:
Gazi Saima Simran, Business and IT, Griffith University
Sinthia Farhad Barsha - Markets Products Specialist, Standard Chartered Bangladesh
Ravi Chandran, Country Director at IDP Education Lanka Pvt Ltd and IDP BANGLADESH PVT LTD
Melissa Willoughby, Country Manager, International Recruitment, Flinders University
Julia Wibowo, International Regional Officer, University of New South Wales (UNSW)- Sydney
 
Tuition payment and financing
One of the major concerns for any student along with their guardian is to decide on how they are going send the required educational fees and charges to their chosen university. Making the necessary payment in Foreign Currency for different sort of educational expenses can be done conveniently with a Student File. Student File is a solution though which Bangladeshi citizens can convert their BDT to meet their educational expenses for studying abroad. It is the only legal solution that enables students or their guardians to transfer funds from Bangladesh to abroad to facilitate tuition fees and living expenses in the foreign currency. Based on the documentations like offer letter/I-20, invoice copy, previous certificates & transcripts, valid passport provided by the student, Standard Chartered Bank opens the Student File, validates the transactions that needs to be done for making the payment for educational expenses and sends the foreign currency funds to universities on behalf of the students and their guardians. Standard Chartered aims to make faster and safer transfers of foreign currency to educational institutes in any part of the world.
Being the industry pioneer one of the key role that Standard Chartered has been playing is to make the Student File solution highly user-friendly and it reflects on the operational procedures that they have for student file starting from the opening of the file. The requirements for opening a Student File are study-related documents which include all previous certificates, transcripts and offer letter and I20 in the case of USA; travel-related documents such as a valid passport, and copy of a visa if available; and banking requirements such as an active Standard Chartered bank account of the student, parent or sponsor. Students can also open a Student File after leaving the country whenever they need to transfer funds abroad It is usually advised that a student applies for a Student File right after receiving their acceptance letter.
Establishing a habit of using banking services can help students living abroad, attain the skill of efficient financial management. Realizing the importance of this skill, Standard Chartered has introduced savings products like- Graduate Account and Early Child Savers Account for the university and school going youths to make them accustomed with the banking know how.
Since studying abroad and the associated expenses are rather costly, Standard Chartered provides personal loan facility that are assessed based on income in Bangladesh. Typically, the sponsor/guardian who resides in Bangladesh, and has an active income status are eligible for Personal Loans to help kick-start a student's educational journey. There is also overdraft facility that the sponsor/guardian can avail against their Fixed Deposit or Wage Earner Development Bond with Standard Chartered Bank to manage any financial requirements that might come along.
Students who maintains Student File with Standard Chartered Bank can also enjoy the benefits of availing a supplementary Credit Card issued to their sponsor/guardian. Students can load their yearly Travel quota against that supplementary Credit Card and use it while they are abroad to manage any day to day FCY expenses. This will help them to have a smooth transition to the foreign country till the student have their own account opened in that country.
Irrespective of which country or university a student is applying to, all students should ensure that they start planning for their future abroad with an adequate amount of time in hand. With the right level of planning and assistance, everything will slowly fall into place to ensure that those applying have a bright future ahead of them at their dream educational institutions worldwide.
Find out more about how Standard Chartered can help support your academic pursuits abroad here [https://av.sc.com/bd/content/images/student-education-overseas.jpg].