Promoting Safe Migration for the Women of Bangladesh
The Daily Star and CARE Bangladesh jointly organised a roundtable dialogue titled "Case-story and Desk study findings with key stakeholders" on March 31, 2021. The dialogue was organised under the project 'Promoting Safe Migration for the Women of Bangladesh' funded through the Silk Routes Facility. The Silk Routes Facility is a component of the larger project, "Improving Migration Management in the Silk Routes Countries", funded by the European Union and implemented by The International Centre for Migration Policy Development (ICMPD). Here we publish a summary of the discussion.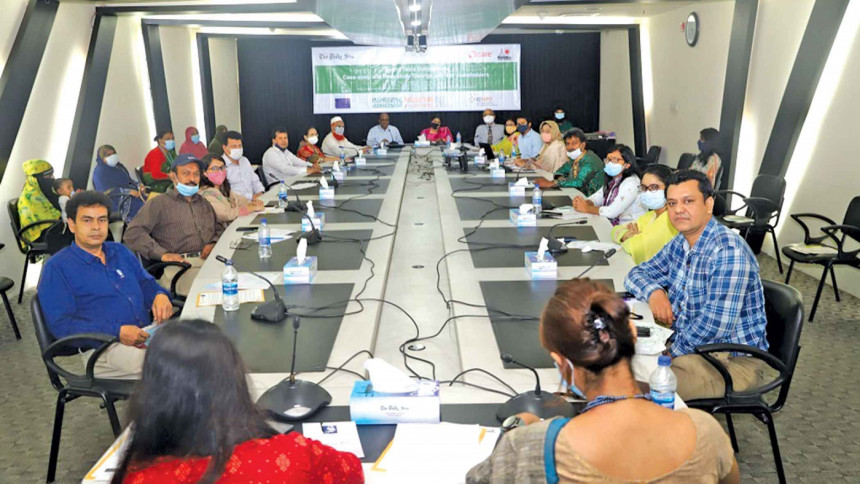 Syed Saiful Haque, Chairman and Founding Member, WARBE Development Foundation
In 2016, there was a rise in the migration of female workers due to an agreement between Saudi Arabia and Bangladesh which stated that if Bangladesh allowed female workers to work in Saudi Arabia, particularly domestic help, they would consider opening up the market to male workers. Saudi Arabia gave the condition that Bangladesh would have to send 10,000 female workers. Sufficient preparation was not taken in regards to the training and grooming of the female workers who would be sent there.
The rate of migration has fallen now because of COVID-19 but still nearly 22,000 women have left the country during the pandemic. What this suggests is the movement of female labour cannot be stopped. However, what needs to be ensured is their security and protection of their rights, particularly in a country where female workers are often seen as commodities. We need to see to it that our female workers are able to reach safely, aren't exploited when there, and that they receive all the necessary support.
In the aforementioned agreement, it was decided that the employers would pay USD 2,000-USD 2,500 in advance to cover all the costs of training, grooming, and attire of female workers. However, the female workers end up having to pay the middlemen, and they themselves bear the cost of their passports, medical costs, and even the training they receive.
Captain Md. Ikram Hossain Retd., Country Coordinator, International Center for Migration Policy Development (ICMPD), Bangladesh
ICMPD works with migration and border management. Through our Migration Resource Centres in Dhaka and Cumilla, we are working in five districts including Dhaka, Gazipur, Narayanganj, Cumilla, and Brahmanbaria to raise awareness regarding safe migration, with significant attention being paid to women's issues.
The remittance sent by Bangladeshi workers contributes significantly to the foreign reserves in our banks. We can further strengthen this through the enhancement of skills by the various government projects already at work and through upgraded directions given to Technical Training Centres (TTCs) to ensure that our workers receive international recognition and accreditation for the training they receive.
ICMPD has also created a source of information for 12 countries which helps inform workers about various parts of working abroad ranging from what needs to be done to go to a country to where they can go if they require help.
Gloria Jharna Sarker, Honourable Member of Parliament, Member of the Parliamentarians Caucus on Migration and Development
Learning the language of the country a person will be working in is of primary importance, and attaining skills can come afterward. If a person is unable to communicate with or understand a language, they endure suffering and abuse in silence. Knowing the language allows one to be able to choose the profession they prefer according to their abilities.
Monitoring of migrant workers is crucial and a monitoring committee needs to be formed.
Jasiya Khatoon, Director, WARBE DF
Our plan is to enable safe migration for Bangladeshi women, in the context of the social, political and economic situation.
From the social angle, we wanted to see what area we needed to work on to make women's migration more orderly and secure.
On the political front, we have laws and policies, but they need to be more accessible and inclusive of the issues of women's migration, especially gender responsive migration.
From the economic side too, we see women suffering from financial ruin as they are often victims of fraud committed by the middlemen and employers alike. Though they are supposed to go abroad free of cost, they still spend money to reach the other country.
We have two specific objectives. One is to assist with the capacity building and modernisation of government institutions. The second is to empower women to think for themselves and make an informed choice about migration.
Md. Mostafa Sorower, Programme Manager, CARE Bangladesh
CARE Bangladesh had conducted a desk study from October 2020 to January 2021 using secondary resources to develop a comparative analysis of the South Asian nations which send female migrant workers abroad.
One of our findings was that even though female migrant workers earn less than male migrant workers, they still send an equivalent or higher percentage of their wages to their families. With fair pay and equal opportunities, women have the potential to register higher remittances for their countries of origin.
Some policy recommendations include ratifying the relevant international policy legislature, increasing coordination between state and non-state level agencies in the migration cycle process, decreasing irregular migration among female migrants, adopting gender-responsive policies, making the pre-departure orientation models gender-responsive, adopting better integration programmes and increasing the accessibility of services at both the state and non-state levels, decentralising resource and information dissemination at the grassroots level, and increasing budget and technical and non-technical resources at specific destination countries at the state level.
Sufia Begum, Migrant Worker
I had to pay 30,000 taka to migrate to Jordan. I had no idea that I didn't need to pay to go to the destination country. I'm familiar with my middleman but not my recruiting agency. I was in training for one month.
 My employer's son, a 30-year-old man, lit me on fire. When I complained, my employers did nothing. Since my contract of two years was over, I said that I would return to Bangladesh, but they didn't let me leave. They said that my agency wouldn't pay for my plane ticket to Bangladesh and the only way I could return was by paying for the ticket myself. I stopped sending money home and had to work an additional three months. They didn't compensate me for the extra work. I later used my own money to buy a plane ticket and return to Bangladesh.
Sweety Akter, Migrant Worker
I returned from Saudi Arabia after staying there for two years and two months. I was trained beforehand. I had to pay 55,000 taka to my middleman to go to the destination country. I was handed a contract that contained false information since it didn't state that the family would have nine children. Even though the family was nice, the children were difficult to manage. I worked day and night. Three months before leaving, I asked my employer to take me to Makkah since they visit there every year. They stopped paying my salary for three months, saying they would use that money to take me to Makkah. I was hopeful, but they never took me there. I was never paid my three months' salary either.
Sultana Akter, Migrant Worker
I returned from Saudi Arabia after living there for nine months. I didn't have to spend any money to go there since my agency paid all expenses. I was also given training. My employer was friendly and paid me well. But I came back because I became physically unwell due to overworking. I wasn't offered any medical treatment. As soon as I wanted to return home, I was beaten up and locked up in jail for 15 days. The days spent in prison were horrifying since women are brutally tortured there by different gang members.
Farida Yeasmin, Director, Bangladeshi Ovhibashi Mohila Sramik Association (BOMSA)
There exists a considerable information gap. Female migrant workers are still unaware of what recruiting agencies are or what government services are available to them. There are many laws for the pre-migration stage, but the issue lies in implementation.
The embassies need to perform their roles properly. They neglect female migrant workers and deny them services. They are supposed to carry out house visits of the workers and write reports to send to NGOs. But none of this is implemented.
After month-long training, workers aren't even provided the contact information of the destination country embassies. People can also forgo training and get forged certificates.
Although the punishment for migrant issues is stated clearly in the migrant laws, the cases are not filed against these laws. There should be a separate court to try migrant cases.
Md. Nazmul Ahsan, Chairman, Bangladesh Ovibashi Adhikar Forum (BOAF)
The people who want to become migrant workers are not Dhaka city dwellers. No matter where they live, we must have initiatives to go door-to-door to give them the correct information. Our forum does just that at the district level, upazila level, union level, and village level. Safe migration is impossible without awareness building.
One issue is that embassies or shelter homes never take responsibility for checking up on the migrant workers. The workers have to contact them themselves to avail any of their services.
The month-long training that workers receive is not up to the mark. The trainers should receive further training and be allowed to provide training only when they reach the international standards.
Murshida Akter Naher, General Secretary, Jatiya Garhasthya Nari Sramik Union
We work with domestic workers in various districts of Bangladesh. We have been fighting for their rights since 2000. We still have a long way to go before we can ensure full respect for our domestic workers. The domestic workers here have similar experiences as the migrant workers, i.e. torture and oppression. The employers responsible for these crimes always get away because of a lack of a strong legal system.
Syed Mahbub Elahi, Chairman, OKKAF
The embassy needs to strengthen monitoring of the agreement between the employers and the employees and ensure that the discussed agreement is not broken. There needs to be a database accounting for the number of returning migrant workers. Currently, we only keep track of how many workers we are sending abroad. Social media can be a great tool for awareness-raising on safe migration.