Prioritise local organisations to make CSR programmes sustainable
Speakers emphasise at CSR Dialogue: Barishal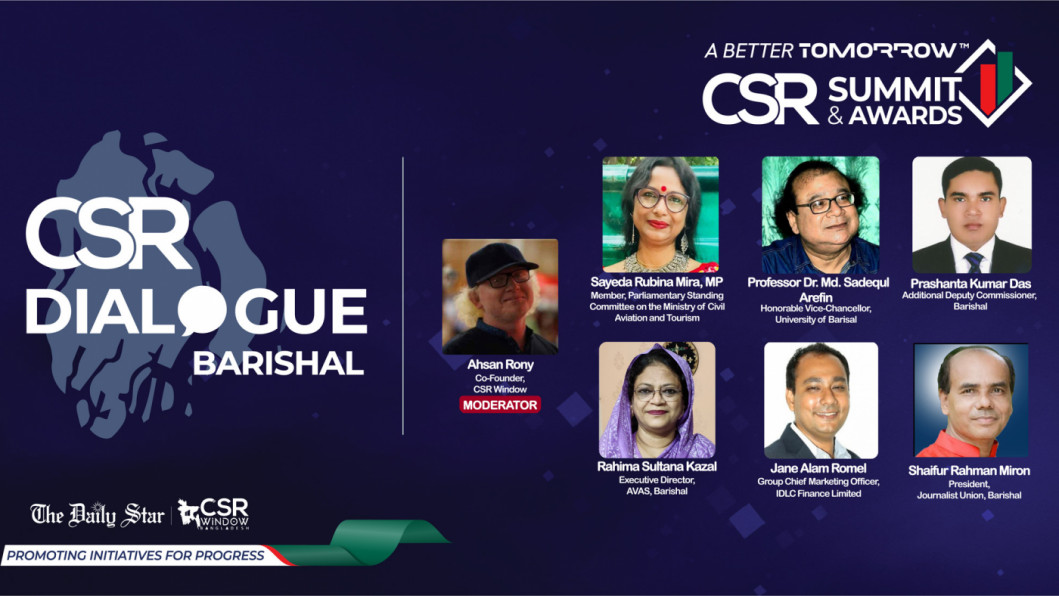 Speakers at an online discussion recommended Corporate Social Responsibility (CSR) initiatives reaching marginalised communities that need such funding the most. A key factor would be to leverage local NGOs and youth organisations, who are aware of the local scenario, to implement CSR projects.
The event titled CSR Dialogue: Barishal was held on July 29, 2021. It was part of a joint initiative of The Daily Star and CSR Window known as "A Better Tomorrow: CSR Summit and Awards". The annual nationwide programme aims to create dialogues for future development and sustainability solutions and recognise corporations for their innovative and world-class CSR initiatives, social projects and programmes implemented for sustainable impacts in society.
Rahima Sultana Kazal, Executive Director, AVAS, said, "During the pandemic, Barishal has been dependent on its neighbouring cities and villages for food supply. CSR initiatives should be used to help cities like Barishal that are suffering the most.
"Only a few companies are conducting CSR activities in Barishal. Many of these organisations choose to start their own sister-concern for their CSR activities. A few local businesses directly donate instead of working in the framework of CSR. The CSR model helps achieve sustainable development, as the projects that work with such funds are designed with the aim of long-term solutions and development in mind."
Kishor Kumar from Dhrubotara Youth Development Foundation (DYDF) said, "Youth organisations understand the local scene better than Dhaka-based companies. We can address the unique challenges of working in Barishal better than a project from outside the city. Therefore, we would be the ideal candidate for such projects. However, for some companies, there is a factor of branding involved in their CSR activities. This, coupled with their expectations from project proposals, makes it hard for youth from Barishal to apply for such funds."
Saifur Rahman Miron, President, Journalists' Union of Barishal, said, "A common issue with CSR is that big companies do not want to focus on small villages and upazilas. It is usually more beneficial for them to focus on big cities and villages and areas where their business activities take place. These companies should leverage local newspapers to disseminate information regarding the availability of funds, requirements for project proposals and other organisational requirements to the grassroots-level organisations. The newspapers would become responsible for holding the projects and organisations working with CSR funds accountable in the process. They would also provide the companies with publicity."
Jane Alam Romel, Group Chief Marketing Officer, IDLC Finance Ltd., talked about the importance of establishing CSR projects outside of major cities and local organisations increasing their capacity in this regard.
"IDLC has been working in districts and upazilas outside of Dhaka, which desperately need CSR funds. It has a project in Barishal that is being implemented by OBHIZATRIK Foundation. The organisation is based in Dhaka but has employed some locals of Barishal in their project team. While it is important to have a good understanding of the local region where such projects are being implemented, local organisations and youth groups do not always have the capacity required to implement the types of projects big companies require. These local organisations need capacity building training to improve their ability to propose and implement the kinds of projects big corporations want," said Romel.
Prashanta Kumar Das, Additional Deputy Commissioner, DC Office, Barishal, said, "On behalf of the DC Office of Barishal, I would like to extend any form of support required to the companies that are looking to start their CSR initiatives in Barishal. We have already received offers from some companies looking to invest through CSR, and we encourage more companies to come and work with us directly."
Prof Dr Md Sadequl Arefin, Vice-Chancellor, University of Barishal, said, "We want to include capacity building training in our curriculums. Our local youth should have the necessary skills to set up an organisation and apply for projects just like Dhaka youths."
Syeda Rubina Mira, MP, Member of Standing Committee on Ministry of Civil Aviation and Tourism, said, "Barishal is ignored in the bigger picture of CSR. I believe there are enough funds from CSR to not only help the people of Barishal but also to help with critical issues in the city, like river protection. Corporations should become more aware of where their CSR funds are going, and if they are actually going to people in desperate need."
The session was moderated by Ahsan Rony, Founder, Green Savers.