Establish a common platform for CSR
Speakers emphasise at CSR Dialogue: Mymensingh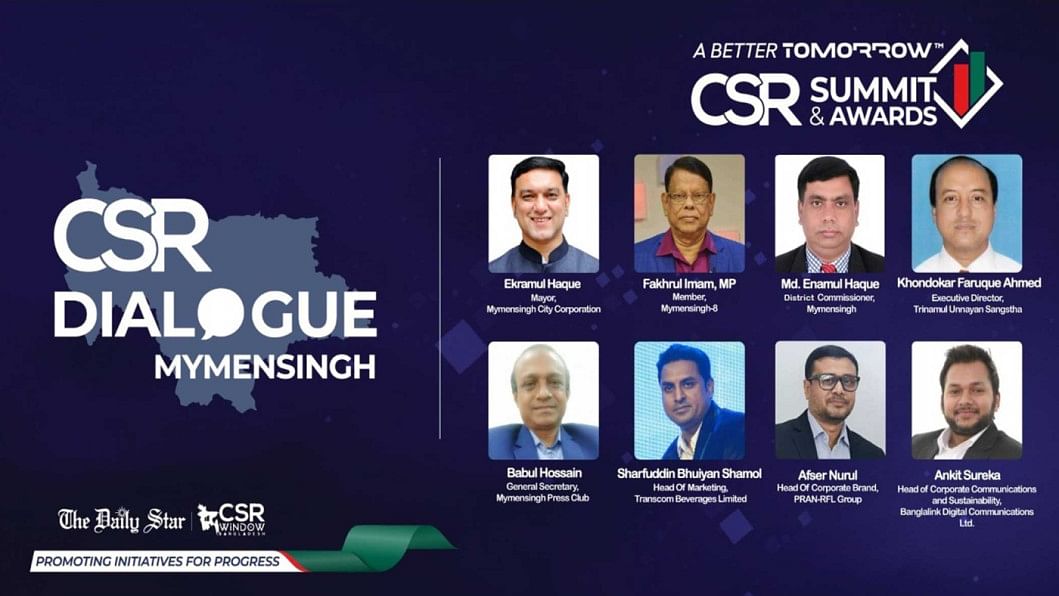 Speakers at an online discussion recommended establishment of a platform where companies, NGOs and the government can collaborate to better utilise Corporate Social Responsibility (CSR) funds,  and, thus, ensure sustainability of the CSR projects.
The event titled CSR Dialogue: Mymensingh was held on September 2, 2021. It was part of a joint initiative of The Daily Star and CSR Window known as "A Better Tomorrow: CSR Summit and Awards". The annual nationwide programme aims to create dialogues for future development and sustainability solutions and recognise corporations for their innovative and world-class CSR initiatives, social projects and programmes implemented for sustainable impacts in society.
Khandoker Faruque Ahamed, Executive Director, Trinamool Unnayan Sangstha said, "In Mymensingh, many companies engage in CSR activities on their own. But, if they want to address the local issues  they should work in partnership with the local NGOs. In Bangladesh, NGOs have been dependent on funds from donor organisations. Nowadays, the number of donors is decreasing. Therefore, NGOs should partner with the corporate sector to procure the funds for running their projects."
Sharfuddin Bhuiyan Shamol, Head of Marketing, Transcom Beverages Limited said, "Since most of the corporate entities are located in Dhaka, they are not aware of the grassroots problems or who they can reach out to for this information. Hence, I feel that the local administration and NGOs should take the initiative to reach out to the corporate sector. If we are made aware of the problems in areas outside Dhaka, then we will try our best to help them through CSR. Establishing a platform to bridge this gap would definitely make our CSR interventions more effective. Additionally, I feel the involvement of the government allows the corporate sector to have more trust when partnering with NGOs. So, I would encourage the involvement of government institutions such as the DC office and other local administrators to generate better CSR plan & on-ground execution."
Fakhrul Imam, Member of Parliament from Mymensingh-8, said, "Companies should first establish a comprehensive budget for their annual CSR. Then the budget can be distributed among the districts they want to work in.  The budget allocation should be declared publicly so that all the stakeholders have access to it. Once the  information is available, it will allow NGOs, the corporate sector and the government to make more sustainable plans around this budget. There should be a platform through which all CSR-related information could be disseminated among relevant stakeholders.
"On the government side, we need to prepare  a list of  areas and sectors that need urgent attention. Private companies can choose from this list, and partner with relevant organizations. The government can also help to establish this connection ." he added.
Afser Nurul, Head of Corporate Brands, Pran-RFL Group said, "It is always easier when we are approached by the government or NGOs to work on certain social issues. In these situations, they are the ones who link us up with  the target group. This ensures that our funds are reaching the people who need them the most. I know that sometimes it is said that the corporate sector works with big NGOs only . However, we are ready to work with any local NGO who has a good proposal. This proposal should highlight the issues their area is facing, and also include a comprehensive plan on addressing those issues."
Ankit Sureka, Head of Corporate Communications & Sustainability, Banglalink, said, "Companies want to work on CSR projects that reflect their own visions. The objective of our CSR projects is to go beyond philanthropic works and empowering communities through technology. As part of this objective, we launched several programs such as IT Incubator, which is designed for startups. Since some of these startups have become sustainable and are creating employment opportunities for others, we believe that this is a sustainable form of CSR. When we talk about collaboration, it doesn't always mean a partnership between the corporate sector and NGOs. Companies can directly partner with the Government and other types of organizations with a common purpose for their CSR initiatives."
Jahangir Alam, Additional Deputy Commissioner, Mymensingh DC Office, said, "CSR activities should be aligned with our SDGs. The government is working to achieve SDGs, but there are still some limitations. Therefore, we should use CSR funds to support the government to overcome these limitations. This will enable us to achieve our SDGs even quicker. Since the government publicly declares the national budget every year, I think the corporate sector should also disclose a yearly budget for their CSR. They can include district specific allocations along with the type of issues they want to address. This will ensure transparency and smooth collaboration among all the stakeholders."
The session was moderated by Ahsan Rony, Founder, Green Savers.