US working to help Bangladesh with Rohingya crisis: Chollet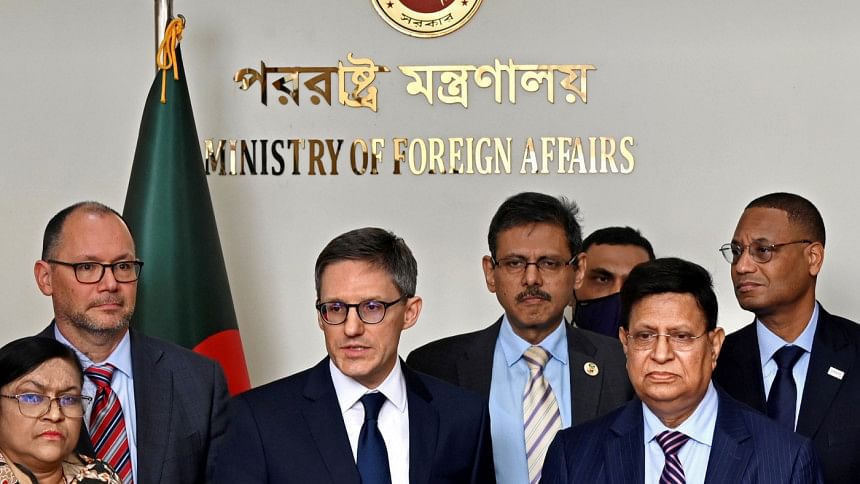 US State Department Counsellor Derek Chollet said Washington is working every day to help Bangladesh deal with the root causes of the Rohingya crisis.
Bangladesh is hosting over a million refugees from Myanmar and the US is grateful for this.
"We are working every day to try to help Bangladesh as they are hosting these refugees, but also to deal with the root causes of this crisis, which rest inside Myanmar," Chollet said after meeting Foreign Minister AK Abdul Momen at the ministry today.
Earlier today, he met with Prime Minister Sheikh Hasina and Foreign Secretary Masud Bin Momen.
"We are here because of the importance we place on the relationship between the United States and Bangladesh," Chollet said.
He is leading a high-level delegation to Bangladesh. The other members of the delegation visited the Rohingya camp.
Chollet's visit comes on the heels of visits of a number of senior US officials to Bangladesh.
"I am just the latest senior visitor from Washington to come here to Dhaka, which is a symbol of the importance that we place on this relationship in growing our relationship politically in terms of security as well as economically."
"We are hopeful for the future. It's been 51 years of very strong partnership and we are looking forward to the next 51 years and beyond. We have many shared challenges, but we have many common opportunities and that's what we talked about here today."