Rohingyas deserve dignity, security
Say UN rights chief, urges int'l community to hold Myanmar accountable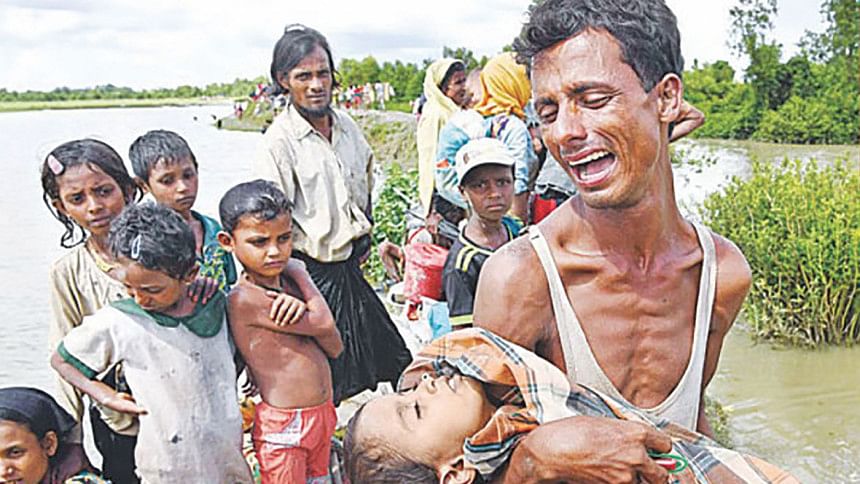 The UN High Commissioner for Human Rights Volker Türk yesterday urged the international community to hold the Myanmar junta accountable for the persecution of Rohingyas, saying they should be able to return to their home with dignity and without any pressure.
He said they should be recognised as a part of Myanmar's population.
His comments came on the eve of the sixth anniversary of Rohingya influx into Bangladesh following a brutal crackdown by Myanmar's military on them in Rakhine state.
"Their human rights must be fully respected and their security guaranteed," Türk said from Geneva.
During the 2017 crackdown, which the UN has called a genocide, some 10,000 Rohingya men, women, boys, girls, and newborns were killed, and over 300 villages were destroyed.
Over a million Rohingya have fled to Bangladesh, and more than 100,000 others are being held in closed displacement camps inside Myanmar, Türk said.
Pointing to the impunity Myanmar enjoys, Türk urged states to support international efforts to hold the junta accountable for Rohingya persecution and humanitarian crises.
The Rohingyas, both in Myanmar and in the camps in Bangladesh, need greater support and funding from the international community, he added.
Meanwhile, Fortify Rights yesterday said the junta should end the ongoing Rohingya genocide, and the democratic forces there should fully embrace Rohingyas as citizens.
"Six years on, the Myanmar junta continues to create conditions of life to destroy Rohingya and erase their identity," said Zaw Win, Human Rights Specialist at Fortify Rights.
Meanwhile, in a joint statement, Cox's Bazar CSO and NGO Forum (CCNF) and Equity and Justice Working Group Bangladesh urged the international community for immediate action, a unified global response to solve the crisis.
They also demanded urgent funding and support, diplomatic pressure for safe repatriation of Rohingyas, and an end to complicity in supporting Myanmar's government.
The statement emphasised that addressing the Rohingya crisis should have been a collaborative effort involving international organisations, particularly the United Nations, which has been hindered by certain member states' negative influence. This failure exposes a substantial gap in the UN's designated role and raises concerns about the credibility of various countries and organisations, it added.