Rohingya Repatriation: Likely to start in a few months
Authorities plan to send back 3,000 refugees by December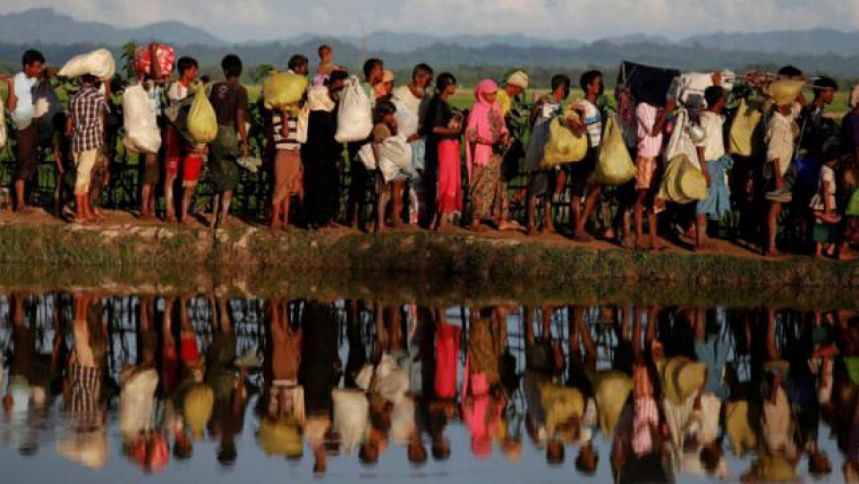 Repatriation of the first batch of the Rohingyas may begin within months and 100 refugees could be sent home every day from then on, said officials concerned.
Myanmar has confirmed that it has verified the identities of 2,087 forcibly displaced Myanmar nationals living in refugee camps in Bangladesh.
The repatriation of the first batch will be after a visit of a Myanmar delegation to the refugee camps and a Bangladesh delegation's visit to Rakhine state either this month or early next month.
The officials said once everything is finalised, every day 100 Rohingyas would be repatriated through the Ghumdhum-Tumbru border in Naikkhangchhari of Bandarban and Teknaf in Cox's Bazar.
A Bangladesh delegation in Naypiydaw on Monday discussed with the Myanmar authorities all technical issues related to the repatriation of the first batch in detail, a member of the delegation told The Daily Star.
The four-member team was led by Miah Md Mainul Kabir, director general of the foreign ministry's Myanmar wing. The meeting was part of a tripartite initiative mediated by China.
Sources said the Bangladesh side put emphasis on the repatriation of the refugees to their original villages.
The Myanmar authorities said they were working to identify the Rohingyas' original villages.
"They [Myanmar authorities] said they will let us know their decision within a short time," said a delegation member.
Officials said both Bangladesh and Myanmar agreed that the second "Go and Talk Visit" for the Rohingyas would be held as a confidence-building measure.
The Myanmar government said several voluntary organisations, including Asean Coordinating Centre for Humanitarian Assistance (AHA Centre) and UNHCR, will be engaged during the repatriation process.
The meeting in Naypiydaw also discussed other initiatives like livelihood activities, education and healthcare facilities for the repatriated Rohingyas in Rakhine.
Bangladesh is now hosting more than one million Rohingyas, most of whom fled Myanmar after the August 2017 military crackdown on the ethnic minority group in Rakhine.
Two attempts at Rohingya repatriation failed in 2018 and 2019, with the Rohingyas saying there was no guarantee of safety and citizenship in Myanmar.
Dhaka and Naypiydaw are now in talks for the repatriation of 3,000 Rohingyas by December this year.
Chinese Special Envoy for Asian Affairs Deng Xijun visited Dhaka twice this year -- in April and on August 1.
Bangladesh Foreign Secretary Masud Bin Momen also visited China and met the Chinese and Myanmar officials in Kunming on April 18.
Deng Xijun, during his meeting with Bangladesh officials, had said Myanmar agreed to settle the Rohingyas in their original villages -- a demand that the Rohingyas had been making in response to Myanmar's earlier plan of resettling Rohingya's in camps or model villages.