Rohingya camps: Arsa riddle needs to be solved: experts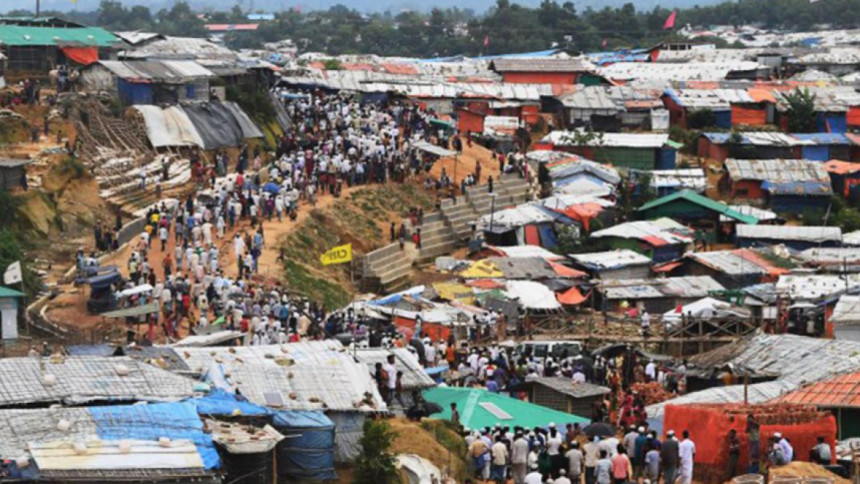 Despite the government's assertions to the contrary, the recent arrest of an Arsa chief's brother from a Rohingya camp in Cox's Bazar strongly hints atthe insurgent group's presence inside the refugee camps, residents and experts said.
Experts also said the government should seriously investigate the arrest of Mohammad Shah Ali, also an alleged operative of Myanmar's banned organisation Arakan Rohingya Salvation Army (Arsa), not only to ascertain the presence of Arsa members in the camps, but also for the sake of ensuring security.
They warned that a volatile situation in the camp would create more uncertainty around the repatriation of the Rohingyas.
A team of the Armed Police Battalion (APBn) arrested Shah Ali, brother of Arsa commander Ataullah Abu Amar Jununi, on January 16 from Noukarmath Rohingya camp in Ukhiya of Cox's Bazar.
Following the arrest, APBn filed a case against him. According to the case document, it has been known locally that the arrestee is "an identified Arsa member".
"He [Shah Ali] is also an armed criminal and kingpin of a gang that is involved with abduction, and also runs drug trading. In interrogation, the accused admitted that he used to keep firearms for security while trading drugs," it said.
The issue of Arsa's presence in the country has been widely discussed as Rohingyas and experts believe there are members of the Myanmar insurgent group in the camps. It came to the fore prominently after the murder of popular Rohingya leader Mohib Ullah last year.
However, the government and law enforcers alike maintain this group does not exist in Bangladesh and that some criminals might have falsely identified themselves as Arsa operatives to intimidate the refugees.
But experts said the government should take the matter seriously as it can affect the security of Rohingyas as well as the country.
"This particular arrest will be critical for investigating the death of Rohingya leader Mohib Ullah and finding evidence regarding Arsa's external linkages across the border," said Prof Shahab Enam Khan of Jahangirnagar University's Department of International Relations.
Former foreign secretary Touhid Hossain said it was generally believed that there was Arsa presence in the Rohingya camps and they were responsible for many of the crimes there.
"There are followers of Arsa in the camps, particularly among the criminal elements who oppose the repatriation. I believe that intelligence activities should increase in the camps to identify and check them with appropriate action."
Contacted, Naimul Haque, commander of 14th Armed Police Battalion (APBn), which is in charge of security of a portion of Rohingya camps, said, "We did not say Shah Ali is an Arsa member, we said he is a so-called Arsa member."
He said Shah Ali told law enforcers that he went to Saudi Arabia but his visa was cancelled because he is the brother of Ataullah.
"Then he got married here and stayed here," said Naimul.
Home Minister Asaduzzaman Khan Kamal said, "We heard there is Arsa in the Rohingya camps but we did not find any identified Arsa member in the camps."
He, however, said it was not an issue as to who is an Arsa or Arakan Army member. "Whoever engages in criminal activities will be brought to book," the minister told The Daily Star.
On its verified twitter handle, Arsa claimed, "Shah Ali, a former low-key member of Arsa, was diagnosed with heart disease and suspected of suffering from cancer as well. He was thus relieved of all scopes of duties indefinitely since two and a half years ago on the ground of incapability."
Touhid Hossain said, "Why the government is still denying it is not clear to me. I believe that Arsa is an agent of the Myanmar military, and it provided the pretext to Tatmadaw for committing ethnic cleansing both in 2016 and 2017."
On August 25, 2017, Arsa claimed responsibility for attacks on police posts across northern Rakhine. The Myanmar military used the attacks as a pretext to carry out a massive clampdown on the Rohingyas, resulting in the region's most severe refugee crisis in decades.
All 34 Rohingya camps in Cox's Bazar are hubs of organised and cross-border crimes and Rohingyas and law enforcers believe that Arsa is behind it all, sources said.
Out to make the refugee camps its stronghold, the armed group is cashing in on lax law enforcement and the misery of the refugees, said locals and intelligence sources.
Talking to The Daily Star, a number of Rohingyas and their community leaders said a huge number of Arsa members are agents of Myanmar and receive regular patronage from the the Myanmar military.
A community leader in the Whaikong camp said they were not aware of Shah Ali living in the camp.
"As Shah Ali was arrested, there are surely other leaders of Arsa living in the camps. They should also be arrested soon."
Mohammad Nur, a resident of Kutupalong unregistered Rohingya camp, said since Mohib Ullah's killing, the law enforcers regularly launch drives in the camps but still Arsa continued to carry out criminal activities in the camp at night.
Nazim Uddin, general secretary of Amra Cox's Bazarbashi, an organisation of citizens advocating for the repatriation of Rohingyas in Bangladesh back to Myanmar, said, "It should be investigated seriously to know how he [Shah Ali] got the NID card? Who is sheltering him? Who are the people behind him?"
Naimul Haque said after Mohib Ullah's killing, they have arrested around 300 "so-called" Arsa members at different times.
The commander of 14th APBn, however, said many of the so-called Arsa members got bail form the court, engaged in criminal activities and got arrested again.
"The law and order situation in the camp is very good right now. The circular road centring the camps is almost completed and we have ensured patrolling through watch towers," he added.