Rohingya Camp in Cox's Bazar: Six killed in grisly attack
Eight others injured as armed assailants storm a madrasa in wee hours; locals question security of the settlement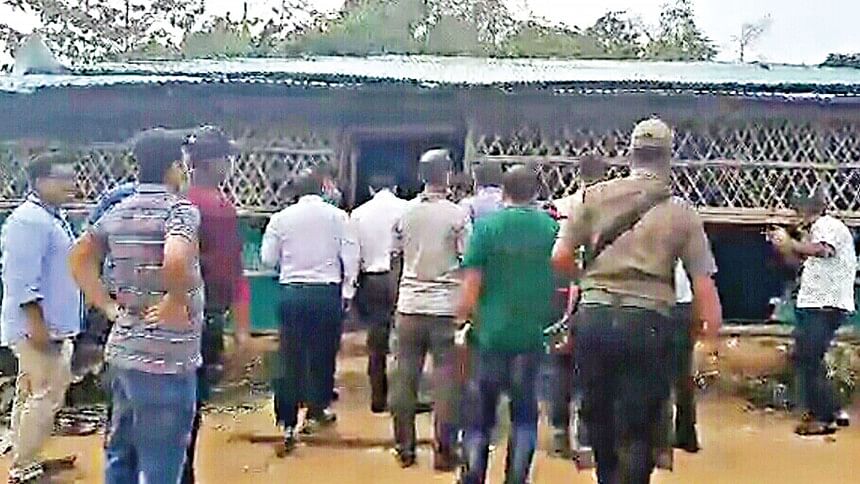 At least six Rohingyas were killed and eight others injured as a group of armed criminals attacked a madrasa inside a refugee camp in Ukhiya early yesterday, hours after a block raid of the Armed Police Battalion (APBn). 
The incident occurred at Darul Ulum Nadwatul Ulama Al-Islamia Madrasa in Moinarghona camp-18 around 3:00am, said police.
The murders took place 23 days after the assassination of Rohingya leader Mohibullah in Kutupalong refugee camp, raising questions over the security of camps housing more than 10 lakh Rohingyas.
"A group of armed criminals attacked the madrasa at block-H52 in Moinarghona area, and hacked madrasa students and teachers in their sleep, leaving six dead," said APBn-8 Commanding Officer Shihab Kaiser Khan of Cox's Bazar.
In this connection, police already arrested a suspect, a Rohingya man named Mujibur Rahman, 17, with a homemade gun, six bullets and a machete from the camp area, said the CO.
Of the six deceased, Md Ibrahim Hossain, 22, Azizul Haque, 26, were madrasa students while Md Nur Alam Halim, 45, and Hamidullah, 55, were teachers, said their family members and other local sources.   
The other two have been identified as madrasa's volunteer Md Amin, 32, and one Idris, 32, a resident of block-J5 of camp-12.
Since August 2017, at least 226 Rohingyas have been killed and some 1,298 cases filed accusing 2,850 individuals, mostly in connection with drugs and firearms.
Worried over this situation, Foreign Minister AK Abdul Momen yesterday said law enforcers will open fire, if necessary, to stop illegal drugs and arms business in the Rohingya camps in Cox's bazar.
"We had a meeting only on Thursday on how to improve law and order in Rohingya camps. After that meeting, such an incident has happened, which is a matter of serious concern," he told journalists in Sylhet.
A number of camp dwellers said after the killing of Mohibullah, chairman of the Arakan Rohingya Society for Peace and Human Rights, APBn personnel have been conducting raids in the camps almost every night to arrest criminals.
In the raids, Rohingyas helped the law enforcers, which might have triggered anger among armed criminal groups, they added.
APBn-8 Additional Superintendent of Police Md Kamran Hossen told The Daily Star, "The criminals attacked the madrasa hours after the block raid."
However, he said, the motive behind the grisly attack could not be known immediately.
Seeking anonymity, two Rohingya majhis (leaders) of camp-18, said some of those who died had been working with police, providing information and other assistance. The attackers might have carried out the attack because of this.
Some refugees and police officials suspect the murders could be linked to Arakan Rohingya Solidarity Army (ARSA), an insurgent group based in northern Rakhine State of Myanmar. Many armed criminals in the camps introduce themselves as ARSA members, they claimed.
Muhammad Safi, a resident of Kutupalong camp and also uncle of deceased Nur Alam, said "ARSA activists have long been trying to take over the madrasa and they had pressured Halim to stop the activities of the madrasa."
Halim had informed the matter to Mohibullah, he added.
"Following the intervention of law enforcers, ARSA men stopped coming to the madrasa. But after the killing of Mohibullah, the criminals dared launch this attack," he told these correspondents in front of Cox's Bazar Sadar Hospital morgue.
Quoting witnesses, Alam said Halim was sleeping at the madrasa and his throat was slit along with others'. The attackers also opened fire, he added.
Md Ismail Hossain, brother of another victim Md Ibrahim Hossain, said, "The body of my brother bore marks of hacking. The witnesses said it was ARSA men who attacked the madrasa."
The Daily Star could not independently verify their claims regarding ARSA link to the incident.
A police official of Cox's Bazar, wishing not to be named, said at least 50 criminals stormed the madrasa carrying sharp weapons and firearms. After the killing, they fled in small groups before the arrival of police.
"We think the criminals launched the attack to show their strength to the administration and police."
Three battalions of APBn maintain law and order in the refugee camps where over a million Rohingyas have been living since the mass influx of 2017.
Besides, Moinarghona Police Camp-12 is close to the spot.
Questioning the camp security, a number of camp residents asked how could armed criminals enter the refugee camp and escape so easily.
Ukhiya Police Station's Officer-in-Charge Ahmed Sanjur Morshed said, "Police have prepared the inquest reports of the six deceased Rohingyas and sent the bodies to Cox's Bazar Sadar Hospital morgue for autopsy.
The injured were taking treatment for hacking and bullet wounds at MSF Hospital in Ukhiya as of filing this report, sources said.