President calls for early repatriation of Rohingyas to Myanmar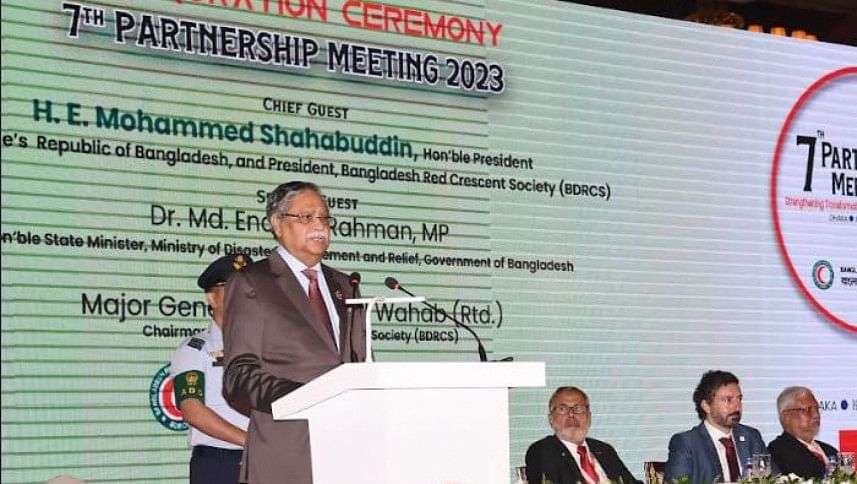 President Mohammed Shahabuddin yesterday called on the international community to take urgent steps for the safe, voluntary, and sustainable repatriation of Rohingyas to Myanmar.
The president made the call while opening the 7th Partnership Meeting of Bangladesh Red Crescent Society (BDRCS) as chief guest at the Pan-Pacific Sonargaon Hotel in the capital.
He said Bangladesh opened its borders for the persecuted Rohingyas on humanitarian grounds and currently the country is hosting around 1.2 million forcibly displaced people from Myanmar, providing them with shelter, food, and other necessities.
"It is imperative to understand that the burden of this crisis should not fall solely on our shoulders. While we continue to provide support to them, it is high time that the international community finds a durable solution to this crisis in its place of origin in Myanmar," he said.
President Shahabuddin also cautioned that the delay in commencing safe, voluntary, and sustainable repatriation of the Rohingyas and the shortage of humanitarian support may put the entire region at risk.
The president referred to climate change as a global crisis that demands global cooperation.
He called upon the international community to honour their commitments to reduce greenhouse gas emissions and provide support to vulnerable nations like Bangladesh.
The president lauded Bangladesh's development in the past few years.
"Bangladesh's overall development under Prime Minister Sheikh Hasina's visionary leadership began in January 2009 when her government took office and initiated strategies like "Digital Bangladesh"; "Vision-2021 and "Vision 2041", and "Smart Bangladesh" which acted like the catalyst of development and growth that we achieved," he said.
He said Bangladesh has come a long way on its journey of development leaving poverty and adversity behind. The country has made remarkable strides in various sectors such as healthcare and education.