Fear and loathing in refugee camps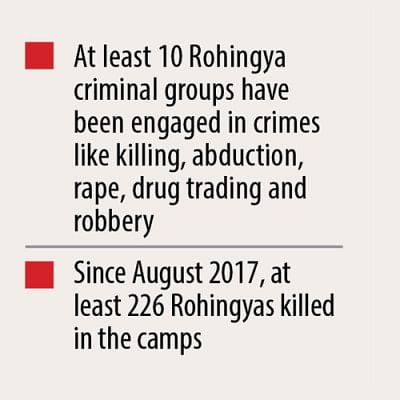 It's not that fear gripped the Rohingya camps in Cox's Bazar only after the recent killing of a popular leader; it has always been there due to unrestrained crimes, rivalry between groups, and lax security.
But last week's assassination of Mohib Ullah, chairman of Arakan Rohingya Society for Peace and Human Rights, worsened the situation, further exposing security vulnerabilities and the simmering tensions between criminal groups active across 34 refugee camps in Ukhia and Teknaf.
During a recent visit to the camps, this correspondent talked to nearly 100 Rohingyas following the assassination of Mohib. Most of them are of the opinion that the security in the camps has gone from bad to worse in recent times as armed gangs belonging to Arakan Rohingya Salvation Army (ARSA) have established a realm of fear.
"We fled our country and came here to save our lives. Unfortunately, things haven't changed much for us. We live in constant fear," said Zakir Hossain, a resident of camp-7 in Ukhia.
Narrating the situation in the eerily quiet camp, Zakir who runs a grocery store, said, "I close my shop and go home before the sun sets. After dusk, the camp takes on a sinister look as criminal gangs prowl the settlements."
"When we should have been united for a common cause, we stand divided. We can't trust each other," said Zakir, who claimed to have left around 100 acres of land in Myanmar in 2017.
Such is the distrust among the commoners that Zakir rarely talks to his next-door neighbour who came from a place around 35km away from his home in Myanmar.
A majority of the refugees said most of the armed gangs in the camps belong to Arakan Rohingya Salvation Army (ARSA) which saw Mohib as an opponent.
Human Rights Watch in a statement yesterday said at least a dozen activists sought protection from the UN refugee agency after Mohib's killing because of renewed threats from armed groups, including the ARSA.
According to officials of different law enforcement agencies, at least 10 Rohingya groups are engaged in at least 12 types of crimes, including killing, abduction, rape, drug trafficking and robbery.
Some of the gangs are known as "Salman Shah Group", "Putia Group", "Munna Group", "Hakim Group", and "Jokir Group", the refugees said.
Since August 2017, at least 226 Rohingyas were killed and some 1,298 cases were filed accusing 2,850 individuals, mostly in connection with possession of drugs and firearms.
Three battalions of armed police (APBn) maintain law and order in the refugee camps where over a million Rohingyas have been living since the mass influx of 2017.
Contacted, Commanding Officer Naimul Huq of APBn-14 said, "The camps are so congested that whenever we launch a raid, they [the criminals] just move from one camp to another and disappear into the crowds."
The camps are fenced with barbed wire, but many holes big enough for people to pass through the fence can be seen.
"Rohingyas made at least 12 holes on the fence. Whenever we fix one, they make another. The government is making a walkway along the fence. Once it is done, patrolling officials will stop trespassing," he said.
The APBn CO added that most of the crimes happen at night after 8:00pm and poor lighting in the camps make the law enforcers' task even more difficult.
Naimul said two more battalions of armed police, one in Cox's Bazar and in Bhasan Char, will be deployed soon.
A DAY IN THE CAMP
The Rohingya settlement in Cox's Bazar is a facility with around 50 watch towers. Anyone entering the camp has to go through an elaborate security check-up.
This correspondent had to obtain permission from the additional refugee relief and repatriation commissioner and the commanding officer of APBn-14 before entering Noukar Math camp on October 2.
Three youths gossiping in front of a grocery store said everything was fine in the camp. After a long chat, when this correspondent offered to treat them at a nearby tea stall, they refused.
"If I go and have tea with you, I will be identified as a traitor and a rat of the law enforcers. I will be in trouble," a 25-year-old Rohingya, told this correspondent, looking around nervously.
Criminals are everywhere in the camp and they keep an eye on the movement of the Rohingyas. If you are on their list, you are in trouble," he said.
"Everything seems calm in daytime. After sunset, the situation becomes completely different," he said, adding that no one has the courage to speak up against the criminals.
Mohammed Faisal, a resident of in Lambashia camp, said, "Rohingyas should have been united. But we are fighting amongst ourselves and are getting weaker."
About 750,000 Rohingyas fled a military crackdown in Myanmar in the weeks following August 25, 2017, and joined about 300,000 other Rohingyas who fled earlier waves of violence and took shelter in Cox's Bazar.
Meanwhile, Foreign Minister AK Abdul Momen on Tuesday said Bangladesh forces will shoot to stop arms, drugs and human trafficking at the border with Myanmar.
"I had a discussion with the home minister yesterday [Monday] about the current situation at the border and [we] decided that we will open fire in future. Only then the crimes… will stop," he said.
Prime Minister Sheikh Hasina on Monday said many Rohingyas in Cox's Bazar were involved in drug trafficking.