Violence against Rohingyas - Crimes against humanity, genocide: US
Blinken announces at US Holocaust Memorial Museum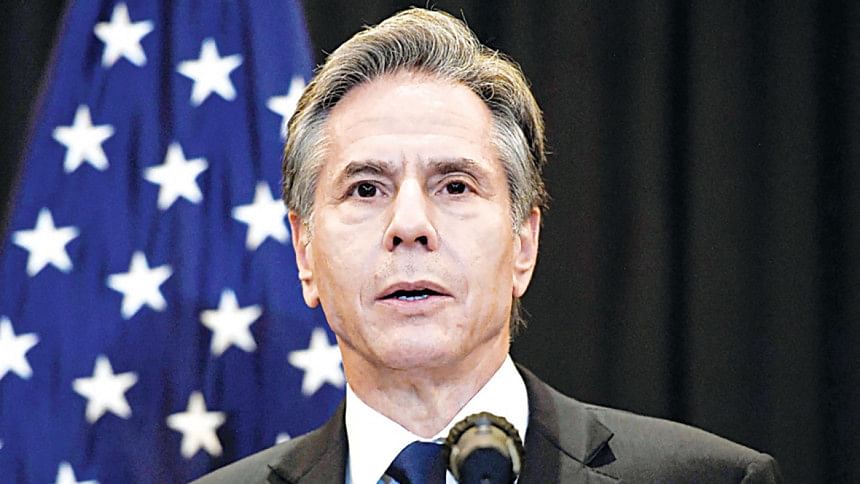 The Biden administration yesterday determined that violence committed against Rohingyas by Myanmar military amounts to genocide and crimes against humanity -- a decision that analysts say should strengthen efforts to hold the Myanmar junta accountable.
Secretary of State Antony Blinken announced the decision at the US Holocaust Memorial Museum in Washington.
"There was clear evidence of an attempt to destroy the Muslim minority," he said, citing the killings of thousands and forcing close to a million to flee the country in 2016 and 2017, reports AFP.
"The military's intent went beyond ethnic cleansing to the actual destruction of Rohingya.
"The attack against Rohingya was widespread and systematic, which is crucial for reaching a determination of crimes against humanity," he said.
Blinken noted 2017 remarks by Min Aung Hlaing, the commander-in-chief of the Myanmar military, that the government was "solving" an "unfinished job" in its destruction of Rohingya communities.
He said Min Aung Hlaing led the 2021 coup overthrowing Myanmar's elected government.
The Holocaust Museum prepared its own report in late 2017 with the Fortify Rights that concluded there was compelling evidence of crimes against humanity in Myanmar.
The US decision comes nearly 14 months after Joe Biden took office as president and pledged to conduct a new review of the violence in a shift from the stance of the Trump administration that had condemned the violence against the Rohingyas, but fell short of determining it as genocide.
Myanmar's military operation in 2017 forced about 750,000 Rohingyas to flee to Bangladesh, where they recounted killings, mass rape and arson.
Rohingyas had been facing persecution and were denied citizenship and other fundamental rights, forcing them to flee to Bangladesh since the late 1980s.
Following the violence in 2017, the UN termed it a classic example of ethnic cleansing. Later, the UN Fact-Finding Mission said Myanmar military had genocidal intent behind the crackdown.
The US Holocaust Memorial Museum in 2018 determined the violence as genocide.
In 2019, the Gambia filed a case with the International Court of Justice in this regard. The International Criminal Court is also investigating the forced deportation of Rohingyas.
However, Myanmar's military has denied the genocide allegation.