70,000 Rohingyas: Dhaka wants foreign funds to shift them to Bhasan Char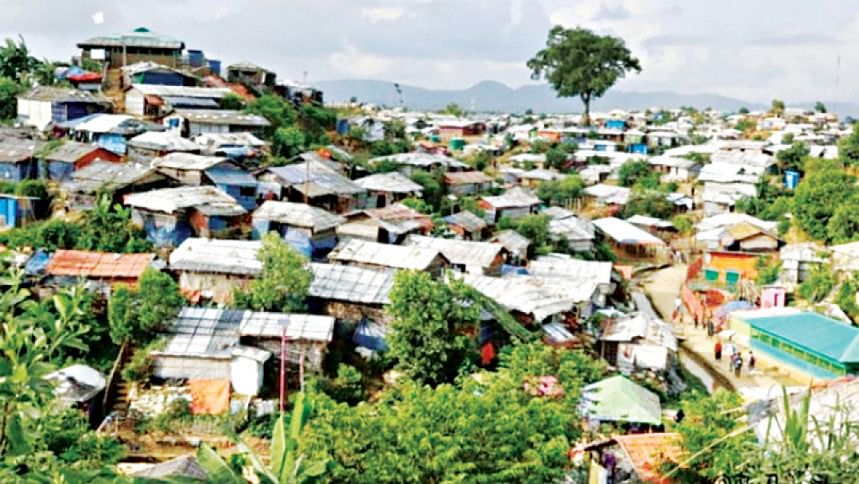 The government has placed two proposals seeking assistance from the international community to relocate more Rohingya refugees to Bhashan Char island from camps in Cox's Bazar for the well-being of the displaced Myanmar nationals.
Under the proposals Dhaka wants foreign countries and agencies to bear the expenses of the Rohingya relocation and provide assistance to construct more infrastructures in Bhashan Char to make the remaining two-third areas of the island livable for the displaced people.
PM's Principal Secretary M Tofazzel Hossain Miah placed the proposals at a meeting with the foreign diplomats and representatives stationed in Dhaka, held at the Prime Minister's Office yesterday.
The representatives from 17 countries and agencies, including Australia, US, UK, France, Germany and UNHCR attended the meeting.
"We've told the international community that the more people we can bring to Bhashan Char in a very quick time, the more their safety and the betterment of their children will be ensured. So, now we've given them two proposals," the principal secretary told the media after the meeting.
About the first proposal, he said housing for 100,000 people was built in Bhasan Char and only 30,000 people have so far been moved there.
"Now we want to shift 70,000 more people to the place, which is an expensive matter. We ask the friendly countries who work with us to bear the cost of taking these people from Cox's Bazar to Bhashan Char," he added.
Talking about the second proposal, Tofazzel said only one-third of the land of the Bhashan Char was used (for infrastructure to house 100,000 Rohingyas) and now the Prime Minister wants the infrastructure to be constructed in the remaining two-thirds of the land and more Rohingyas to be taken there.
"So, Bangladesh has sought assistance to construct new infrastructures," he said.
In the meeting, the foreign countries and agencies were asked to put importance on the Rohingya issue in other international forums, he said.
The principal secretary said Rohingya people will get better life and livelihood in Bhashan Char as they get skill development training and opportunities for agricultural work including raising poultry and rearing farm animals.
He mentioned that the Rohingyas taken to Bhashan Char are brought to the mainland camps to meet their relatives in Cox's Bazar regularly.
He said several problems, including internal conflict, violence, killing, and trafficking are occurring in the Cox's Bazar camps.
Many of the refugees are involved in the drug business, he added.
Noting that the fund to conduct humanitarian activities for Rohingyas are not being received as per the commitment of the donors, Tofazzel said Bangladesh received some $586 million which is 62 percent of the committed amount of $876 million in 2022.
He said the government spent some Tk 3,100 crore only to prepare Bhashan Char.