Rohingyas demand clear genocide determination 4 years since exodus from Myanmar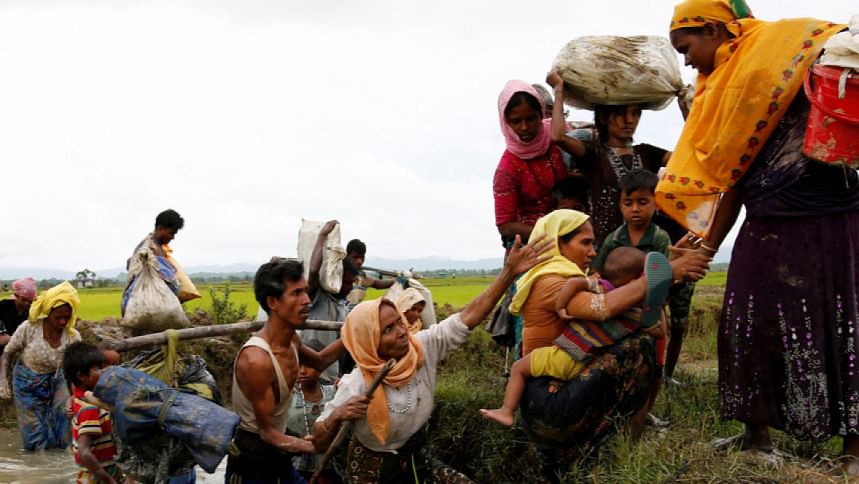 The Rohingyas called on the governments around the world, including the US and UK to make a clear genocide determination about the crimes committed against them as they observe Genocide Day today, the fourth anniversary of the Rohingya influx.
In a joint statement, ten different Rohingya organisations called on the UN member states to impose targeted sanctions against the Myanmar military and work to end impunity in the country, saying that the UN has been slow to show coordinated action to hold preparators accountable for crimes.
The Rohingyas were not allowed any outdoor events to observe the day in the Cox's Bazar camps, but some held placards and spoke standing in front of their camps, mourning, remembering and calling for accountability of the atrocity crimes.
The organisations that signed the statement include Champions of Change, Education & Wisdom Development for Rohingya Women, Rohingya Refugee Committee, Rohingya Women Education Initiative, Rohingya Youth for Legal Action, Rohingya Youth Unity Team, Voice of Rohingya, Rohingya Student Union, Arakan Rohingya National Union, Rohingya Women Empowerment and Advocacy Network.
Some 750,000 Rohingyas fled genocidal attacks by Myanmar military in Rakhine State since August 25 in 2017 and took shelter in Bangladesh's Cox's Bazar.
Cases were filed at the ICJ and an Argentine Court, while the ICC are investigating the allegations of forcible displacement of the Rohingyas, who were denied citizenship and fundamental rights in Myanmar.
Four years after the genocidal acts, Myanmar military on February 1 this year overthrew the elected government of Myanmar in a coup and since then killed more than 1,000 men, women, and children—and imprisoned several thousand others for opposing the junta's rule.
Rohingyas are still at grave risk in Rakhine State where the military continues to confine thousands of Rohingya to internment camps.
They called on the NUG to expand on its Rohingya policy and appoint a Rohingya minster and other Muslim leaders into the NUG, which was formed under the leadership of Aung San Suu Kyi's National Democratic League. The NUG had issued a statement committing to issue Rohingya citizenship, fundamental rights and justice.
"Four years on, we will work to be able to return to our homeland as citizens, to build a country that ensures justice and rights for people regardless of race, religion, or ethnicity."
In a separate statement, Arakan Rohingya Society for Peace and Human Rights thanked Bangladesh for sheltering the Rohingyas.