Rohingya refugee camps at imminent risk of landslides: HRW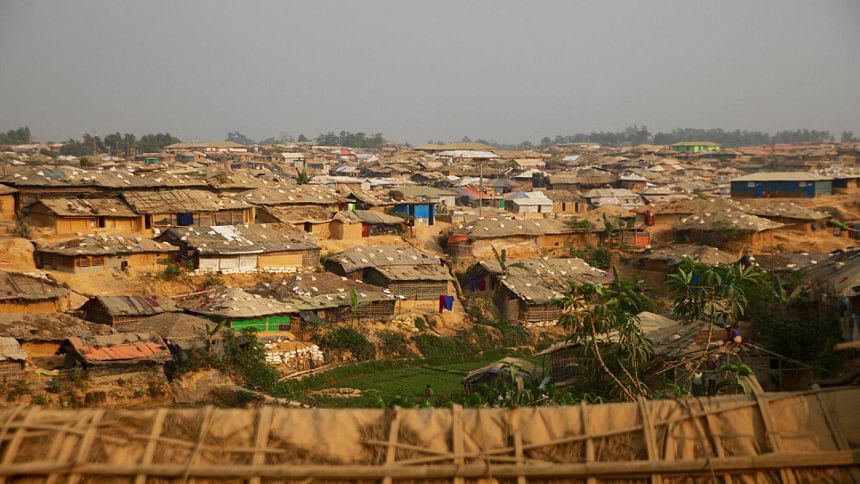 Tens of thousands of Rohingya refugees living in Bangladesh camps are at imminent risk of landslides, according a statement of Human Rights Watch (HRW).
The rights body also released a new video on its website, noting that Bangladesh authorities, with the assistance of the United Nations and other humanitarian agencies, should urgently relocate refugees to safer ground.
Thousands of hand-built tarpaulin and bamboo shelters are threatened by strong winds and cyclones during the monsoon season, it said.
Rohingya refugees living on the steep, deforested slopes of sand and clay in the Kutupalong-Balukhali camps face added dangers of landslides.



Altogether over 700,000 recent Rohingya refugees from Myanmar are living in camps in Bangladesh.
"The situation in the Rohingya camps is a disaster waiting to happen," said Bill Frelick, refugee rights director at Human Rights Watch. "Already, after a few bouts of rain, some shelters were blown away and the narrow paths are slippery and dangerous."
A landslide on May 18, in a densely packed area in Camp 11, washed away a hut that housed three families, numbering a total of 17 people, who were unharmed.
Nobi Hassan, the head of one of those families, told Human Rights Watch that he asked the appointed local leader to relocate them to a safer place, but was told they had to stay in the same block. He said there is no space left in that block and all the other huts were also precariously situated.
"Many Rohingya refugees want to return to Myanmar if their rights and identity are respected, but sadly that won't happen anytime soon," Frelick said. "In the meantime, people like Nobi Hassan and his family desperately need a safe place to live," he added.