Fresh list of 50,000 Rohingyas handed to Myanmar: Minister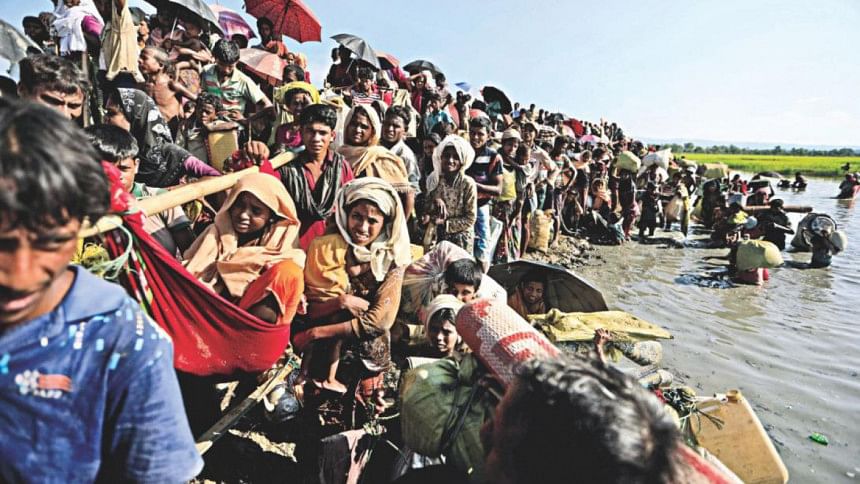 Foreign Minister AK Abdul Momen today said a new list of around 50,000 Rohingyas has been handed over to Myanmar to expedite Rohingya repatriation efforts.
The minister disclosed this talking to a small group of reporters at the Ministry of Foreign Affairs.
On July 29, Bangladesh handed over a list of 25,000 Rohingyas to Myanmar for verification before their repatriation to their place of origin in Rakhine State.
Bangladesh has so far handed over names of around 55,000 Rohingyas to the Myanmar authorities.
Turning to Abrar murder he said diplomats' comments over Abrar murder is "unnecessary " as the government has taken strong action immediately.
"I think this should be stopped," said the minister noting US government's failure to arrest anybody after the recent US shooting that claimed 4 lives. "I think they (diplomats) go beyond norms."
"It shouldn't be headache of someone else, " he said commenting on installation of coastal surveillance system.
Bangladesh on Sunday expressed dissatisfaction regarding the UN statement on the murder of Buet student Abrar Fahad which the government sees as an internal matter of Bangladesh.
The Ministry of Foreign Affairs called UN Resident Coordinator here Mia Seppo at the office Director General (UN Wing) Nahida Sobhan and also explained the government position and the "prompt actions" taken so far and being taken since the killing, said a diplomatic source.
On Thursday, Information Minister Hasan Mahmud said statements from foreign diplomats stationed in Dhaka on Abrar Fahad murder are uncalled for.
Following the murder of Abrar, the UN in a statement said it deplores the killing of a young Buet student, "allegedly for freely expressing his views."
Abrar Fahad, 21, a second-year student of electrical and electronic engineering, was beaten to death on October 7 reportedly by Chhatra League leaders at Buet's Sher-e-Bangla Hall.
Abrar's father, Barkatullah, filed a case with Chawkbazar Police Station on Monday evening against 19 people. So far, 19 people, including 14 FIR-listed accused, have been arrested in the case.