Rohingyas in Rakhine still subjected to government persecution, violence: Human Rights Watch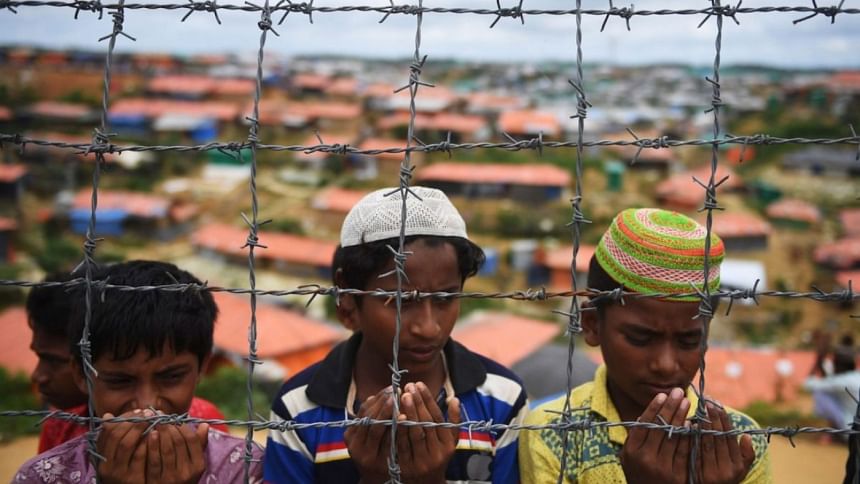 The squalid and oppressive conditions imposed on some 600,000 Rohingya have amounted to crimes against humanity of persecution, apartheid, and severe deprivation of liberty, said Human Rights Watch (HRW) yesterday.
The Rohingyas remaining in Rakhine State are subjected to government persecution and violence. They are confined to camps and villages without freedom of movement, and cut off from access to adequate food, healthcare, education, and livelihoods, it said in its 761-page World Report 2021.
It is still going on at a time when Myanmar is facing a genocide case and has been ordered to take action in preventing further genocide against the Rohingyas, after 750,000 Rohingyas fled a military crackdown in Rakhine state in 2017, the report added.
The Myanmar government maintained internet restrictions in eight townships in Rakhine and Chin States into a second year. Although 2G networks were restored in early August, blocks on 3G and 4G services were extended until the end of 2020.
The restrictions have made it especially difficult for humanitarian agencies to aid those in need in the war-torn area, HRW said.
In the report's chapter on Myanmar, the global rights watchdog said the Myanmar government has repeatedly violated basic civil and political rights, and failed to hold the country's security forces accountable for atrocities against ethnic minorities.
The ruling National League for Democracy (NLD) party won the November 8, 2020, election, which was marred by serious problems. Prior to the vote, the government prosecuted its critics, censored opposition party messages, and did not provide equal access to state media, HRW also said.
Systemic problems include the continued ethnic Rohingya disenfranchisement, the 25 percent of assembly seats reserved for the military, and the lack of an independent and transparent Union Election Commission.
The commission cancelled voting in 57 primarily ethnic minority townships for security reasons, but provided little or no consultation or explanation to affected political parties and candidates, the report further said.
"Aung San Suu Kyi and the ruling NLD have turned their backs on human rights concerns since taking power, betraying promises to Myanmar's people to revoke repressive laws and break with abusive past practices," said Phil Robertson, deputy Asia director at HRW.
"By winning a significant parliamentary majority, the NLD has an opportunity to introduce rights-respecting reforms that would protect everyone."
The military regularly committed abuses against civilians during fighting with ethnic armed groups in Chin, Kachin, Karen, Rakhine, and Shan States. The government has taken no serious action to hold abusive military commanders or soldiers accountable, HRW said.