Rohingya women testify in Argentina court on 'brutal massacre in Rakhine state'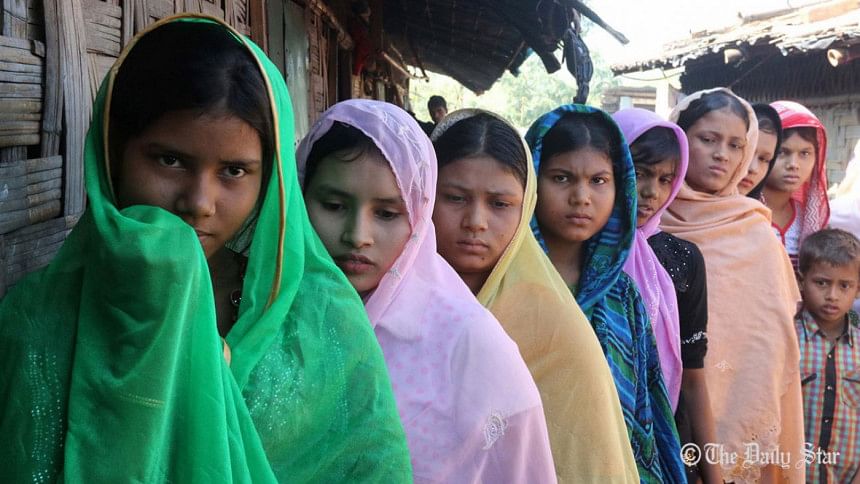 In a historic development, Rohingya women have described how the Myanmar military carried out a brutal massacre in their village, in an Argentinean court of law, under the aegis of universal jurisdiction.
Speaking remotely to the Federal Criminal Appeals Court in Buenos Aires from Cox's Bazar on Tuesday, the women told how soldiers killed their husbands in Chuk Pyin, Rakhine, Myanmar, according to a statement from the Burmese Rohingya Organization UK (BROUK).
They said soldiers killed hundreds of people, some women were raped before being killed. The soldiers went on to rape many other women in their village and then burned their homes to the ground.
The women who testified were victims of sexual violence themselves in the Rakhine State before they fled to Bangladesh in 2017. The names of the victims are being withheld for safety.
This is the first hearing after the Burmese Rohingya Organization UK (BROUK) on 13 November petitioned Argentinean courts to open an investigation into the role of Myanmar's civilian and military leaders in committing genocide and crimes against humanity against the Rohingya.
Nearly eight lakh Rohingya fled the military crackdown in Myanmar's Rakhine State in 2017.
Under the principle of universal jurisdiction, such crimes can be investigated anywhere in the world, regardless of where they are committed. The hearing on August 17 forms part of this process in which the Argentinean judiciary is considering whether to take up the case.
During the hearing, the President of the Appeal Court Ojea Quintana said that they will issue a prompt decision, expected in the coming days. BROUK will take the case to the Argentinean Supreme Court, if necessary, Ojea said.
Since 2019, developments at the International Criminal Court (ICC) and the International Court of Justice (ICJ) have added momentum to international justice for the Rohingya genocide. At the same time, many experts – including the UN Fact-Finding Mission on Myanmar – have urged states to pursue universal jurisdiction cases against the Tatmadaw and its allies.