Rohingya Repatriation: Doubt lingers as conflict flares up in Myanmar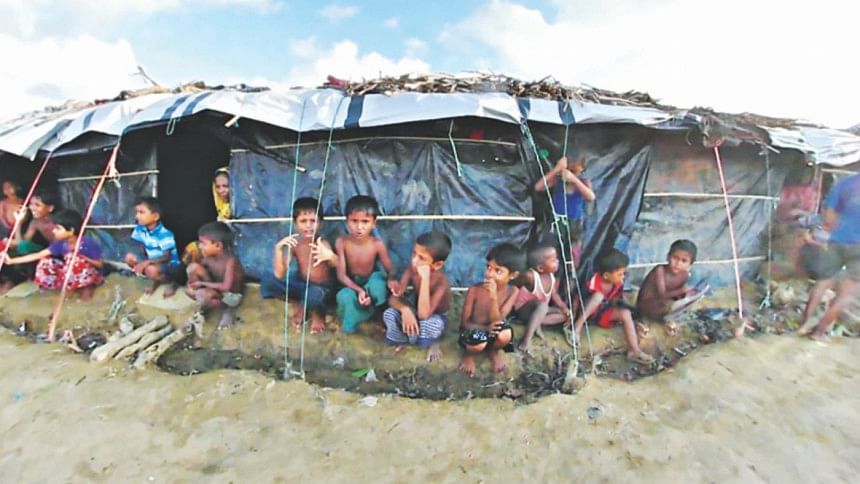 Uncertainty over Rohingya repatriation is likely to stay as conflict between the Myanmar military and the Arakan Army in Rakhine has escalated since early January, say experts.
The situation poses challenges for Bangladesh in handling the one million refugees in Cox's Bazar, especially as tension between the host communities and the Rohingyas, and the risk of Rohingya radicalisation are rising, amid a fund shortage.
Meanwhile, aid agencies are proposing medium-term plans, including the provision of education, skills and income-generating activities for the Rohingyas before their return.
The Bangladeshi authorities, however, are reluctant.
"Joblessness among Bangladeshis is high. So, there is little scope for creation of jobs for the Rohingyas," said Refugee Relief and Repatriation Commissioner (RRRC) Abul Kalam.
Providing formal education to the children could lead to a situation when they would look for jobs and integrate in Bangladesh society. He insists that aid agencies ensure informal education in the refugee camps instead.
UNCERTAINTY OVER REPATRIATION
Myanmar signed two deals -- one with Bangladesh in November and another with UNDP and UNHCR in June – in face of global pressure. It came following the influx of some 750,000 Rohingyas after a brutal military crackdown on them in August 2017.
After a series of discussions, the first batch of 2,260 Rohingyas was supposed to be repatriated in mid-November last year. However, the UN Refugee Agency found them not volunteering to go back.
Refugees told the UN that the situation in Rakhine was not safe and conducive to their return and that there was no guarantee of citizenship. Things have worsened as new conflicts between Myanmar military and Arakan Army (AA) ensued early January when 13 border police officers were killed and nine injured in Rakhine by the AA.
On the latest status of repatriation, Kalam of RRRC said there was no progress; rather it seemed more challenging, given the escalation of conflict in Rakhine.
"We cannot rule out the possibility of [another] Rohingya influx," he told The Daily Star on March 4.
Prof Imtiaz Ahmed of International Relations at Dhaka University said the Myanmar army had earlier driven out the Rohingyas, and were now attacking the Rakhine Buddhists. "This could be a shrewd technique to prevent Rohingya repatriation."
The Rohingyas want a safe zone under UN supervision in Rakhine and guarantee of citizenship -- demands that Myanmar does not endorse.
Ahmed said the global pressure was also not strong enough to compel Myanmar to take back the Rohingyas by creating secure and conducive conditions in Rakhine. This means repatriation would linger, he added.
WHY EDUCATION, INCOME GENERATION CRUCIAL
According to the Unicef, an estimated 500,000 Rohingya children and young girls and boys aged between 3 and 24 lack access to formal education in the Cox's Bazar camps.
"Some 150,000 children are getting informal education. However, there is no access to secondary education," said Shakil Faizullah, communication manager of Unicef Bangladesh.
A lack of space for schooling in the camps is a real challenge. Besides, there is funding shortages for education as well, he said.
The situation for the adolescents is particularly dire as only four in every 100 have access to any form of education or life-skills and vocational training, said David Skinner, team leader of Save the Children's Rohingya Response.
A lack of income-generating opportunities renders Rohingya refugees dependent on aid, making them vulnerable to exploitation, Skinner said in a report late February.
Rezaul Karim Chowdhury, head of COAST Trust, a non-profit body working for the Rohingyas, said there was a grave danger of radicalisation if the Rohingyas were not provided with education and income-generating activities. Vested groups could take advantage of their frustration and idle days in the camps, he added. 
He said the religiously-conservative Rohingyas should be given education, skills and income-generating opportunity. The authorities need to work on promoting cultural and human values among them, he added.
Kalam said authorities and aid agencies were trying to ensure informal education and skills like sewing and homestead gardening for the refugees. This can reduce their dependence on aid to some extent.
The government and aid agencies are mobilising Rohingya men and women and promoting human and cultural values to address the risks of radicalisation, he noted. 
Meanwhile, Chowdhury of COAST said locals felt deprived of their own rights due to the influx.
Rohingyas provide cheap labour in farms around the refugee camps, which is a matter of concern for the local workers, he added.
Locals have been affected by the destruction of forest, which was a big source of income for them, he said.
Chowdhury said food and other supplies required for the Rohingya are brought from other districts; the government can take initiatives to produce the supplies in Cox's Bazar to help the local economy. 
Foreign countries can also invest in Cox's Bazar for productive activities, which can generate jobs and help local economy -- a proposition that is more sustainable, he added.
PROMOTE LOCALISATION
The aid agencies say funding for the Rohingya crisis could dry up and that it is imperative to make the Rohingya response cost-effective.
In the initial plan for September 2017 to February 2018, the appeal for funding was $434 million, but donors provided around $400 million. The second appeal last year was for $950 million, but only $655 million or 69 percent of it was funded.
Globally, the scenario was even worse. In 2018, the UN asked for a record $25.2 billion to cover 33 emergencies around the world, but the fund received was slightly more than $12 billion.
Chowdhury said the solution was to involve locals more in the Rohingya response programme.
He said presently around 1,300 international staff from the UN and international NGOs operate in Cox's Bazar and they use 600 cars every day. The salaries and other expenses are many times higher than that of locals.
"Training of local aid workers and recruiting them in the Rohingya response can drastically cut costs.
Meanwhile, Prof CR Abrar, chair of Refugee and Migratory Movements Research Unit of Dhaka University, said the perpetrators of atrocities against Rohingya in Myanmar must face accountability.
"It is high time Bangladesh strongly engage the international community, especially China and India, to ensure that Myanmar             does everything for Rohingya repatriation."