Malaysia won't support Suu Kyi anymore
Says PM Mahathir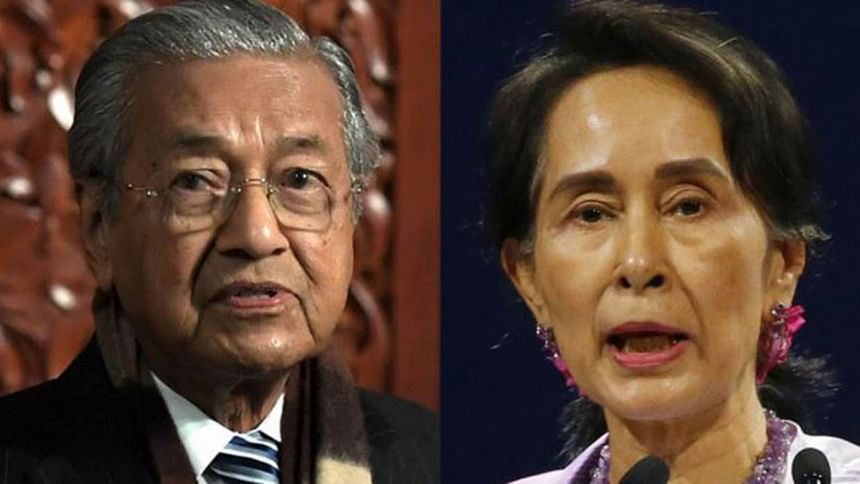 Malaysia will no longer support the leadership of Myanmar's leader Aung San Suu Kyi over her handling of the Rohingya crisis in her country, Prime Minister Dr Mahathir Mohamad said yesterday.
In an interview with Turkish international news channel TRT World, Mahathir said Suu Kyi seemed to be a "changed person" in over the plight of the Rohingya people.
"Over this issue, she seems to be a changed person. She did not want to say anything against the action taken by the military against the Rohingyas. So, we make (it) quite clear that we don't really support her anymore," he told host Ghida Fakhry.
Mahathir also admitted that he had lost all faith in her.
However, he said when he had recently written to Suu Kyi, he did not even receive a reply from her, and thus felt "very disappointed".
"We have complained about the treatment of the Rohingyas to the world. In fact, we have ourselves received quite a lot of Rohingya people in our country," he said.
Mahathir who is currently in New York, had addressed the UN General Assembly on Friday on the state of the Rohingya people in Myanmar.
He had criticised the authorities in Myanmar and Suu Kyi for denying that the Rohingya people were being murdered, and their homes torched, forcing over a million refugees to flee.
Mahathir had also questioned the world for keeping mum on the massacres that were being carried out.
Mahathir asked fellow leaders: "Nations are independent, but does this mean that they have a right to massacre their own people?"
Previously, United Nations investigators have said that Myanmar's military carried out mass killings and gang rapes of Rohingyas with "genocidal intent", and that its commander-in-chief and five generals should be prosecuted under international law.
Suu Kyi has also been heavily criticised for her failure to speak out against the treatment of the Rohingya by her country's military. She has previously said that in hindsight, her government "could have handled it better", referring to the Rohingya situation with a lame understatement.
There have been calls to revoke the Nobel Peace Prize awarded to her in 1991. Canada has also revoked Suu Kyi of her honorary citizenship over the Rohingya crisis.
A United Nations report last month called for the army chief's prosecution for genocide against the Rohingya and singled out Aung San Suu Kyi for failing to speak up for the group. Facebook also took down the accounts of several army generals.
However, many people within the Buddhist-majority country see the issue through the lens of ethnic and religious sentiments, which had been worsened through a revised version of "national history".
They have been influenced by years of rhetoric to be suspicious of Muslims and some regard the military action against the Rohingya as an operation against "terrorists".