Gambia slams Suu Kyi for her silence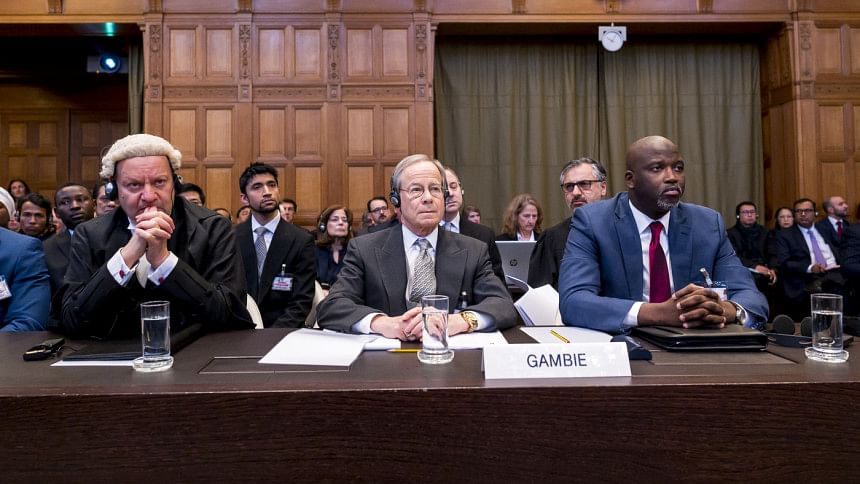 The Gambia today criticised Myanmar civilian leader Aung San Suu Kyi for her "silence" over "awful serial violations" of Rohingya women and girls and defending Myanmar at the UN's top court.
Gambian lawyers were placing their arguments against Myanmar's denial of genocidal intent against Rohingyas at the International Court of Justice in The Hague on the final day of the three-day hearing.
"Not a word [has been said by Aung San Suu Kyi] about the women and girls of Myanmar who have been subjected to these awful serial violations. Madame Agent [her status in court], your silence says far more than your words," Gambia's lawyer Philippe Sands told the UN's highest court pointing figure at Suu Kyi.
Suu Kyi sat in the courtroom, wearing traditional Burmese dress.
A 17-member panel of judges of ICJ was hearing a case, the first international legal attempt to bring Myanmar to justice over alleged mass killings of the Rohingya minorities in 2017, filed by the Gambia on November 11.
Arguing against Myanmar's denial of genocidal intent against Rohingyas, the Gambia also claimed that the evidence of Rohingya genocide by the Myanmar military still stands in Rakhine.
Myanmar systemically denied access of UN fact-finding mission and other international human rights agencies to hide the evidence of genocide, the Gambia's lawyers said.
But the genocide evidence still stands there, a lawyer told the International Court of Justice.
The Gambian lawyers' panel also said that did not reject the allegation of atrocities against Rohingyas.
The African country has taken Myanmar to the court in the Hague as the first attempt to accuse it of breaching the 1948 UN Genocide convention and seeking emergency measures to protect the Rohingya.
Suu Kyi defended Myanmar's actions saying it faced an "internal conflict" and that the military carried out "clearance operations" after Rohingya militants attacked police camp in August 2017.