Dhaka wants China's role in persuading Myanmar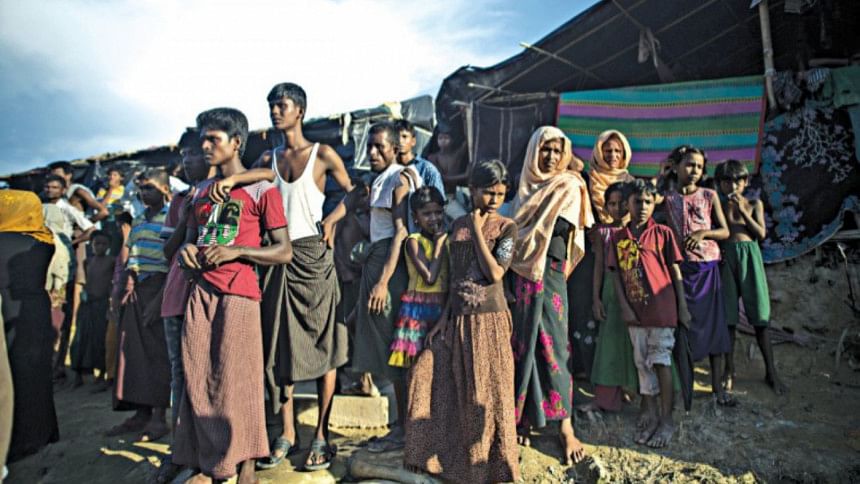 Dhaka has urged Beijing to encourage Myanmar to create a conducive environment for a speedy return of Rohingyas to their home in Rakhine.
It also stressed that Myanmar should start taking back its nationals without any further delay as per the agreement reached in the Bangladesh-Myanmar Joint Working Group (JWG) meeting in Dhaka on October 30.
Myanmar had pledged to start the repatriation of Rohingyas in the middle of this month.
Bangladesh made the request to China yesterday, the concluding day of the two-day 11th Bangladesh-China Foreign Office Consultation (FOC) in Beijing. Bangladesh Foreign Secretary Md Shahidul Haque and Chinese Vice Minister of Foreign Affairs Kong Xuanyou led their respective sides at the meeting.
The vice minister reiterated his country's commitment to play a positive and constructive role in resolving the Rohingya crisis and appreciated Bangladesh's staunch political will to address the crisis.
Shahidul noted that the crisis originated in a conflict between the Myanmar government and its own people.
A high-powered Myanmar delegation visited Rohingya refugee camps in Cox's Bazar on October 31 in an effort to start the repatriation of over 700,000 Rohingyas who crossed into Bangladesh since August 25 last year escaping an army crackdown.
However, the United Nations and its refugee agency UNHCR have repeatedly said that conditions in Rakhine were "not yet conducive for returns".
Meanwhile, Chinese Foreign Minister Wang Yi yesterday told the Bangladesh foreign secretary that his country would continue supporting Bangladesh's various economic development and infrastructure projects. He gave the assurance during a meeting with Shahidul in Beijing.
The Bangladesh foreign ministry in a press release yesterday said the Foreign Office Consultation reviewed various bilateral, global, regional and sub-regional issues of mutual interests, and some new and emerging issues also came up for discussion. 
The meeting focused on the progress of implementing the agreements reached during the Bangladesh visit by Chinese President Xi Jinping in October 2016 and China visit by Prime Minister Sheikh Hasina in June 2014.
The Chinese vice minister stated that Bangladesh was an important country for his country's Belt and Road Initiative.
The foreign secretary sought continued Chinese support for implementing the Vision 2021 and the Vision 2041 of Bangladesh.
"Consensus was reached at the Foreign Office Consultation to expedite the approval procedure for Chinese loans for speedy implementation of infrastructure projects in Bangladesh," he added.