Indonesian president for quick solution to Rohingya crisis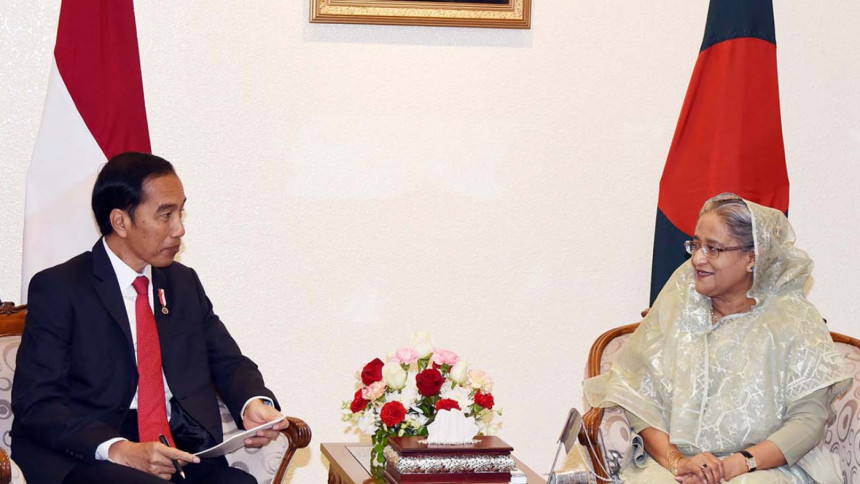 Visiting Indonesian President Joko Widodo today laid emphasis on having a peaceful and quick solution to the Rohingya crisis against the backdrop of the bilateral relations between Bangladesh and Myanmar.
The Indonesian president made the call during official bilateral talks with Prime Minister Sheikh Hasina at her office.
Breifing reporters after the talks, Foreign Secretary M Shahidul Haque said the Indonesian President extended special appreciation to the government of Sheikh Hasina for sheltering over one million Rohingya people in Cox's Bazar.
He said Bangladesh wants political support in the international arena on the Rohingya issue and assured that Indonesia will continue its role to this end as Jakarta earlier had taken a stance in favour of the Rohingyas at the UN and its Human Rights Council.
He said the tour of Indonesian president to Bangladesh and his visit to Cox's Bazar today to see for himself the plight and sufferings of the Rohingyas is certainly a huge issue. "This will create a pressure on the Myanmar government," he said.
The foreign secretary said the two sides recognised that there are huge potentials on trade and investment as well as strengthening cooperation on other important sectors.
In this regard, he mentioned that both sides agreed to launch talks on the issue of preferential trade agreement to take forward business activities and explained that once the agreement is signed, Indonesia would offer special concession to Bangladeshi commodities to be exported there.
Such move will help reduce the existing trade gap between Bangladesh and Indonesia, he said.
The foreign secretary said the prime minister urged the Indonesian side to make investment in Bangladesh's Special Economic Zones.
Shahidul Haque said a Joint Communique on Cooperation to combat illegal, unreported and unregulated fishing and to promote sustainable fisheries governance has been signed to strengthen cooperation in this areas.
Following the signing of the joint communique, the cooperation in the field of Fisheries could be advanced further, he said.
The Foreign Secretary said Joko Widodo assured the Prime Minister of extending Indonesia's support for Bangladesh's willingness to be sectoral dialogue partner of ASEAN.
And a letter of intent between Petro Bangla and Partamina on sales and purchase of LNG Under G2G has also been inked to discuss whether LNG could be procured from Indonesia.
The officials of the Ministry of Foreign Affairs would be able to sit together on annual basis to discuss various issues of bilateral and international concern.
The Foreign Secretary said a joint communique would be issued this afternoon regarding the visit of the Indonesian President to Bangladesh.