Indonesian General Election
Will Joko Widodo win a second term?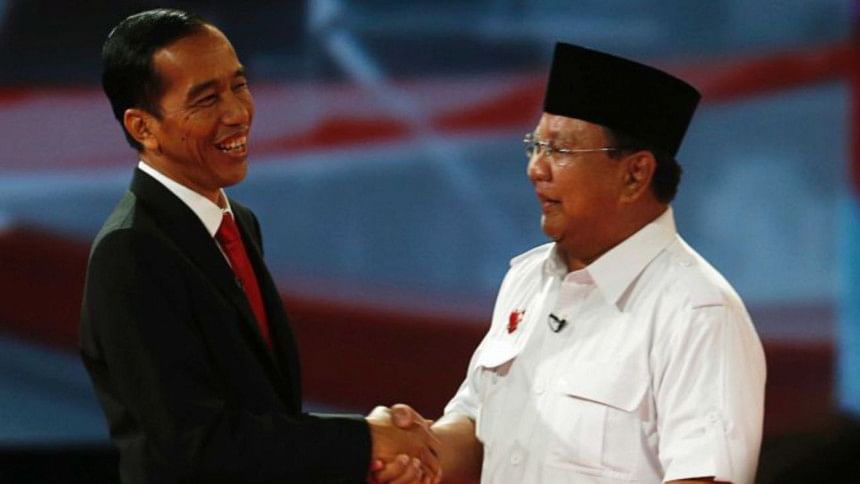 Southeast Asian economic giant Indonesia will be holding its fourth presidential election today. Indonesia, the world's largest Muslim-majority country, is the third biggest democratic country after India and the United States. This multiparty election will also see the election of a vice president, 711 members of the two houses of People's Consultative Assembly, governors of provinces, mayors and district heads. Indonesia's president is both the head of state and head of government. Direct elections were introduced after the fall of strongman Suharto in 1998 and the first presidential election took place in 2004.
Incumbent president Joko Widodo, first elected in 2014, is running for a second term. Widodo, also known as Jokowi, was the first Indonesian president who was not from the elite political class or from the military. A member of the Indonesian Democratic Party of Struggle (PDI-P), he came to prominence as governor of Jakarta and became popular for his development projects and reducing corruption. He had reinvigorated Jakarta politics. Jokowi is said to have a clean image.
The presidential race is actually a rematch between incumbent Joko Widodo and his 2014 rival General (retd) Prabowo Subianto of Gerindra Party. Subianto, considered to belong to the elite class, had contested in 2009 and 2014, but failed to get the top political slot. He is now running for the third time with the support of five parties. Jokowi has already secured endorsements from 31 out of 35 provincial governors. He has also obtained the support of 9 out of 16 registered political parties, which include two Islamist parties and Golkar.
Jokowi's running mate Ma'ruf Amin is supposed to be an influential Muslim figure in Indonesia. Amin is a senior Islamic cleric from Nahdlatul Ulama, Indonesia's largest Islamic organisation and also chairman of the Indonesian Ulama Council. Jokowi shrewdly nominated Amin to deflect criticism about his Islamic credentials. This nomination is expected to boost Jokowi's prospects by bringing in votes from devout Muslims. The flipside is that Amin supposedly isn't very well-known among Muslims at the grassroots level. The second largest Islamic organisation Muhammadiyah has given support to Subianto. Candidates coaxing senior Muslim clerics speak of growing religiosity and intolerance among conservative Muslims. Voting along religious lines may have an impact on the results.
Subianto has nominated Jakarta Deputy Governor Sandiaga Uno of Gerindra Party as his running mate. Uno is said to be a rich businessman and is helping Subianto's campaign financially.
The election is seen as a referendum on Jokowi's past five years. According to polling organisation Indikator Politik Indonesia, Jokowi currently leads by 55 percent to Subianto's 35 percent. However, according to some observers, Jokowi remains vulnerable to attacks from Subianto over his economic achievements and Islamic credentials.
However, during intense campaigning, Jokowi has been highlighting his economic achievements: new infrastructure projects, new tax holiday schemes, streamlining business permits and encouraging FDI, highly subsidised healthcare through national health insurance schemes, etc.
The economic condition of a country is always the most hotly debated issue among politicians. Jokowi is seen as foreign-investor-friendly and pro-business but it hasn't quite worked well for him, economists say. After a volatile 2018, the rupiah has come under pressure—falling from 11,000 rupiah to nearly 14,500 rupiah to the US dollar.
The main reasons for the decline of rupiah are Indonesia's huge external debt and growing imports. In addition, the ongoing trade war between US and China, the two most important trading partners of Indonesia, has directly affected Indonesia. Indonesia's oil revenues also declined in recent years. Jokowi has not been able to stem the tide. Though the economy is expected to grow at around five percent in 2019, it remains weak and Subianto has attacked Jokowi for the "endless weakening of the rupiah" at a TV debate. "It is becoming a burden on our national economy and for the most vulnerable of Indonesians…", he argued, saying, "Our economy's fundamentals are weakening…". He has promised to lift poor Indonesians out of poverty by creating more jobs and promoting industrialisation.
On foreign policy, Jokowi ardently supports Asean. His major success was to get Indonesia a non-permanent seat at the UN Security Council (2019-2020). Indonesia seems to be in a dilemma on how to handle US and China. Jakarta does not want US to pull out from Southeast Asia; rather it wants balanced relations with both China and US. Subianto, who has never held any senior government position, is unlikely to change policies towards these two superpowers.
Interestingly, nearly half of the voters are millennials, whose votes may play a deciding factor in the results. Social media is being used by supporters of both candidates to court voters. In a country with high mobile phone penetration but dismal levels of digital literacy, fake news can spread like wildfire. Circulation of misinformation about opposition candidates has been rampant despite government crackdown on these nefarious acts.
Post-Suharto presidential elections have been characterised by flow of money. "Money politics" has become a tradition. The practice of political horse-trading among members of parties supporting the two candidates is well-known. Small parties may end up gaining ministerial seats by helping to form majority in the parliament. Interestingly, no single party has managed to get simple majority in the parliament so far. It is a coalition of parties that supports the president and helps him enact laws. 
Archipelagic Indonesia has over 17,500 islands spread over a vast area of the Indian Ocean and the Pacific Ocean and is inhabited by 260 million from over 300 ethnic groups. A record 245,000 candidates are running for over 21,000 different posts in this complex one-day election. Issues determining the presidential election may not be the same across the board for deciding who the winners will be.
More than 192 million voters will decide who will eventually prevail in this two-horse race. It is difficult for psephologists to make predictions—though some opinion polls show that Jokowi is in the lead. But opinion polls cannot always be trusted.
---
Mahmood Hasan is a former ambassador and secretary of the Bangladesh government.
---
Follow

The Daily Star Opinion

on Facebook for the latest opinions, commentaries and analyses by experts and professionals.
To contribute your article or letter to The Daily Star Opinion, see our

guidelines for submission

.
---