Suu Kyi stripped of Amnesty honour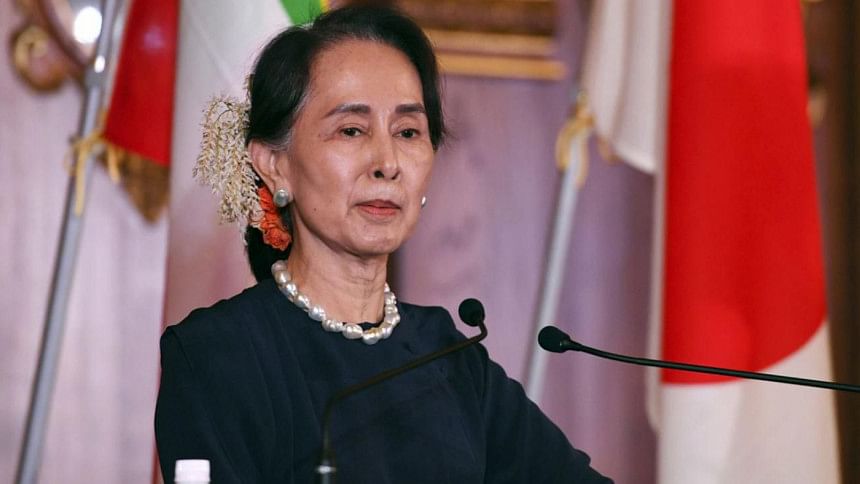 The Amnesty International has stripped Aung San Suu Kyi of its highest honour, the latest of several honours taken away from her since last year's brutal military crackdown on the Rohingyas.
This is the eighth honour that the former Nobel peace prizewinner has been stripped of over the past year, with Amnesty following the example of Canada, US Holocaust Museum, UK's Edinburgh, Oxford, Glasgow and Newcastle and Canada's Carleton Universities which also revoked Suu Kyi's honorary degrees and awards.
The long-celebrated Nobel Laureate was given Amnesty's most prestigious honour, the Ambassador of Conscience Award for 2009 marking the 20th anniversary of her arrest and 20 years since it declared her a prisoner of conscience.
The AI yesterday announced withdrawal of its highest honour from Suu Kyi in light of the Myanmar leader's shameful betrayal of the values she once stood for.
A United Nations fact-finding mission has recently concluded that Myanmar military was committing genocide against the Rohingyas and other ethnic minorities and that Suu Kyi failed in her duty to protect her own citizens.
According to a press statement of the rights organisation, Amnesty International's Secretary General Kumi Naidoo wrote to Suu Kyi on November 11 to inform her of their decision.
Naidoo expressed the organisation's disappointment that Suu Kyi had not used her political and moral authority to safeguard human rights, justice or equality in Myanmar, citing her apparent indifference to atrocities committed by the Myanmar military and increasing intolerance of freedom of expression.
"As an Amnesty International Ambassador of Conscience, our expectation was that you would continue to use your moral authority to speak out against injustice wherever you saw it, not least within Myanmar itself," wrote Kumi Naidoo.
"Today, we are profoundly dismayed that you no longer represent a symbol of hope, courage, and the undying defence of human rights. Amnesty International cannot justify your continued status as a recipient of the Ambassador of Conscience award and so with great sadness we are hereby withdrawing it from you."
Since Suu Kyi became the de facto leader of Myanmar's civilian-led government in April 2016, her administration has been actively involved in the commission or perpetuation of multiple human rights violations, the Amnesty press release said.
"Aung San Suu Kyi's failure to speak out for the Rohingyas is one reason why we can no longer justify her status as an Ambassador of Conscience," said Kumi Naidoo.