73pc Rohingyas now living in settlements: IOM
Pressure on host community eased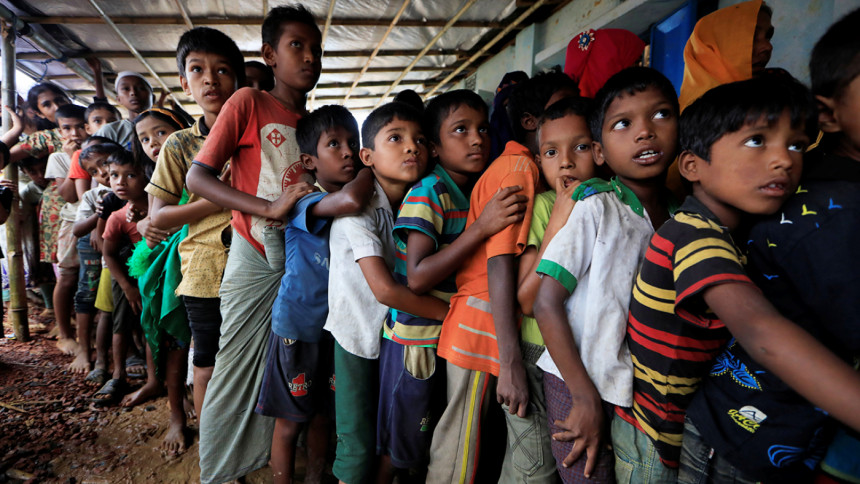 Some 73 percent of Rohingyas are now living in new spontaneous settlements, International Organization for Migration (IOM) said today. 
Meanwhile, some 13 percent Rohingyas are now living in makeshift settlements, 9 percent in host community locations and 5 percent in the formal refugee camps.
Compared to the previous round, there has been a reduction in the proportion of Rohingyas in host community locations and an increased proportion residing in collective sites.
IOM's newly-released Needs and Population Monitoring (NPM) Round 7 assessed 1,635 locations hosting Rohingya refugees in collective sites and host communities.
On Christmas day it will be four months since the start of the influx of Rohingyas into Bangladesh.
Latest figures show 655,000 people have arrived in that period, bringing the estimated total number of Rohingyas in Cox's Bazaar to 867,500.
As winter takes hold, IOM and its partners said they are scaling up their distribution of shelter and non-food items in response to the colder weather.
In the past fortnight, distributions have included over 88,500 blankets and emergency shelter materials, including bamboo bundles for over 1,500 families.
To date, IOM has distributed 124,000 tarpaulins, benefitting some 563,000 new arrivals. Some 32,000 people have also received other non-food relief items.
IOM said they are also supporting the Rohingyas and the affected local population with water, hygiene and sanitation.
Some 1,400 cubic metres of clean drinking water have been trucked into spontaneous settlements with limited access to water and over 68,000 people have received hygiene kits.
Some 1,500 emergency latrines have been constructed to date, supporting 75,000 individuals. Some 29 deep tube wells have been completed and are functional.
As part of its ongoing response to gender-based violence (GBV) and to combat human trafficking, IOM and its partners are offering group support, including information about trafficking risks, and individual counseling sessions for female refugees in specially constructed safe spaces, said the IOM release.
Women and adolescent girls who visit the spaces can take part in recreational and psychosocial activities, it said.