Rekindling Old Hobbies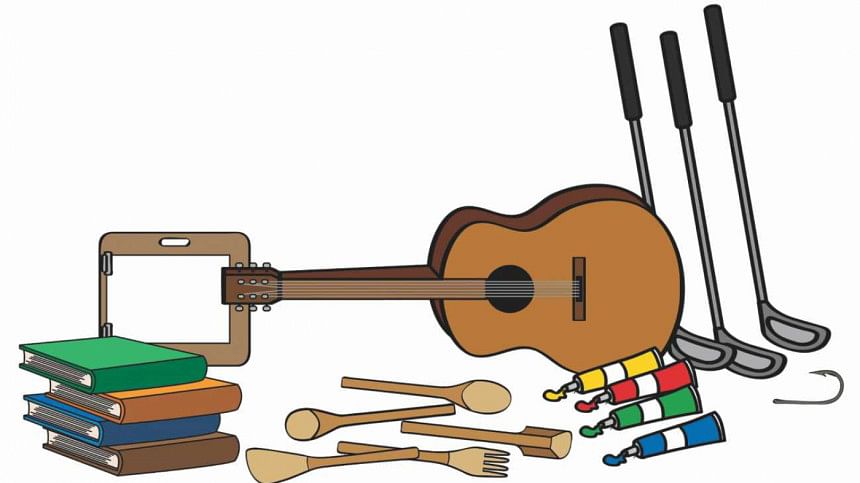 A common excuse that slips out of our mouth every now and then is "life happened". Somewhere along the way we all lose sight of ourselves, about who we used to be, about what we liked.
While change is inevitable, sometimes it is necessary to reconnect with your old self, specifically, your old past times, maybe as a boredom buster, maybe as an act of self-care. Enter: hobbies you stowed away at the back of the cupboard.
First and foremost, just pick it up. Pick up your dusty paintbrushes, harmonica, book, game controller or even a spatula. Do a few practice runs. Don't dwell on it. The more you dwell on it, the less likely you are to engage yourself with it.  
The most important thing to keep in mind is that you might not necessarily be as proficient at the activity as you were before. Don't get frustrated when you see your paint strokes aren't as smooth or you can't knit as fast and intricate as before. Time makes us all a little rusty so spontaneity is key and be sure to ward off thoughts about self-doubt. 
Take inspiration from everywhere. I know it's easier said than done, but you'll need as much as possible to kick-start your old (new?) hobby. Watch some movies, listen to some music and browse the internet, you never know when inspiration might strike. However, if your favourite hobby is bullying your little brother then you might want to ask him to do something stupid.  
Hobbies are essential when you want to unwind and relax. As more and more people succumb to the mindless time killer that is tapping away at your smartphone, it might seem like another commitment to your busy life (here is where I tell you again to not dwell on it). However, in the long run you will have a stress reliever or an outlet to channel your creative energy. Or rage. 
Mashiyat Nayeem has a genuine phobia of onions and has mastered the art of scavenging for beresta in her biryani. Learn more at [email protected]