Remember, Remember
On the 5th of November, sparks went flying in Dhaka. While it wasn't to commemorate Guy Fawkes, in the end, the incidents did end up striking a blow at powerful, wayward institutions. By now, you've surely heard of the assault on a renowned photographer and his two nieces by hooligans who turned out to be from the ranks of the Bangladesh Chatra League (BCL). When social-media outroar culminated in a protest at the Shaheed Minar, BCL men came out in droves to harass and intimidate the protesters. Obscenity was used online and offline in a desperate and cliched attempt to attack the character of the two female victims (i.e. nieces). The perpetrators were later identified and expelled from the university. But whether BCL ousted them or not, remains unclear.
Drawing from a pool of hungry and blindly-loyal young men, political institutions in campuses have started to rival their hosts. Student wings of political parties have claimed halls, exploited students, engaged in extortion and other minor crimes for decades. Especially when their mother-organizations are in power – these wings think it their lawful right to profit from their respective campuses. For some years now, BCL's 'mischief' has overflowed campuses. Not two months back, ten cadres of BCL assaulted Abdullah Al Noman, a Banglanews24.com correspondent. Last year, one journalist of Amar Desh was attacked. And these are only incidents that made the news! Largely under the radar, men from the organisation have been implicated in muggings around DU campus. Tyranny over the Weak is tacitly accepted. The problem only arises when such bully organisations pick the wrong prey. And by the looks of it, Beg and his two nieces certainly hadn't appeared to pose any threat to BCL-blessed men.
What these bullies failed to recognise (possibly due to missing classes) was that the Bangladeshi power-structure has been undergoing significant changes over the past decades. Alongside nephews of MPs and sons of ministers – businesses and corporations, media professionals, civil society members, social influencers and activists and online celebrities have started wielding power too. It is a different kind of power that cannot be met with invectives or sticks. Sometimes it can't even be intimidated. That is precisely why BCL has been forced to express regret after each of these incidents. And BCL's (or that of JCD, JCS, ICS) failure to understand these changes – is contributing to its reduced relevance and importance as a political institution.  
***
There are three groups of victims from the Curzon Hall assault: the University of Dhaka which must grapple with its fall from grace, the Chhatra League which has been thus far unable to arrest its plummeting reputation and the actual victims who must deal with the trauma.
The University of Dhaka (DU) – juggling with 35,000 students – has been effectively rendered helpless in the situation. Housing massively powerful student bodies has undermined its own authority. Now it must remain a bystander and watch as different quarters vie for changes in the power structure. As long as student-wing oversight remains with political parties, and not campus authorities, the university will continue to be a bystander and watch its 'Eastern Oxford' reputation be dragged through the mud. As with any other academic institution, this could mean a drop in intake-quality and graduate performance.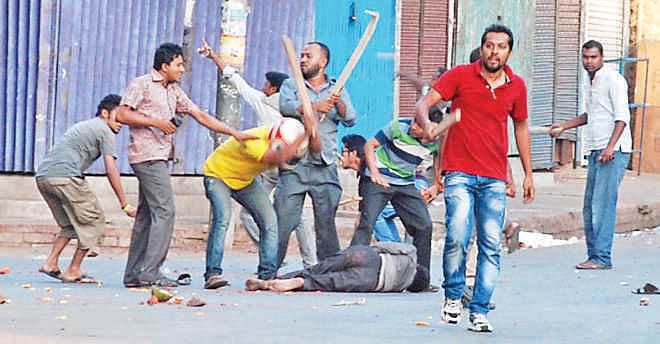 BCL, as an institution, is also a victim. It has lost its former glory as a frontier of students' movements and lost sight of issues that are truly relevant to students or country. Now it's having to pay dearly for unnecessary bullying that will yield no profits. Labouring up the ranks for years, rogue leaders are now middle-aged men who must earn a living and support families. Having once tasted easy money and influence – they can't go back to the glory days. Yet, the Awami League has seemingly had it with BCL's hooliganism. Both the Prime Minister and her son, Joy, have condemned recent BCL misdeeds. In November-14 exchange meeting, Joy advised BCL men to study well and protect the reputation of Bangabandhu Sheikh Mujibur Rahman. That he did this in the presence of BCL General Secretary Siddique Nazmul Alam and BCL President H M Bodiuzzaman Shohag is significant. It sends a strong message to the BCL, which is rapidly turning into an embarrassing burden for the AL and a tool for opposition parties. It must evolve or evaporate.
Lastly, the three people who were assaulted and hundreds of protestors who were jeered, hurt or intimidated are unwilling victims in all of this. However, none of them have taken it lying down. The two nieces, Rubaiya and Saba, embarked upon a social media campaign – with a lot of restraint and grace – reaching thousands of people; triggering media outlets to take note. The combined pressure caused BCL to quickly identify the men, in an attempt to distance themselves from the incident.
It is saddening to note that if things hadn't heated up so, BCL may have attempted to shelter its men, if not justify their actions. This is evident in their large presence at the Shaheed Minar, where they passed lewd comments, threw bottles, jostled and invested in obscenity and defamation against the two female victims. There are qualitative differences in how BCL and the protestors approached the confrontation. It was a confrontation of Hooliganism and Civility. And this chasm may be a combined result of different social values and different organizational cultures.
One of the girls who suffered the wrath of BCL that day, Saba Ahmed, herself an ex-student of the Institute of Business Administration (IBA) of DU, wrote on her blog, "We are living in such a segregated society that the only frame of reference 'they' have about me is the 'bratty girl in her satin housecoat', plucked directly from a commercial Bangladeshi film. They think I wear leather pants, I learned, as I flipped through the smear campaign on Facebook, following the attack. They think I call my parents Mommy and Daddy. Pieced together, I am the spoilt daughter of a Chowdhury shaheb, who eventually gets whipped straight by the proletariat protagonist."
***
Roles, scopes and failures of historic institutions have been exposed by the incident. But more importantly, it has exposed a deep fracture in our immediate societal vicinity – a chasm that separates not Morals/Virtues, but tribes. A chasm that separates bastions of (social, cultural, educational, financial) Elites from less-privileged, challengers seeking ways to break the status quo. While jostling between social classes is a natural, continuous phenomenon – its manifestations must be reasoned, civil and at a homegrown middle-ground.
For all of us – it is important to remember when politics completely consumes a student wing, it ceases to be about 'students' and becomes about 'politics'; when institutions can no longer control their constituents, they cease to be in control of reputation and hence, performance (this goes for both DU and BCL). Also, it is important to remember; when citizens deign to act against prevalent injustice, corruption or violence – it is possible to defeat perpetrators. It is important to remember that this may be achieved with composure, consideration and tolerance; the point is not to defeat, but to bridge.    
So, remember, remember, the 5th of November.