"Hello", the future of media lies in audio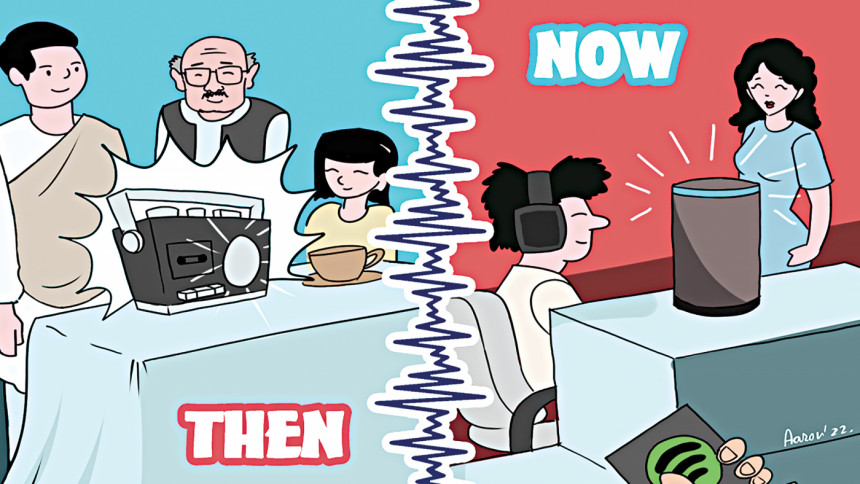 From the grunting and mumbling between our caveman ancestors to today's bouncing around the corridors of the internet through social-audio apps, verbal communication has always been an integral part of human expression.
However, in this era of digitalisation, audio as a medium of communication has taken a backseat to visual media, but that does not mean it is the end of the once vibrant audio age.
Instead, with the rise of smart speakers, wearable media, ear pods and immersive and on-demand technology, audio will soon boom with refined digital presentation.
When everyone is exploring the vivid world of video, from YouTube to Tik-Tok, I may sound regressive, as I am plumping for a media which someone cannot even see and enjoy in the epoch of screens and displays! And that is precisely my standpoint.
In this life of hustle and bustle, people now want to be relieved from the burden of screens. The hands-free term is old now; it is all about eyes-free next. While all other media fights for taking a share of our everyday time, audio gives you the space to do more while enjoying the wave of harmony and knowledge.
In our country, digital audio is in the embryonic stage for both advertisers and publishers. But considering the future, soon, we need to add this to our regular business and product strategy to leverage media in the future.
We have seen a global surge of online news platforms at the beginning of this new millennium, followed by blogging culture. Then came the concept of micro-blogging and social media platforms disrupting traditional news media.
The same trend is being observed now again, the legacy of radio is taking the shape of podcasts, and then social-audio apps like Clubhouse emerge.
Traditional social media platforms follow the trend with Facebook's live audio rooms and Twitter launching Spaces.
Even for the future world of Metaverse, the voice commands of participants' avatars manifest interactions and set the tonality of activities. News media are now adopting the audio culture, building voice capabilities to create conversations with audiences, resulting in loyalty and new revenue streams.
The popularity of podcasts has given birth to the creator's economy, where content is globally sourced through the participation of content creators. This is an excellent opportunity for brands to reach the audience's ears through these audio platforms and make it interactive without any direct human interactions.
Moreover, audio advertising is often linear, and people listen to those ads more than any video advertisements.
To understand why audio makes a strong revival as a disruptive technology in the digital space, we need to understand the ecosystem of digital audio.
First, it is because of the young audiences liking this minimalist media. According to the Cultural Next Report of Spotify, audio platforms are trusted by the young generation, and audio magnifies a more diverse outlook than traditional media.
Generation Z participants responded in a podcast listening survey conducted by transistor.fm that it helps them sleep well, learn new things, and keep entertained while cleaning the house.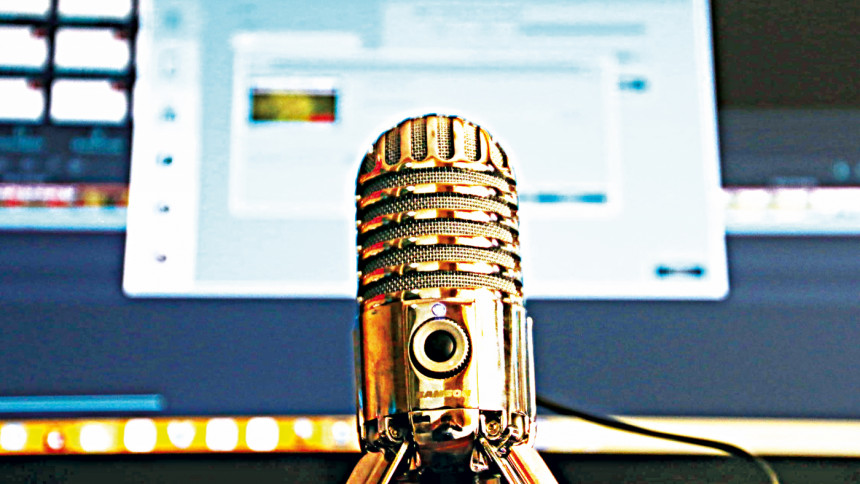 Generation Alpha, coming after Gen Z, has adopted audio even more. They are growing up with the concept of voice search, indeed giving audio a cutting edge over text. I want to illustrate an example of my son to describe why audio is even more critical for the following pipeline of consumers.
My son, who is just learning to write words for beginners, can effortlessly play the desired video online with voice search.
Listeners are the end-users, the heart of any audio creation. Creators and publishers have an intimate connection with them, as content is built on a particular ethos with a loyal target group.
For audio content creators, podcasting is more cost-effective compared to video, and is easy to make without hampering the conveyance of emotions to listeners. 
Podcasts, typical digital audio files, can either be downloaded or listened to on online platforms like Spotify or Apple Podcasts or via a website.
Newspapers have started identifying podcasts or audio media as an effective way of storytelling by producing news roundups and micro-bulletins. Publishers now need to concentrate on the content that fits digital audio journalism, focusing more on the active listening of audiences.
As we describe the digital technology connecting creators and listeners, it is essential to know how devices and audio-platforms shape this digital landscape. For instance, smart speakers, still primarily used for music and smart home voice commands, will shape the pattern of content consumption in the future, with the trend showing growth of on-demand audio content.
Few other technologies growing in popularity are text-to-voice AI, voice to text transcription, audiobooks, and dynamic content insertion.
The use of "hearables" will expand in the future. It will exceed its crucial feature of enhancing the audio experience and adding values like data tracking, smart sensing, and embedded virtual assistance.
With a high percentage of internet penetration in Bangladesh, audio-focused platforms have immense potential in the country. Slowly, the audience is picking up the audio medium, signifying a budding opportunity for brands to reach out to them.
Audio advertisement is currently of low priority locally but we need to be prepared to get the early mover advantage. So, how can local brands leverage this media?
The first thing brand managers should keep in mind is that audio media provides the window of time at the audience's convenience, based on their mood. So, this is a perfect medium for brand storytelling.
Programmatic is already aligned with audio platforms, providing brands to reach targeted audiences one-to-one accompanied by the audience's listening behaviour insights. The concept of voice commerce is also a reality now.
Brands can now utilise 3D audio to create an immersive audience experience. We are pretty aware of the term Click-Through-Rate (CTR) in analysing digital ads, and a new term Say-Through-Rate (STR) has emerged for an audio product, a representative metric for engagement.
According to Pandora, a subscription-based music streaming service, voice ads had up to ten times higher STRs than CTRs. Conversation links ideas, it creates trust. The audio platform will continue to evolve, prompting engagement of passion and spirits.
The future of audio will be based on how we respond and design communication as audiences, advertisers, and publishers. In a nutshell, audio will stay and rule in the future, connecting people, and creating value in their lives.
Shuvashish Roy is a Chevening scholar who is currently working as the Head of Business at The Daily Star.