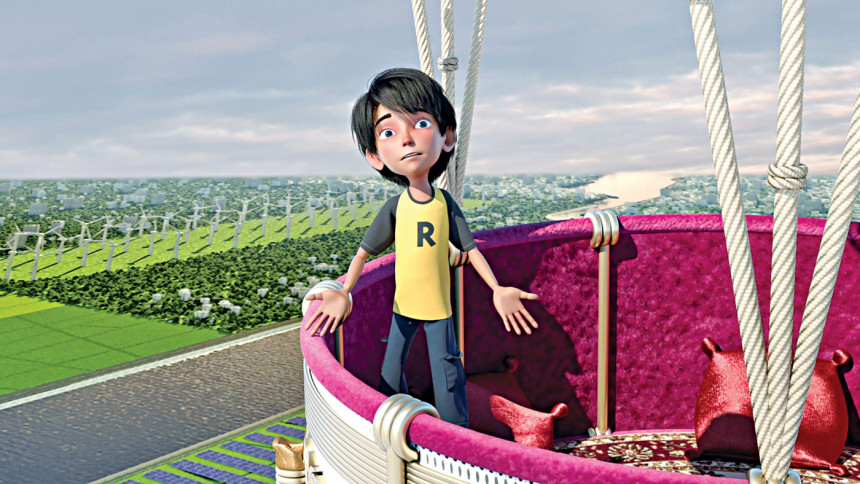 Although animation is only beginning to find its footing in Bangladesh, many have made significant strides in this field in recent years.
What was once considered a novelty by many in the entertainment world, is now shaping up to be an industry with limitless potential in its own right, with many local projects being awarded internationally.
"Tomorrow" is a 26-minute 3D animated film on climate change directed by Mohammad Shihab Uddin and produced by the entrepreneur-climate activist duo Kazi Zahin Hasan and Kazi Zeeshan Hasan of Kazi Farms Group. It won the monthly award for Best Animation Film at Cannes World Film Festival for August 2021.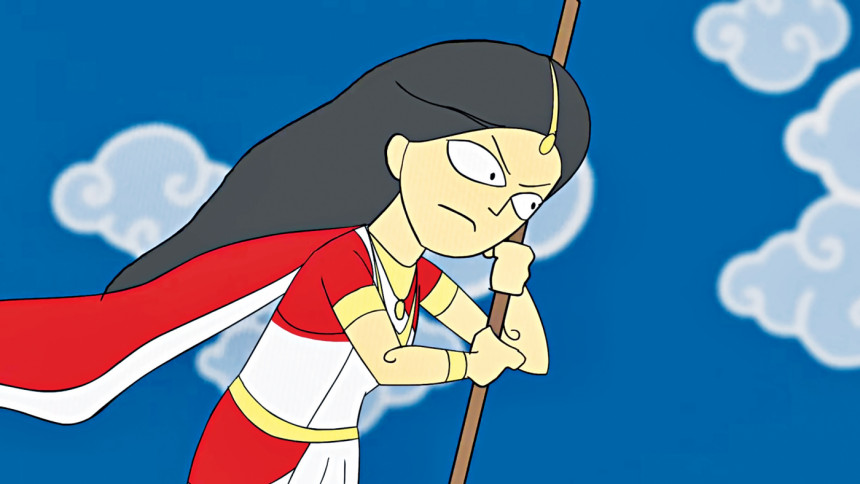 The Bangla version of "Tomorrow" was released on Deepto TV's YouTube channel on December 21, 2019. It has been viewed more than 2.9 million times as of this writing.
The film's protagonist, Ratul, 6, lives on St Martin's Island, at the southernmost point of Bangladesh. On a nighttime magical journey with "the Old Man of the Winds," Ratul sees two kinds of possible futures for his country and the world — one bleak and one bright.
In the bleak future, he sees lands inundated by rising waters, displaced people migrating to the north of the country for refuge, widespread poverty, crowded cities, and illnesses caused by pollution.
The bright future shows a prosperous Bangladesh, where imposition of additional taxes on fossil fuels, and subsidies for renewable energy sources such as solar panels and windmills, have created new jobs and made the country green and livable once again.
Ratul, upon learning about climate change and global warming during his magical journey, embarks on a movement in Bangladesh that later spreads around the world, distinguishing Bangladesh as a climate champion on the global stage. "Tomorrow" ends with him delivering a speech at the United Nations 25 years later.
The film is produced on a budget of BDT 10 million.
"Although 'Tomorrow' was initially set to be a two-dimensional film, I took up the challenge to make it a three-dimensional one with the look and feel of a feature film. I worked with a brilliant team at Cycore Studios, the largest animation studio in Bangladesh. It took us two years to make the film and another one-and-a-half years earlier to develop the script," shares director Shihab Uddin. The screenplay was done by Ahmed Khan Hirok and Nasimul Hasan.
Murad Abrar, CEO, Cycore Studios, further talks about the process of making a 3D animated film in a Bangladeshi setting.
"We wanted to make a visually stunning film for our target audience. We spent the first six months in research and development," he says. "We watched various international films to identify the key components that make them stand out. 
One team focused on the art, while another worked on details like hair blowing in the wind, clothes of the characters, and sea waves crashing onto the shore. We consulted with many renowned artistes."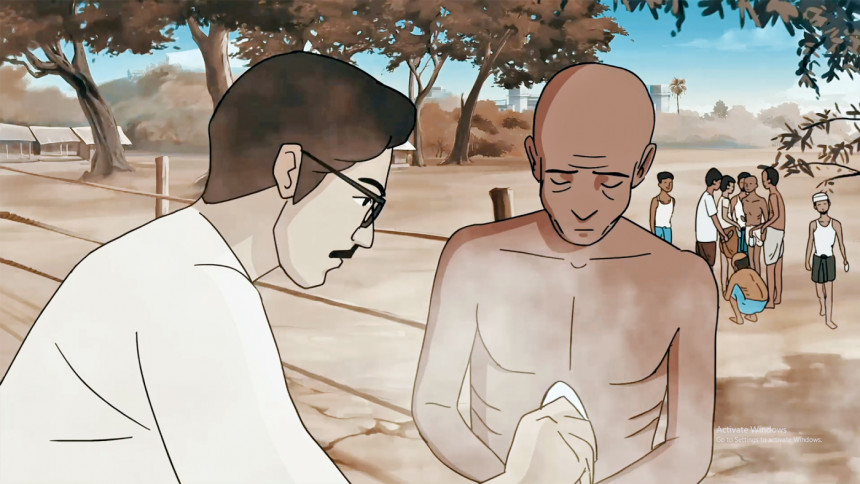 Abrar is confident that Cycore Studios can produce even higher quality animation projects, comparable to films made by top production houses around the world.
"The animation industry is not a playground for only big, renowned studios anymore. Software is now cheaper, more user-friendly, and optimised. Many new animation tools can be used for free, and plenty of resources are available online," he adds. "If we have more trained artistes, we will be able to compete with any major animation studio."
However, Shihab Uddin asserts that right now, there is no proper market for making animated content in Bangladesh. "Animation is a costly and time-consuming medium. Our local market is limited, and TV stations hardly want to buy episodes of animated series from us," he says. "They can only invest BDT 70,000 in a 20-minute episode. It is simply not possible to produce 20 minutes of content per week for a month with that budget, even if we compromise on quality."
"If anyone wishes to make TV series that are on par with productions of Nickelodeon and Cartoon Network, for example, they must look for co-producers from abroad. Partnering up with foreign studios will give them a better chance of making profits on a large scale," he adds.
Although the journey was challenging, Shihab Uddin is delighted that the message of "Tomorrow" is reaching far and wide, garnering praise and recognition. The film was dubbed in English, Urdu, Spanish, and French.
"We have received so many messages about how children want to save the world like Ratul. The main purpose of the film was to teach kids about global warming. We have succeeded in this regard," says the director.
While this 3D film has scaled the heights of animation in the country, many talented animators in Bangladesh lean towards 2D animation.
The country's first theatrically released feature-length animated film, "Mujib Amar Pita", based on the life of the Father of the Nation Bangabandhu Sheikh Mujibur Rahman, came out in October 2021.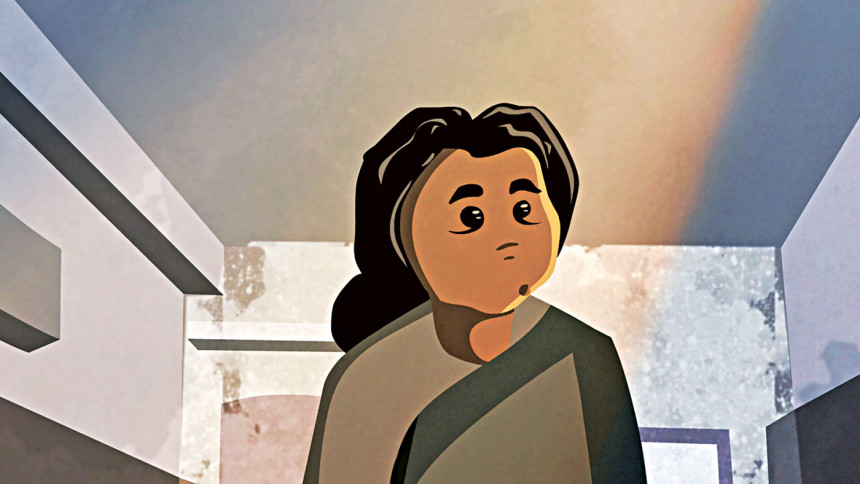 Based on the book, "Sheikh Mujib Amar Pita", authored by Prime Minister Sheikh Hasina, the full-fledged 2D film is directed by Sohel Mohammad Rana.
Produced by Prolancer Studio, it is also funded by the ICT Division of the Information Ministry.
The crew of this film ran a workshop on animation, selecting 56 animators, who were eventually involved in the project. Two of the animators were Faiaz Rafid and Tamanna Tasneem Supti.
"I had the opportunity to work with amazing artistes, and dabble in the basics of animation and filmmaking. It was my first, official job as an animator, and it was a fun experience," says Rafid.
"That being said, most animators in Bangladesh are self taught. We lack proper guidance, resources, and institutions. My goal is to gain a deeper understanding of 2D animation, and implement that knowledge into projects for Bangladesh."
Supti, who wanted to pursue a career in animation ever since she got into university, shares similar thoughts. "The CSE Department of DU offers a course that is heavily focused on 3D animation. So, those who are interested in 2D animation don't have much luck in this regard."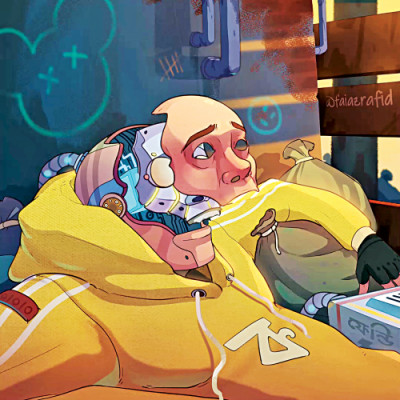 "On the bright side, cel animation used to require artistes to draw every single frame by hand. It is a relief that we can do that and much more with digital tools more efficiently now. They have enabled us to find new possibilities of what we can accomplish with animation," she adds.
Mahathir Mahmud Antik spent the first decade of his life in Japan and it being one of the countries with the best animated productions, Antik's interest in cartoons grew early.
He also worked as a cartoonist for a renowned daily in Bangladesh while pursuing his higher secondary education.
"I started watching Marvel movies regularly and took a liking to their CGI. I was interested in CGI and VFX, and so, I took up a course on 3D animation at AAVA 3D, a training institute in Dhaka," shares Antik.
"I found the course difficult, and realised it was not my cup of tea. But I have immense respect for people who work with this medium."
Around the end of 2017, Antik started his journey as a YouTuber.
Even as a child, he was into making videos, such as for a friend's birthday, and drawing comics. When he started garnering appreciation from people online, he decided to go public and make 2D animated content.
Antik has a number of videos where he features as an animated version of himself. He enjoys telling funny, relatable stories about his everyday life. Today, his YouTube channel has over 500,000 subscribers.
He opened his own production house, Antik Animated Studio, in 2019.
It is the studio behind the official music video of "Behula" by popular band Shunno. It is one of Antik's most notable projects till date. The video garnered immense popularity throughout the country, since its release in March 2021. Currently, it has over 26 million views on YouTube.
"I initially opened the studio for myself. However, I foresaw the potential, and expanded the activities. Today, Antik Animation Studio has a team of 12. We want to make animated content for TV on a regular basis, and we eventually want every library in the country to have our comics. Scaling up was always my plan," asserts Antik.
Elsewhere, Mighty Punch Studios, dabbling mostly in publications, adapted their popular comic "Captain Kathal" into a short 2-minute film, which was directed and written by Oishik Jawad and Junaid Iqbal Ishmam, alongside a team of seasoned veterans as well as aspiring young artists.
Growing up, Oishik was inspired by characters like Goku, Batman, Spider-Man, and SpongeBob SquarePants. Their approaches to life, and mindsets to never accept defeat resonated with him.
He started out as an intern at Mighty Punch Studios, before landing a job there as an animator and illustrator.
Oishik, being a cartoonist for many years, found the switch to animation quite easy.
"Regardless of the quality of my animation, my drawing experience helps me make things visually pleasing, which is a major advantage," he shares. "I think digital tools have made animation easier to approach. At the same time, they have created misconceptions about what it truly is. Owing to the current nature of digital animation, many mistake it as software knowledge, instead of an artistic skill."
Nonetheless, Oishik feels that opportunities for animators in Bangladesh are promising. "The industry is still young. We have very few highly-skilled animators, but there is room for us to grow, and fill the gaps," he states.
Perhaps this desire to fill the gaps led Tahmina Yasmine, an animator of the series "Bijli", to pursue her second master's in Animation and Game Direction from Hochschule Darmstadt, Germany. Before she left, she worked in Bangladesh as an animator for close to five years.
Yasmine worked on "Bijli" in association with Bangladesh's Ministry of Power, Energy, and Mineral Resources. The story revolves around a 13-year-old girl of the same name, who aims to find new ideas to ensure proper use of electricity.
She has also worked on the short film, "The Other Half", which showcased a family's reaction when a girl wants to go on her university tour.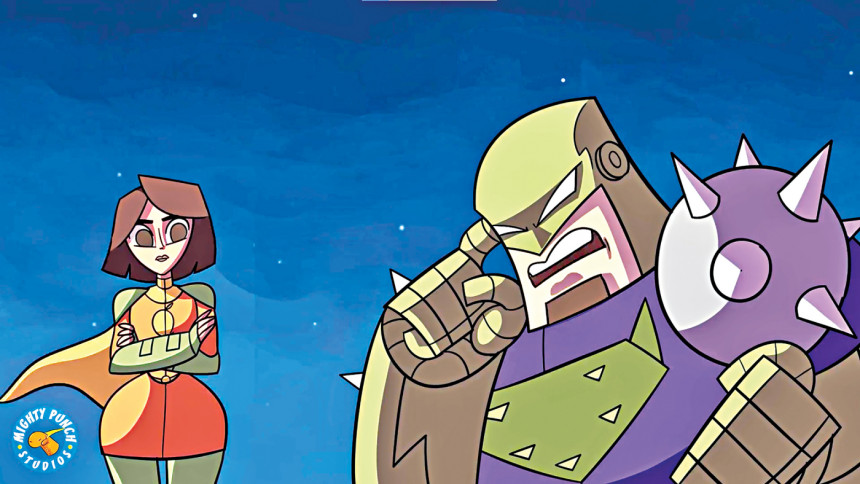 It took Yasmine six months to complete the visuals for the film, and another five months to work on the sound and other aspects. "You have very little time to make decisions, and you know you could have better ideas if you could experiment a bit more," she says, talking about the toughest part of the job. "Sadly, almost every project comes with time constraints. I used to feel overwhelmed while working on storyboards, because there are a number of things you need to remember. Dividing the process into smaller parts and sticking to simplicity helps."
There is no doubt that Bangladesh's animation sector needs better artistes, who push barriers. Nonetheless, with the country's first theatrically released feature-length 2D animated film now out and a 3D film by Bangladeshi animators gaining international recognition, this industry, with all its restraints, freedoms, and inspirations, is headed in the right direction.
The author is Sub-Editor, Arts & Entertainment and Star Youth, The Daily Star. Email: shababa@thedailystar.net.