Bangladesh caught in the energy transition dilemma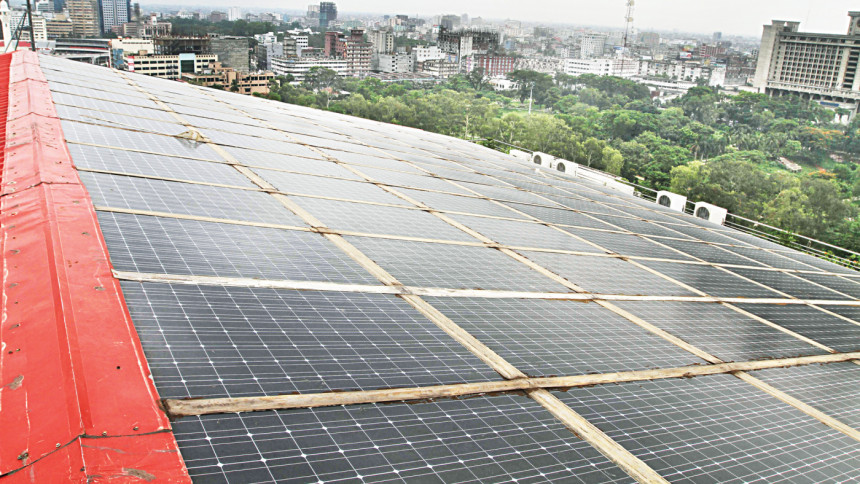 Human society uses 10 times more energy today than it did in the early 20th century. While wood, coal and animal power dominated the energy scenario before the Second World War, the transition to oil and gas (hydrocarbon) started in the 1940s through 1970s. The advantage of oil delivery/storage systems and diverse use helped in industrialisation, transport, residential heating, and electricity generation. The transition from coal to oil did not happen due to the shortage of coal. Oil was simply a better fuel in all respects compared to coal. The oil economy revolutionised productivity allowing efficient agriculture and housing. As a result, the human population increased asymptotically in the last five decades.
The massive usage of hydrocarbon has elevated the human lifestyle and civilisation to a different height but at a cost that was not understood at the beginning. The relentless burning of fossil fuels has produced so much carbon dioxide that the existence of human civilisation is at stake today due to the greenhouse gas (GHG) effect (global warming) it has created. The transition towards renewable and sustainable energy is a human quest for a cleaner and healthier lifestyle.
Bangladesh is one of the most vulnerable countries in the world due to increasing greenhouse gas emissions resulting in climate change. It is also one of the most energy-starved countries with only 433 kWh per capita per year electricity use (EIA 2019 est.) where the world average is above 3,000 kWh. The principal measure or strategy taken in the Nationally Determined Contribution (NDC) 2015 by Bangladesh was increasing resilience through adaptation. At the same time, the country expressed its intention of unconditionally reducing its GHG emission by 5 percent from the business-as-usual scenario within 2030 in power, industry and transportation sectors. Subject to technology and know-how transfer, finance and investment from the international community, Bangladesh committed a total reduction of 15 percent GHG emission. According to the Paris Accord, Bangladesh is not obligated to reduce GHG emission but yet in the updated NDC 2021, it has voluntarily committed to unconditionally reduce GHG emission by 7.5 percent by 2030 from the business-as-usual scenario.
The countries that signed the Paris Accord are obligated to reduce the GHG emission so that global warming is limited to below 2 degrees C above the pre-industrial level. This is expected to be achieved by the end of the century. The developed world is rapidly replacing electricity generation with renewable energy (solar, wind, geothermal, etc.) and petrol/diesel vehicles with electric vehicles (EV). Several countries have set targets in achieving Net-Zero emission by 2040/2050.
Bangladesh is one of the worst victims of the climate change effect and the country's suffering has increased in recent years. There is large-scale support for climate-friendly policy implementation and GHG/pollution reduction measures among the general population. At the same time, it has one of the lowest per capita energy uses in the world. The country is aspiring to reach developed nation status by 2041. Following a low carbon path in rapidly ramping up electricity generation is a major challenge. Limited resources, absence of advanced technology, lack of reliable data, inadequate infrastructure and personnel capacity are a few of the roadblocks the country is struggling to overcome. Lack of coordination among various policies as well as different agencies/ministries is a hindrance towards good governance. A low carbon development path is expensive and accessing financing by the power and energy sector faces a strong challenge from other sectors. Improving efficiency requires upfront investment and the private sector, as well as government utilities, are discouraged by a lack of low-cost financing.
A country like Bangladesh cannot afford to take any measure that would jeopardise its economic growth. Despite much ambitious planning and the possibility of renewable energy being thrown in front of the nation, there is no immediate escape from using fossil fuel. All efforts of promoting renewable energy or alternate clean energy must be taken in parallel to the current generation planning. All replacement of fossil fuel must be done in phases with proven capability. Solar power has the highest possibility in Bangladesh. In the last 10 years, a total of 47 projects with a capacity of 2,237 MWp was proposed and 10 of them were rejected. Despite 37 projects being approved with a power purchase agreement, only 7 projects with a combined capacity of 131 MWp came online. Perhaps another 600 MWp will come online this year. Scaling up to tens of thousands of megawatts is not an easy task. The government has always encouraged solar projects. Land scarcity (non-agriculture) is the principal barrier to such slow progress in solar projects. Perhaps new technology and innovation can expedite the renewable transition. The possibility of 20,000 MW wind power remains to be a study only. Not a single commercial proposal has been received for any of the nine spots identified in that particular study. A recent agreement for a 50 MW project is yet to begin construction.
What can the country do? To reduce CO2 emission, all renewable projects whether large or small will need government help. If needed, incentives must be introduced. Waste energy, solar rooftops in industry/commercial operations, solar street lights, and irrigation—every area where solar power can be used should be supported with policy, regulation and incentives. Households, schools, colleges, offices, mosques, etc. must be given clear benefits to using supplementary solar power during the daytime. Through the approval of the Feed-in Tariff (FiT) small-scale solar projects (5-10 MWp) could be promoted. While the country awaits vast land reclamation projects and new technology, all these distributed smaller projects can be helpful. The EV act is yet to be formulated. Once EV policy is approved, fast EV charging stations need to be established all over the country. For renewable energy adaptation, a "smart grid" is a prerequisite along with trained manpower. Both require good planning and substantial investment.
While reduction of fossil fuel use is an obvious choice in mitigating GHG emissions, efficiency improvement and conservation are equally effective. By introducing efficient appliances, air conditioners, boilers, motors and other machinery, the country can reduce its electricity use by at least 20 percent. A one-degree adjustment in all air conditioners may save 200 MW electricity during summer peak load. A key aspect of achieving Net-Zero emission is absorbing CO2 from the atmosphere. The CO2 absorption technology is advancing rapidly but trees do the same thing. Social forestry has been fairly successful in Bangladesh and that should be brought under a new campaign. At the same time, all efforts should be made in increasing the forest area and tree density of the existing forests.
Focusing solely on renewable energy to reduce GHG emissions in Bangladesh will be a wrong approach. In the current reality, replacing coal, gas and oil quickly will not be possible. The focus should be multipronged—most efficient use of fossil fuel, eliminating methane leakage from the vast gas network, promoting renewable energy at all scales, a massive campaign of energy efficiency improvement and conservation, increasing forest area, improving power network, nuclear power, etc. Both China and India are heavily dependent on coal. At the same time, they are implementing renewable electricity at the highest rates. Both the countries are endowed with vast natural resources including hydropower. Yet India has committed to achieving Net-Zero emission by 2060 and China by 2070. As a resource-scarce country with a massive population, if Bangladesh can reach Net-Zero by 2070/80, it will be a great accomplishment.
Dr M Tamim is professor at the Department of Petroleum and Mineral Resources Engineering at Bangladesh University of Engineering and Technology (Buet).