Guardiola bemoans extortionate price of English players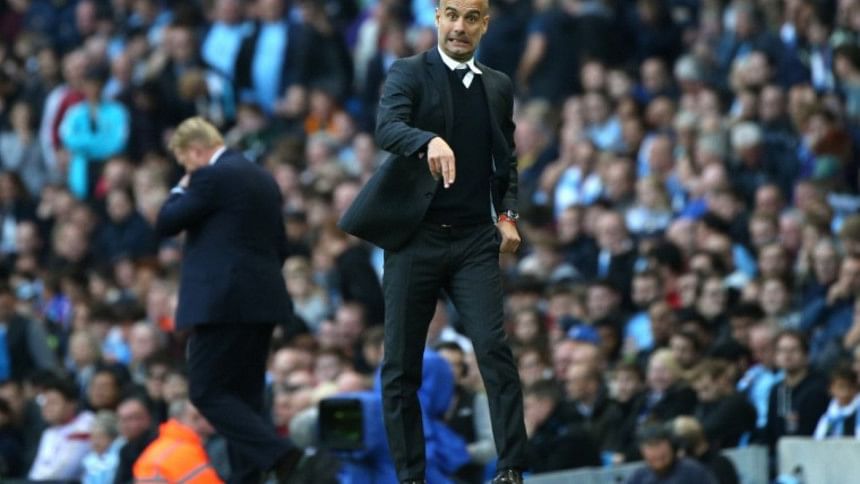 The high premium that English players command in the transfer market represents a serious obstacle to Manchester City's plans to fill the team with domestic talent, manager Pep Guardiola has said.
Following goalkeeper Joe Hart's move to Italy on a season-long loan, Raheem Sterling, John Stones and Fabian Delph are the only Englishmen to have featured for City's senior squad this season.
Although Guardiola wants to build his team around a strong core of domestic talent, the Spaniard says it is "impossible" to find value for money when it comes to English players.
"I would like to have more English players," Guardiola told British media. "But... they are so expensive.
"I would like English players because they know the league and that is much better. I am really impressed with how many good English players your country has.
"Believe me, I would like English players but it is impossible. It is so expensive."
The Spaniard, who had a wealth of homegrown talent at his disposal during his stints at Barcelona and Bayern Munich, hoped City could bring gifted youngsters through the youth ranks over the next few seasons.
"The club has worked for a long time with the academy, they are thinking about the next few years, hopefully they will come through with me, maybe it will be a different manager," he added.
"But I would like four or five (English) boys in the side."
Third-placed City host ninth-placed Stoke City in the Premier League on Wednesday before travelling to Middlesbrough in the quarter-finals of the FA Cup on Saturday.