No excuses for Wenger as pressure mounts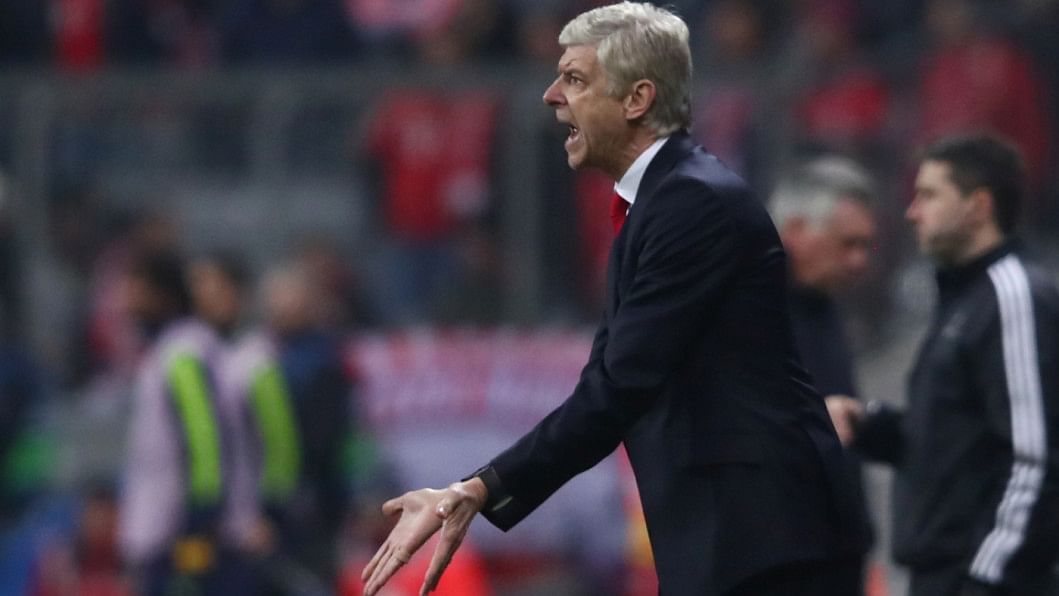 Arsenal manager Arsene Wenger was not looking for excuses after his team were demolished 5-1 by Bayern Munich in their Champions League round of 16 first-leg game on Wednesday.
Arsenal look certain to exit Europe's premier club competition at the first knockout stage for the seventh season in a row and the pressure on Wenger is mounting.
"I do not look for excuses," the Frenchman told reporters.
"It is a shock of course to lose at that level. We made everything wrong, the fifth goal shows that."
Wenger has been Arsenal manager since 1996 but they have not won the Premier League title since 2004 and, 10 points behind leaders Chelsea, look very unlikely to achieve the feat this season.
"These kind of games you need to be focused for 90 minutes. I felt the third goal was a killer for our players and after that we had no response," Wenger said.
Wenger was asked if this result was his lowest point as manager.
"How I feel I don't think is the most important (thing) but of course it is disappointing," he said.
Former Arsenal players led the calls for Wenger to be replaced.
"He looked particularly wounded. I feel for him - he almost needs to be protected from himself," Martin Keown, a member of Wenger's squad who went through the 2003-04 Premier League campaign unbeaten, told BT Sport.
"This is 20 years of work here. He's been magnificent for the club. This is a massive low point for him. This brings forward the change that looks likely at the end of the season," the former England defender added.
"I think it will be him that makes the decision. The realisation that the decision needs to be made is more apparent tonight."
Arsenal recovered from conceding an early goal to equalise and the game was poised at 1-1 at halftime before the Premier League club's key defender Laurent Koscielny was forced off through injury early in the second half.
"It is difficult to explain. I felt we had two good chances to score just before halftime," Wenger said.
"I felt we were unlucky for the second goal, the referee gave a corner for us at first. Then we concede the second goal and then ... we lost Koscielny. We collapsed."