Zia Charitable Case: Defence now delaying trial proceedings
Dhaka court says as Khaleda's lawyer 
submits 2 petitions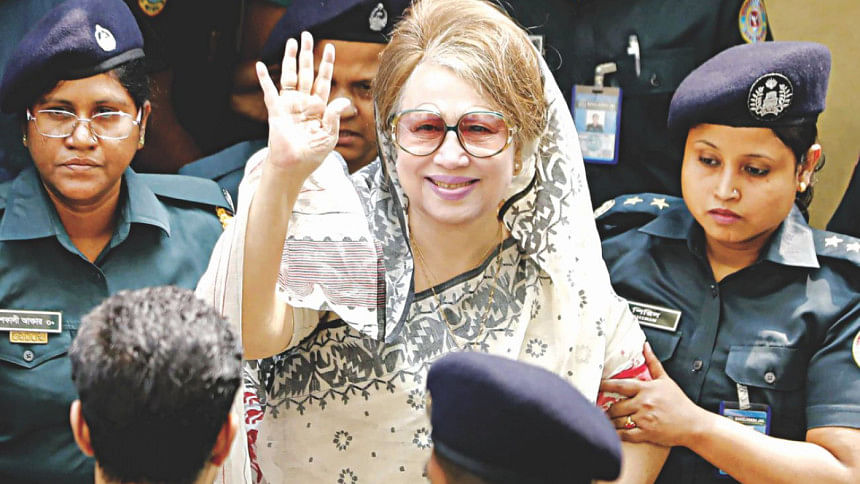 A Dhaka court yesterday told the lawyers of BNP Chairperson Khaleda Zia that they were delaying the trial proceedings of the Zia Charitable Trust corruption case.
Judge Md Akhtaruzzaman of the Special Judge Court-5 of Dhaka made the comment after Khaleda's lawyer Masud Ahmed Talukder submitted two petitions -- one for extension of her bail and the other for adjournment of hearings -- in the case.
"Did you come to the court only to seek bail for BNP chairperson?" the judge asked the lawyer. 
Earlier in the day, the judge said he would today pass an order on the no-confidence petitions submitted by two other accused -- Ziaul Huq Munna and Monirul Islam Khan -- in the case.
At the beginning of yesterday's hearing, Anti-Corruption Commission Public Prosecutor Mosharraf Hossain Kajol told the court that the defence lawyers did not cooperate with the court; "rather conspiracy from inside and outside was mingled". Moreover, a gloomy situation has been created, Kajol said. 
While placing his arguments, Kajol said there was no reason to file no-confidence petitions, adding that Khaleda's lawyers were hatching a conspiracy. Their conducts were contradictory. There was no order from higher courts, and the court was not bound to stop the trial.  
About non-appearance of Khaleda, Kajol said she obstructed the trial. The judicial system would be affected if this went on.
An accused in jail custody could not say that he or she was unwilling to appear before the court. It was impossible to force her to appear before it. She is a former prime minister and an old woman. Considering her old age and for her honour, this court was set up. But she took advantage of it.
On the other hand, Masud said Khaleda earlier told the court that she was very sick and she could not move without help of others. She could not sit at a place for a long time.
Masud added that a medical board had been formed for her treatment. They would go to the higher court challenging the legality of the September 20 order for running the trial against Khaleda in her absence. So, he sought adjournment of the hearing until her health condition improved.  
After the hearing, the judge extended the bail of Khaleda until today and fixed the day for hearings. 
Meantime, the High Court yesterday adjourned till October 1 the hearing of a writ petition filed by the BNP chief, seeking its directive on the government to send her to United Hospital for treatment.
The bench of Justice Sheikh Hassan Arif and Justice Ahmed Sohel passed the adjournment order, saying that the hearing of the petition might be long.
On September 9, Khaleda filed the petition.