Tarique verdict: Law minister won't withdraw statement on judge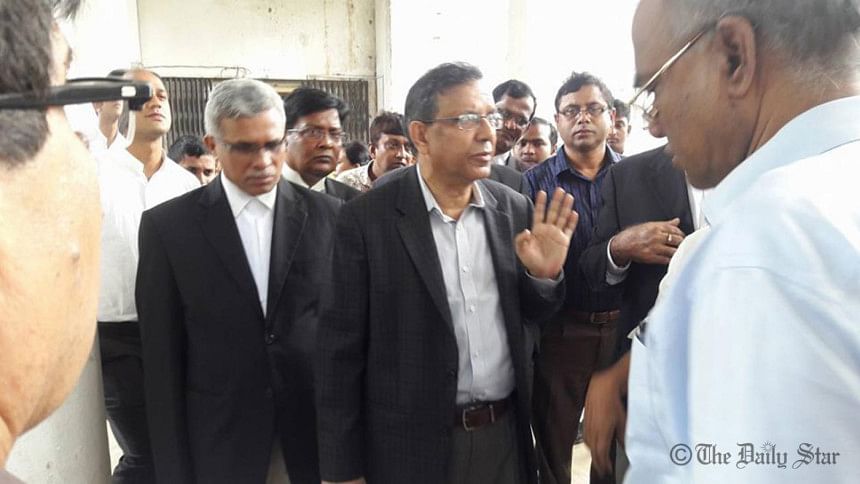 Law Minister Anisul Huq today said that he will not withdraw his statement about a lower court judge being influenced in acquitting BNP leader Tarique Rahman in a money laundering case.
He will elaborate it at a press conference on Tuesday, he told journalists in his reply to a question.

The law minister said this when he went to visit the condition of a building of chief prosecutor's office of International Crimes Tribunal in Dhaka this afternoon.
Anisul Huq on July 21 said Tarique got acquitted in the case at the trial court by influencing its judge.
The judge (Motahar Hossain of Dhaka Special Judge's Court-3) along with his family members left for Malaysia a few days after he delivered the judgment, acquitting Tarique in November 2013, said Anisul.
The minister also said the government issued a notice asking him to get back to work, but he didn't respond.
Earlier in the day, Jatiyatabadi Ainjibi Forum demanded the law minister to withdraw his statement.
A leader of the pro-BNP lawyers platform today strongly protested the law minister's comment saying that the judge Motahar Hossain did not go abroad immediately after acquitting Tarique.
Judge Motahar Hossain had discharged his judicial duties for around one and a half month after delivering the judgement on Tarique in the money laundering case.
Then he went to retirement and later went to Malaysia, AM Mahbub Uddin Khokon, secretary of Jatiyatabadi Ainjibi Forum, said at a press conference at the Supreme Court Bar Association auditorium in Dhaka.
He said the law ministry appointed Motahar Hossain as a judge.
"Tarique, BNP Senior Vice Chairman, has been staying in London, how could he influence the judge? It is not comprehensible and credible to the nation," Khokon said.
He demanded the authorities concerned to withdraw all what he termed as false cases filed against Tarique.
Lower court judge Motahar Hossain had acquitted Tarique in the money laundering case as allegation against him was not proved.
The BNP leader announced a programme of holding demonstration and human chain at all bar association premises across the country from July 25 to 28 demanding withdrawal of cases against Tarique.
Tarique Rahman was sentenced to seven years' imprisonment and fined Tk 20 crore by the High Court on July 21 in the money laundering case which may have an enormous impact on his political career.
The HC overturned a lower court verdict that acquitted Tarique in the money laundering case involving Tk 20.41 crore.