Sinha to be brought back: Law minister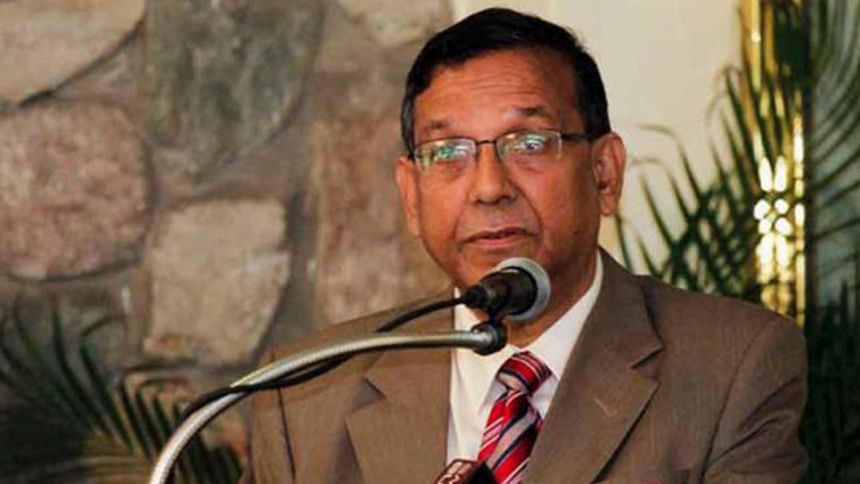 Claiming that former Chief Justice Surendra Kumar Sinha has no allegiance towards the country, Law Minister Anisul Huq on Tuesday said he will be brought back home through a legal process.
He made the remarks while talking to reporters after inaugurating software and an app of National Legal Aid Services Organisation at the Judicial Administration Training Institute in the city.
As his book 'Broken Dream: Rule of Law, Human Rights and Democracy' has failed to fulfill his desires, SK Sinha is now crying foul, the minister said. "It's now evident that he has no allegiance towards the country."
Mentioning that the former Chief Justice earlier could have said in the country what he is now saying, Anisul said, "But, he's now uttering those outside the country as those are false. It has become evident he's saying these to get political asylum abroad."
About the amendment to the Representation of the People Order, he said they received a proposal from the Election Commission to this end and it is now being scrutinised.
Asked whether there will be any change to the pending 'Digital Security Act', the minister once again said the issue will be placed before the Cabinet as discussed with the Sampadak Parishad (Editors' Council).
Earlier, Anisul inaugurated the software and the app to provide legal aid to the destitute and helpless people at free of cost.
About the BD Legal App which was opened at the programme, the minister said it work as a 'digital door' for getting legal aid from the government.
Law Commission Chairman Justice ABM Khairul Haque, Law Secretary Abu Saleh Sheikh Md Zahirul Haque, Director General of Judicial Administration Training Institute Justice Khandaker Musa Khaled and Director of National Legal Aid Services Organisation Md Zafrol Hasan were, among others, present there.