Special JS session to mark Bangabandhu's birth centenary Mar 22-23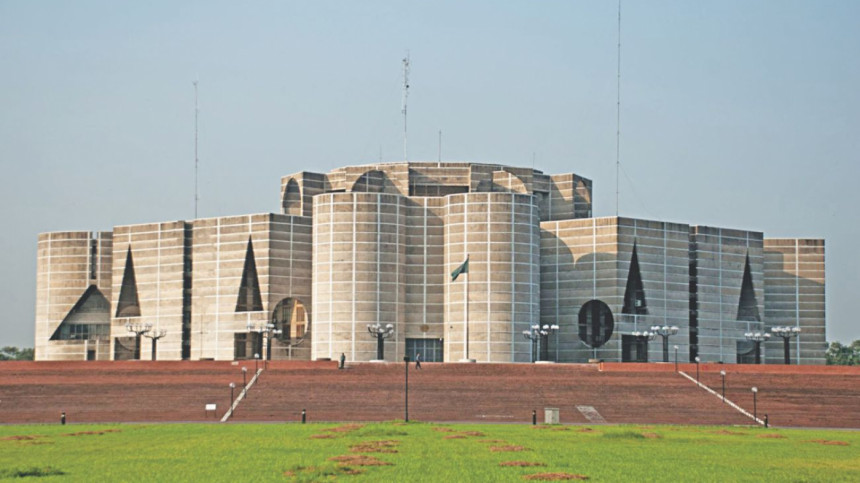 The Jatiya Sangsad will hold a two-day long special session beginning from March 22 to mark Bangabandhu Sheikh Mujibur Rahman's birth centenary.
The decision was taken at the 6th meeting of the JS Business Advisory Committee at the Jatiya Sangsad Bhaban with Speaker Shirin Sharmin Chaudhury in the chair today, according to a press release issued by the JS Secretariat. Member of the committee and leader of the parliament Sheikh Hasina was present at the meeting.
The JS will begin its celebration of "Mujibbarsha", the birth centenary of Bangabandhu Sheikh Mujibur Rahman, with observation of Children's Day on March 19. On March 22, all the JS lawmakers will pay homage to the Father of the Nation at the Bangabandhu Memorial Museum on Dhanmondi-32 before it will go into its special session, according to the release.
The meeting also decided that the 11th JS will go into its 6th session on January 9 and will continue till February 18. The session will begin at 4:00pm every day and will remain adjourned on January 12 for Biswa Ijtema and on every Friday and Saturday.
The schedule for the 6th JS session is subject to change by the speaker, the meeting also decided.
In the meeting it was informed that there will be a total seven bills placed before the JS during its 6th session. Among those, three are pending bills -- including one waiting to be passed and two under scrutiny -- and four are new bills, the release read.
The Business Advisory Committee members Raushan Ershad, Tofail Ahmed, Sheikh Fazlul Karim Selim, Obaidul Quader, Rashed Khan Menon, Hasaul Haq Inu, Md Fazle Rabbi Mia, Anisul Huq, GM Quader, Anisul Islam Mahmud, and Nur-E-Alam also participated in the meeting.
Parliament Senior Secretary Dr Jafar Ahmed Khan presented the agenda of the meeting while other top officials of the Parliament Secretariat were present.