Indian cops arrest Salahuddin for intrusion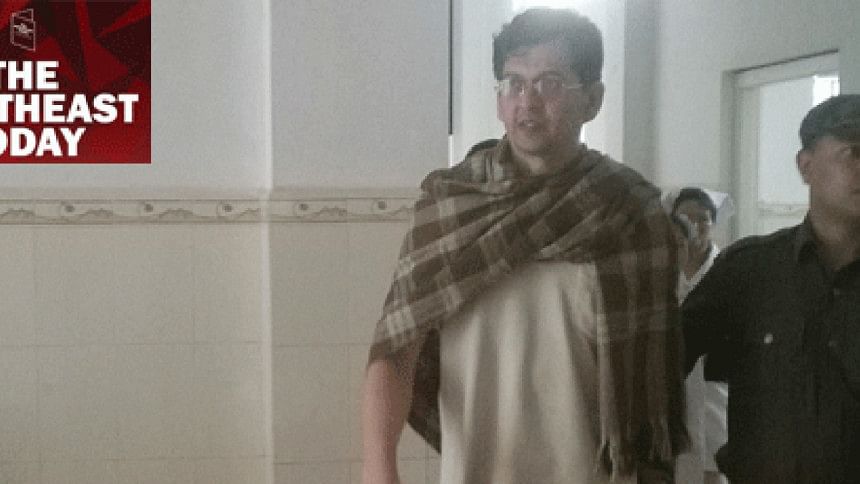 Indian police have arrested BNP leader Salahuddin Ahmed, who was missing for the last two months, in Shillong district of Meghalaya on charge of entering the country without travel documents.
"Ahmed has been arrested under the Foreigners' Act for entering India without travel documents," Superintendent of Police of East Khasi Hills S Kharkrang told our New Delhi correspondent over phone from Shillong.
The joint secretary general of BNP was arrested from Golf Link locality of Shillong on Monday, he said.
Salahuddin was sent to MIMHANS mental hospital in Shillong and shifted to Shillong Civil Hospital today, Kharkrang said.
Meghalaya Inspector General of Police G H P Raju said the Bangladesh High Commission in Delhi was informed of the matter.
Asked when Salahuddin would be produced in court, Kharkhrang said, "It all depends on when the doctors release Ahmed. Right now, the doctors at Civil Hospital have advised him rest."
Replying to a question about the nature of Salahuddin's illness, Kharkrang declined to disclose it.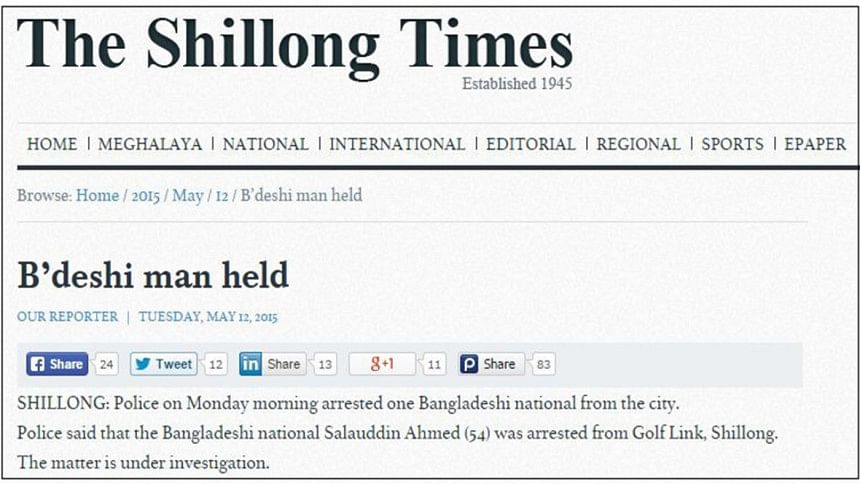 Earlier today, Salahuddin talked with his wife Hasina Ahmed over phone from India, said his wife.
"He is alive," Hasina Ahmed told The Daily Star over phone this afternoon.
Asked about media reports that he called from a hospital in India, she just said her husband called from India.
After her conversation with Salahuddin, Hasina went to BNP Chairperson Khaleda Zia's Gulshan residence to inform her about the latest development.
A joint secretary general of BNP, Salahuddin was allegedly picked up by plainclothes officials from a house in Uttara on March 10, according to his family members. The law enforcers however denied picking him up.
He remained missing until he called his wife.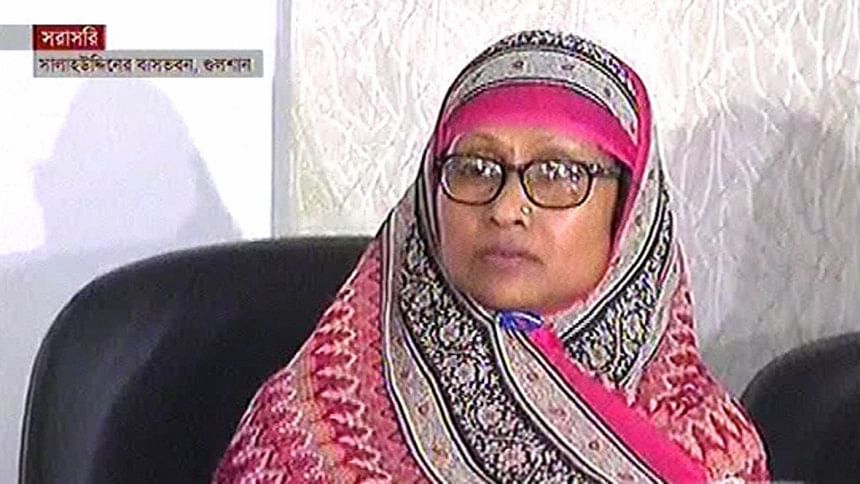 She also held a press briefing at Salahuddin's Gulshan residence this afternoon.
Hasina Ahmed told the press that she got a call from the NIMHANS Mental Hospital authorities in Shillong at 12noon today.
"I got a call from the hospital saying that my husband Salahuddin wants to talk to me. Then they connected me to him. He (Salahuddin) said 'I am alive due to the blessings from all of you. Inshallah, I am well. I am reasonably in good health. Tell this to everybody'."
She, however, told the press that he did not tell her how he turned up at the National Institute of Mental Health and Neuro Sciences hospital.
She ruled out mistaking Salahuddin for someone else. "If I get to hear him even after 100 years, I would have no problem in identifying him, I know his voice" she said.
Wearing a pink printed saree, she appeared confident when she said, "I am trying my best to reach him as soon as possible."
She said she needed support from all and especially from the government in getting a visa to go to India.