Amnesty committed heinous act: Hasina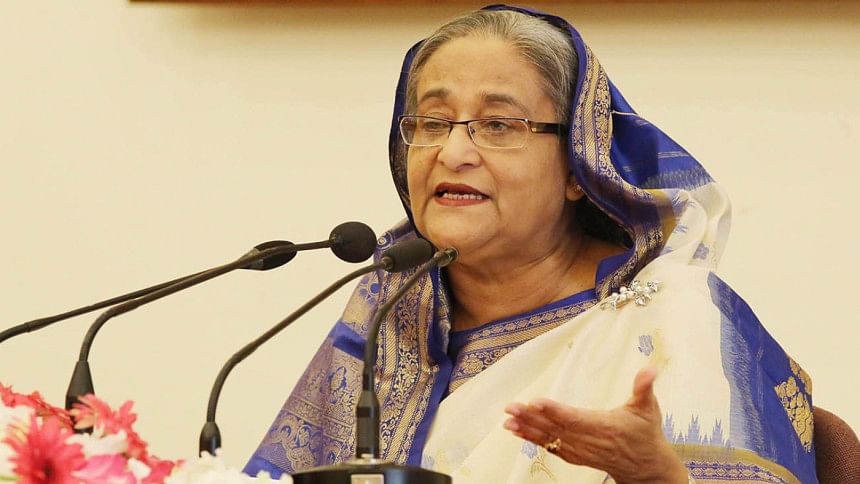 Prime Minister Sheikh Hasina today came down heavily on the Amnesty Intentional for its reported remarks on Bangladesh's freedom fighters and the trial of war criminals.
"Surely, they [AI] have got a hefty amount of something for which they're preparing such reports, or else, why they would do this," she said.
The premier was addressing a press conference at her official residence Gono Bhaban.
The press conference was arranged to inform the media about the outcome of her just-concluded three-day visit to the Netherlands.
ALSO READ: Opinion: AI statement shows political bias
In a statement on October 27, the Amnesty International, a global human rights watchdog, said Bangladesh's pro-independence forces in the 1971 war also committed crimes, and the trial of two convicts -- Ali Ahsan Mohammad Mojaheed and Salauddin Quader Chowdhury-- was flawed.
"Serious crimes were also committed by the pro-independence forces, but no one has been investigated or brought to justice for them," the UK-based right body said.
The prime minister said this is just a repulsive act [done by AI] and they should recall the misdeeds committed by Salauddin Quader Chowdhury and Ali Ahsan Mujaheed.
"This is not acceptable to us that they'll talk against our freedom fighters and submit reports to save war criminals…we strongly protested it and will convey our further protest," she said.
Sheikh Hasina said the government will never accept such a statement from any quarter.
Pointing finger to the BNP-Jamaat alliance without mentioning their names for financing such report writing, Hasina said they have pocketed hundreds of crores of taka through corruption and money laundering, and now they are using that.
She also mentioned that the trial of war criminals was the demand of the whole nation. "We'll have to ensure the quick trial of these war criminals to get rid of disturbance."
Hasina also said the government bothers little who does what. "We know the criminals and their trial must be held," she added.