Opposition can exist outside JS
Khaleda says at hearing in makeshift court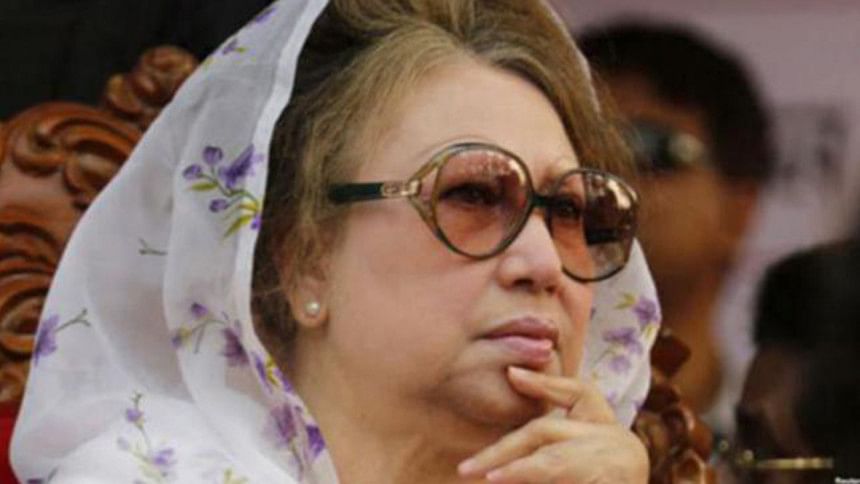 BNP Chairperson Khaleda Zia yesterday said the opposition could exist outside the parliament if they worked for the masses.
Khaleda made the remarks during a hearing on the Niko graft case yesterday at the makeshift court set up inside Old Dhaka Central Jail.
The comment came during the hearing when BNP standing committee member Moudud Ahmed, an accused in the case, told the court prior to Khaleda's statement, "We are out of the parliament. We are in danger as we are in the opposition party."
At this, one of the lawyers asked, "Are you (BNP) even in the opposition at present?"
BNP chief Khaleda Zia then replied: You can be the opposition party from outside the parliament by working for the people."
The party had boycotted the January 5, 2014 parliamentary election which resulted in 154 lawmakers being elected uncontested.
The BNP participated in the last parliamentary election in Jan 30, 2018, while the party chief Khaleda Zia behind bars where only six of its candidates and two of its alliance partners won seats.
Elected lawmakers of the Awami League and other parties have already sworn in while the BNP and its alliance partners elected lawmakers are yet to take oath. The party rejected the election result saying it was rigged.
On the Nika agreement, Moudud said, "This contract was filed during the then Awami League led government from 1996-2001. We continued it. It was said I served as a legal adviser and gave my opinions in favour of the contract. But there are no documents supporting this; no attested copies nor any photocopies."
Former senior assistant secretary CM Yousuf Hossain, another accused of the case, who represented himself as his lawyer was absent in the court. He told the court, "This case is fake, fabricated."
Meanwhile, lawyer of the accused AKM Mosharrof Hossain filed a time petition which the court granted it and said Mosharrof must appear before it on the next hearing.
Earlier, Khaleda was taken to the Special Judge Court-9 of Judge Sheikh Hafizur Rahman in a wheelchair around 12:20pm.
The court fixed January 21 for the next hearing.
On December 9, 2007, the Anti-Corruption Commission filed the case with Tejgaon Police Station accusing Khaleda and 10 others of abusing their power to award a gas exploration and extraction deal to Canadian company Niko