NKorean, US officials try narrowing differences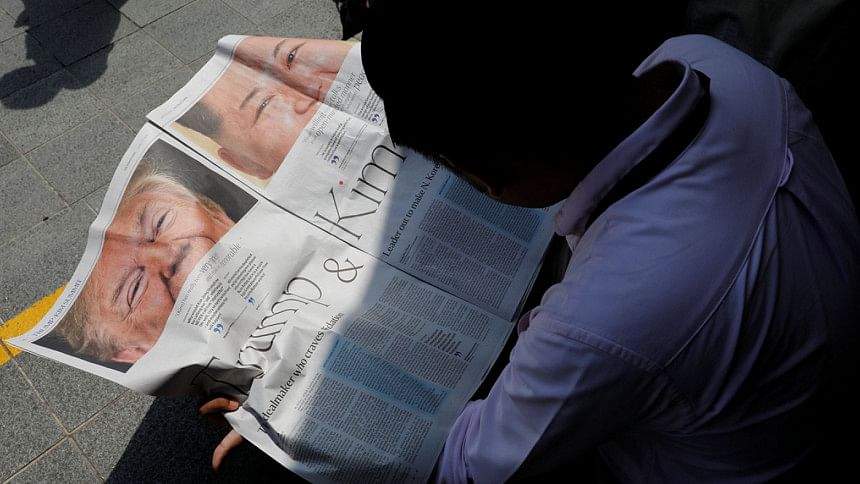 US and North Korean officials were in talks in Singapore today in a late bid to narrow differences before their leaders hold a historic summit aimed at finding ways to end a nuclear stand-off on the Korean peninsula.
-US, North Korea teams hold working level talks

-11th hour attempt to bring two sides closer

-Trump to meet Singapore PM Lee on Monday

- Kim has no official engagements
North Korea's Kim Jong Un and US President Donald Trump arrived in the tropical city-state on Sunday for the first ever face-to-face meeting by leaders of two countries that have been enemies since the 1950-1953 Korean War.
With gaps remaining over what denuclearisation would entail, officials from both sides were trying to push the agenda forward ahead of Tuesday's summit.
Commenting for the first time on the agenda, North Korea's state-run KCNA news agency said the two sides would exchange "wide-ranging and profound views" to re-set relations. It heralded the summit as part of a "changed era".
Discussions would focus on "the issue of building a permanent and durable peace-keeping mechanism on the Korean peninsula, the issue of realising the denuclearisation of the Korean peninsula and other issues of mutual concern," KCNA said.
In the lead up to the summit, North Korea rejected any unilateral nuclear disarmament, and KCNA's reference to denuclearisation of the peninsula has historically meant that Pyongyang wants the United States to remove its "nuclear umbrella" protecting South Korea and Japan.
US Secretary of State Mike Pompeo, who is also in Singapore, said in a tweet that Washington was "committed to the complete, verifiable, irreversible denuclearisation of the Korean peninsula".
Many experts on North Korea, one of the most insular and unpredictable countries in the world, remain sceptical Kim will ever completely abandon its cherished nuclear weapons. They believe Kim's latest engagement is aimed at getting the United States to ease the crippling sanctions that have squeezed the impoverished country.
A Trump administration official, speaking on condition of anonymity, said the US side was entering the talks with a sense of optimism and an equal dose of scepticism given North Korea's long history of developing nuclear weapons.
"We will not be surprised by any scenario," said the official.
The official said Trump and Kim would hold a one-on-one meeting on Tuesday that could last up to two hours. He described it as a "get to know you plus" meeting.
Later, a meeting including officials could last another hour.
With the eyes of the world following him, Trump flew into Singapore's Paya Lebar Air Base aboard Air Force One on Sunday, fresh from a divisive G7 meeting in Canada with some of Washington's closest allies that further strained global trade ties.
Asked by a reporter how he felt about the summit, Trump said: "Very good".
In a tweet on Monday, he said: "Great to be in Singapore, excitement in the air!"
Kim had arrived hours earlier in a plane loaned by China, which for decades has been North Korea's only major ally. Both leaders were greeted on arrival by Singapore Foreign Minister Vivian Balakrishnan.
The summit's venue is the Capella hotel on Sentosa, a resort island off Singapore's port with luxury hotels, a Universal Studios theme park and man-made beaches.
'SPUR OF THE MOMENT'
Trump, speaking in Canada on Saturday, said any agreement at the summit would be "spur of the moment," underscoring the uncertain outcome of what he called a "mission of peace".
He initially touted the potential for a grand bargain with North Korea to rid itself of a nuclear missile programme that has advanced rapidly to threaten the United States.
But he has since lowered expectations, backing away from an original demand for North Korea's swift denuclearisation.
He has said the talks would be more about starting a relationship with Kim for a negotiating process that would take more than one summit.
Sung Kim, a veteran diplomat who recently held talks with North Korean officials, led the US delegation in working level talks on Monday.
A US official, speaking on condition of anonymity, said Monday's meeting appeared aimed at making 11th-hour progress ahead of the summit since Sung Kim's earlier talks did little to narrow a gap between the two sides on the definition of denuclearisation or win agreement on tangible commitments from Pyongyang toward dismantling its nuclear arsenal.
THEIR ENTOURAGES
Trump was to meet Singapore Prime Minister Lee Hsien Loong for a working lunch on Monday, while Kim has no official agenda.
Kim arrived at Singapore's Changi Airport after his longest trip overseas as head of state, wearing his trademark dark "Mao suit" and distinctive high-cut hairstyle. He has not left his country since taking office in 2011 other than to visit China and the South Korean side of the border Demilitarised Zone.
Travelling with him were top officials including Foreign Minister Ri Yong Ho, Defence Minister No Kwang Chol and Kim Yong Chol, a close aide of Kim who has been instrumental in the diplomacy that culminated in Tuesday's summit.
Kim Yo Jong, leader Kim's younger sister, was also spotted in his delegation. She emerged as an influential figure in Pyongyang's opaque leadership in February, when she led a North Korean delegation to the Winter Olympics in South Korea.
Officials who arrived with Trump include Pompeo, National Security Adviser John Bolton, White House Chief of Staff John Kelly and White House Press Secretary Sarah Sanders.
Bolton's hardline rhetoric last month infuriated North Korea and nearly derailed the summit. He called for North Korea to follow a "Libya model" in negotiations. Libya unilaterally surrendered its nuclear weapons programme in 2003, but its leader, Muammar Gaddafi, was killed in 2011 by The North Atlantic Treaty Organization (NATO)-backed rebels.